For the third year in a row Missouri Baptist University is hosting the NAIA Men's Volleyball National Championship. In addition to large live crowds at the SRC, games will be streaming on the NAIA Network and also ESPN3. The Spartans, who have won the coveted championship two years in a row, have their work cut out for them as they go for an unprecedented three straight.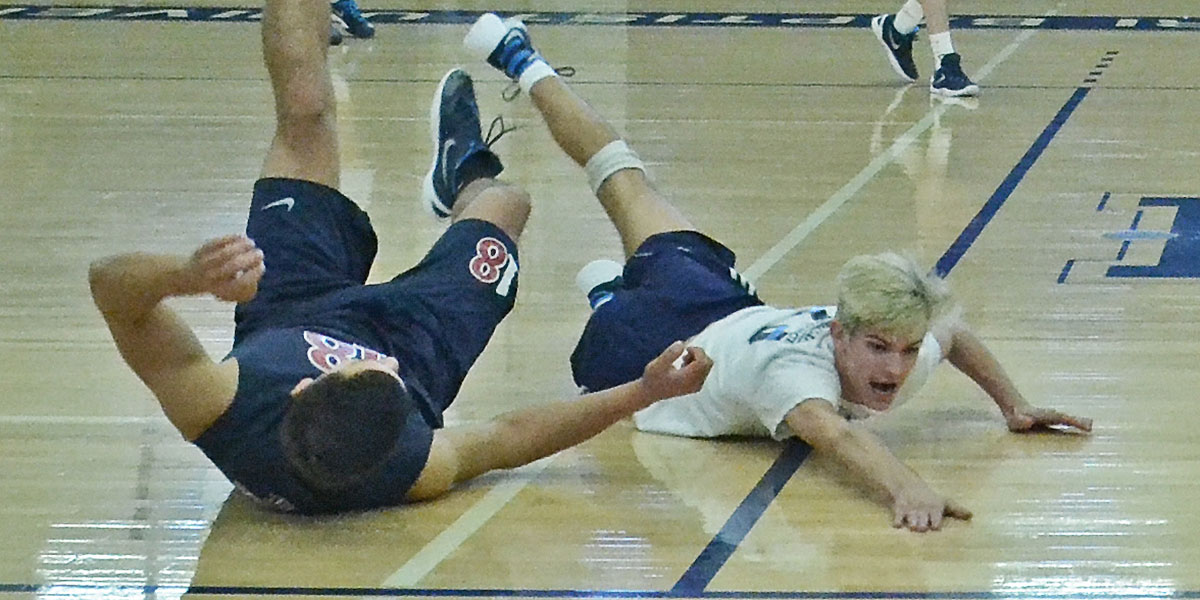 Photo by Lynn Tyler
__________________________________________________
After the Missouri Baptist University men's volleyball team won the National Association of Intercollegiate Athletics National Championship two years in a row, the NAIA has chosen MBU as its site for the 2017 National Championship, which opens Wednesday, April 19, and runs through Saturday, April 22.
The Spartans bring a 25-2 record into this week's tournament, at the Carl and Deloris Petty Sports and Recreation Complex, but Coach John Yehling remains cautiously optimistic as his team goes for the uncharted territory of a three-peat.
"We get to host the national tournament and that's going to be a huge advantage for us," said Yehling, who is wrapping up his 15th season coaching volleyball at MBU, adding that while players get to sleep in their own beds and stay in their normal routines, there is also pressure being the home team. "Hosting the national tournament is a lot of work and it's a lot of pressure. The pressure that I feel mostly is self-put, but I put it there because there's so many people at this university … that put in so many hours to host an event like that. It's a great event, but it's a lot of work so you feel like you need to make sure your team's in it until the end, at least, to make that work warranted."
Games will be played Wednesday, April 19, at 1 p.m. and 4 p.m.; Thursday and Friday, April 20-21, at 10 a.m., 1 p.m., 4 p.m. and 7 p.m. Click here to go to the MBU Spartan Athletics page devoted specifically to the volleyball tournament, with complete schedules.
Semifinals will be held Friday, April 21, at 4 p.m. and 7 p.m.; and the championship game will be Saturday, April 22, at 6 p.m.
Four days of intense competition will have fans on their feet cheering as they see the team bump, set and spike their way to victory.
"We have been preparing for nationals by getting stronger every day in the gym," said libero Robert "RJ" Hall, senior accounting major from St. Louis.
With the event being hosted at MBU, the team has the home court advantage but this does not mean they have it easy.
"Our biggest competition is Grand View University," said setter Kyle Foley, junior accounting and business administration major from St. Louis.
Grand View University's men's volleyball team currently holds the No. 1 position in the NAIA.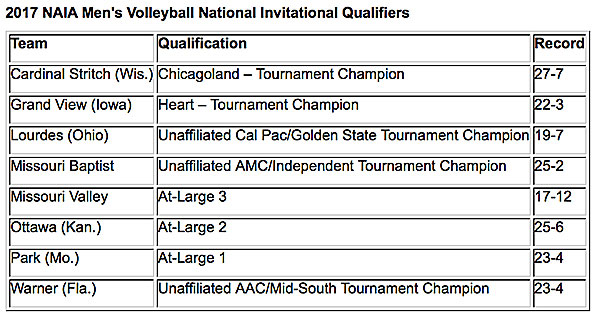 Video interview by Garret Lawson
_____________________________________________________________________________
The teams competing in nationals along with MBU are:
Cardinal Stritch University from Milwaukee
Grand View University from Des Moines, Iowa
Lourdes University from Sylvania, Ohio
Missouri Valley College from Marshall, Missouri
Ottawa University from Ottawa, Kansas
Park University from Parkville, Missouri
Warner University from Lake Wales, Florida
With the season coming to a close after nationals, a few of the seniors reflect on their favorite moments from the season, and the theme of Iowa unanimous.
"The Iowa trips are always the best part," said middle blocker Donald "Don" Fleming, senior business administration major from Oklahoma City.
The team traveled to Iowa earlier this year for a volleyball tournament where they went undefeated.
"The Iowa trips are always fun because it gives us an opportunity to get out of St. Louis, take a break from classes and focus on volleyball," said setter Austin Trower, senior accounting major from Eureka, Missouri. "The trips provide a great opportunity for some team bonding and this year we had the chance to celebrate a team member's birthday."
Nationals is the final chance for seniors to leave everything on the court, defend their title and compete with their MBU team for the last time.
Players encourage everyone to come check out the event and support them. Anyone who has ever played sports knows the bigger the crowd the better the game.
Players feed off the energy of the audience and let's be honest, who doesn't like to hear people cheering them on?
It's not every day that MBU hosts a national championship, so come join the men's volleyball team as they battle their rivals and defend their title as NAIA national champions.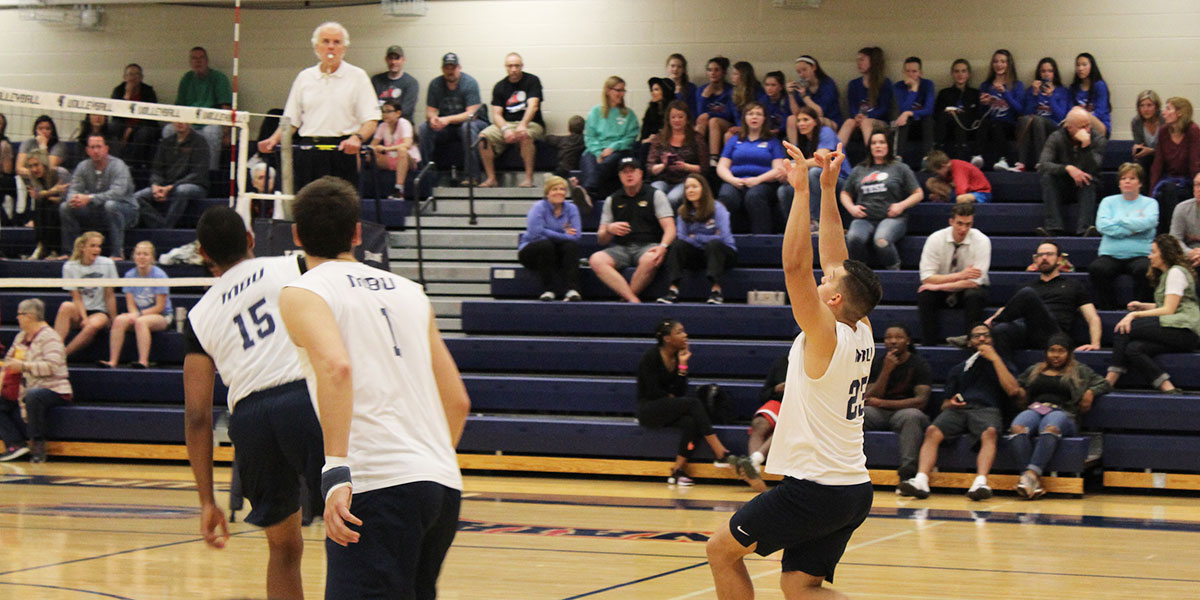 Photo by Lauren McLaughlin
___________________________________________________