MBU STUNT, although recently begun, begins to make its history and plant its roots as an upcoming sport and the future of cheerleading. The team works dedicatedly at becoming the best they can be and preparing for a bright future.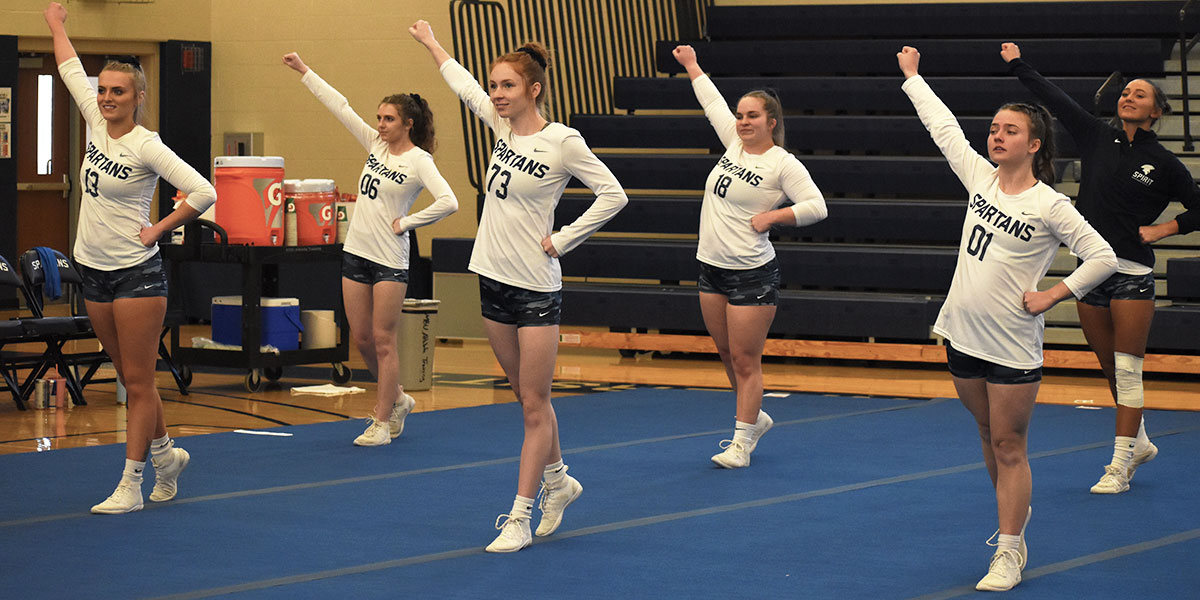 MBU STUNT unites during a mat routine as they lift their hands in the air in unison, showing off their spirit-filled attitudes. Pictured from left to right, front row, are: Elaina Camerlynck, Krista Stoker and Erin Dooley; back row: Darby Duncan, Deanna Ryan and Sienna Figg. Photos by Emma Tihen

___________________________________________________
Despite its new beginning three years ago in 2020, MBU STUNT has flown toward the top of the sport, having attended the first-ever NAIA championship in 2021 and ranking in the top five teams allowed to compete in the 2022 College STUNT National Championships.
"There is no better feeling than screaming as loud as you can to encourage the person next to you when you know the routine is getting hard or receiving a point after hitting a sharp stunt," Krista Stoker, a captain on the STUNT team, who competes as a backspot and tumbler on the team, said via email.
STUNT, an all-girls sports team, was launched at Missouri Baptist University for the 2020-21 season to give women a chance to showcase their talents and skills in cheer as well as offer opportunities to cheerleaders and athletes of varying skill levels.
"STUNT is an upcoming all-girl sport that allows athletes to showcase their specialties in cheer," said Stoker, a junior elementary education major, who has been with the team since its launching.
The MBU STUNT team consists of 23 members and two coaches, head coach Alexandria Henshaw, who is in her last semester of graduate school earning her master's in business administration, and assistant coach Ciara Schott, who is finishing her master's degree in higher education leadership.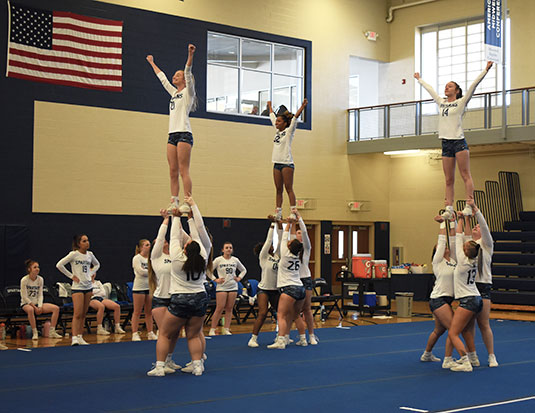 STUNT is a sport that focuses on the technical aspects of cheerleading, such as basket tosses, pyramids, jumps and tumbling.
A STUNT game is set up just like a typical sports game where there are two teams competing against each other, and the team with the least deductions at the end of the game wins.
The games are four quarters: 1) partner stunts, 2) pyramids and tosses, 3) jumps and tumbling, and, 4) team performance, which is a combination of the first three quarters. There is a halftime after the first two quarters, and there are four rounds in each quarter except for the last quarter, which is only three rounds.
A 2013 graduate of Hillsboro High School and now a graduate assistant at MBU, Schott has over 10 years of cheerleading experience and was one of three athletes on her school team to be chosen to attend Cheer Hawaii, a college-prep cheerleading camp.
Despite being launched only three years ago in 2020, MBU's STUNT team competed in STUNT's first-ever NAIA division national championship in April of 2021 and qualified for the championships again in 2022.
MBU STUNT keeps a busy schedule, practicing 3-4 times a week while still cheering on the sidelines at MBU football and basketball games.
"STUNT season starts in February and ends in May," Henshaw said via email. "However, you take all of summer and fall to prepare for the whole season, both cheerleading sidelines and for STUNT games. They are the hardest workers that I know at the school. They not only do all these amazing things, they also have jobs and full class loads and still make time to put in extra work outside of practice. I am so extremely proud of them."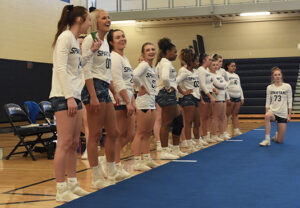 In addition to competing locally, MBU STUNT travels for competition, the furthest place being Dallas, that is, until the team traveled to Rocklin, California, in 2022 for nationals.
The hard work the STUNT team puts in during the off-seasons of summer and fall begins to pay off as game days approach and the team is allowed to showcase their skills, talents and dedication.
"I love STUNT game days, because you can see the light switch on and you get to watch all these girls who have never done STUNT before fall in love with it as much as I have," said Henshaw, who competed in STUNT during her undergraduate journey. "The STUNT team works extremely hard at what they do. You have to be both physically and mentally tough to be able to do it. These girls not only play in STUNT games and tournaments and practice year round for it, but they are also ambassadors for the school."
As the competitive atmosphere of game day builds, the athletes do not forget the fun involved in playing and watching the sport.
"When the judges are conferring about who may win the point, I usually get someone from the other team to play rock-paper-scissors across the mat with me," said Stoker.
There are a series of events such as clinics and tryouts that take place before an athlete is selected to be part of the team, and then, if an athlete is selected to be part of the team, she is offered either a STUNT or Co-Ed offer to join the team, after which is signing day.
There are still opportunities in MBU STUNT for women athletes to be on the team even if they are not proficient in every stunt in the game because they may be able to compete their stunts at their skill level.
"It gives women the opportunity to compete in cheer without meeting all of the skill requirements and utilizing their skills in the levels that match their skills," Emilee Mitchell, the team's chaplain who also competes as a side base, backspot, jumper and tumbler, said via email.
Knowing the sport well, Henshaw appreciates the diverse skill set of each STUNT athlete.
"Another thing that is important about STUNT is that you do not have to have all of the components to be able to do it. You can have only jumps and tumbling, or only stunting abilities to be able to do it," Henshaw said, "which is awesome for girls who may be super strong but who may not have tumbling, or girls who have done gymnastics but have never stunted before. This gives them another opportunity as well."
Together, the many different skills of the athletes on MBU STUNT make a cohesive and competitive group, each of whom brings their all to game day.
For questions about MBU STUNT, contact head coach Alexandria Henshaw or Ciara Schott, and to see MBU STUNT's schedule, visit the STUNT page on MBU Athletics.