Two Missouri Baptist University women's track athletes, Mia Reed and Emily Bayer, qualified to run in the prestigious NAIA Outdoor Track & Field Nationals, where they are running today in Gulf Shores, Alabama. Both runners met the "A" standard for their events, including the daunting steeplechase.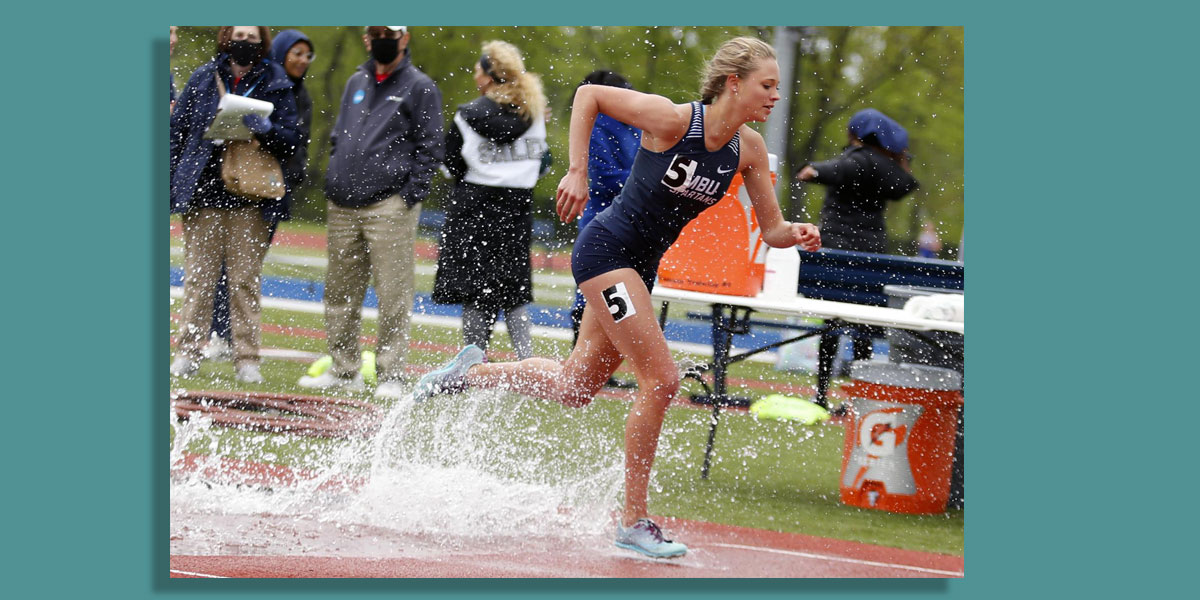 Emily Bayer lands with a splash as she races the steeplechase at the 2021 AMC Conference Championship. Bayer and teammate Mia Reed are racing today at the NAIA Nationals in Gulf Shores, Alabama.         Photo courtesy of MBU Athletics

___________________________________________________________________________
If you enjoy running at your top pace, while hurdling fixed barriers that can cause bruising if not cleared, and leaping over a pool of water that guarantees wet feet during a 7.5-lap race, the steeplechase may be the track event for you.
At Missouri Baptist University, two track standouts enjoy doing just that, and they were rewarded for it in early April as freshman Mia Reed and senior Emily Bayer both qualified in the 3,000-meter steeplechase for the 2022 NAIA Outdoor Track & Field Nationals.
Reed cleared the "A" standard by 8 seconds with a time of 11:09, placing fifth in the race on April 1 at Washington University, the first meet of the season.
Bayer finished in sixth place, also meeting the "A" standard with an 11:14.00, marking her second season qualifying in the 3k steeplechase, having met the 'A' standard in her 2021 track season as well.
Reed and Bayer are competing at the 2022 NAIA Outdoor Track & Field National Championships, in Gulf Shores, Alabama, on May 25, 2022.
Athletes can qualify for nationals by meeting one of two times in their event: the 'A' standard or the 'B' standard. The 'A' standard is faster and harder to achieve.
"I think the race went well. It was a difficult race for me mentally since I had mostly been running much shorter races and it had the added challenge of steeple throughout, but I was excited to qualify for nationals and excited that Mia qualified with me," said Bayer, a senior nursing major from Imperial, Missouri.
So, what exactly is steeplechase and how did it become part of track and field?
According to a story in The Washington Post, the event started as a horse racing competition, where riders would race from town to town on horseback, with churches (steeples) marking the beginning and end.
It later evolved into a human event with people rather than horses running from steeple to steeple.
Transitioning from countryside to track, steeplechase first appeared in the English Championships in 1879 and has been added to high school, collegiate and Olympic-level races.
To complete the 3,000-meter steeplechase, athletes must run 7.5 laps on the track. During each lap, they must also clear six fixed hurdles, or steeples, one of which ends in a pit of water.
Reed's race at Washington University in St. Louis not only resulted in her first national qualifying time of the season but also marked her first time running the 3k steeplechase collegiately, having run the 2k steeplechase in high school.
"I've been looking forward to doing steeple really since I was in middle school," said Reed, an accounting major from Augusta, Missouri. "Getting the chance to do it was fun to begin with, but then when I hit the qualifying time and realized that I would for sure get to do it again, I was ecstatic."
While Reed enjoys the unique track event, her running mate expresses the opposite sentiment.
"Steeple is definitely not my favorite event. It's a bit longer than I prefer, and I prefer to run a race that doesn't have things you have to jump over," said Bayer. "Definitely my favorite race is the mile. It's the perfect mix of speed and endurance."
Bayer later qualified in the 1,500-meter run at the UCM Mule Relays on April 15 at the University of Central Missouri in Warrensburg, Missouri, clearing the "A" standard by 0.25 seconds with a time of 4:43.25.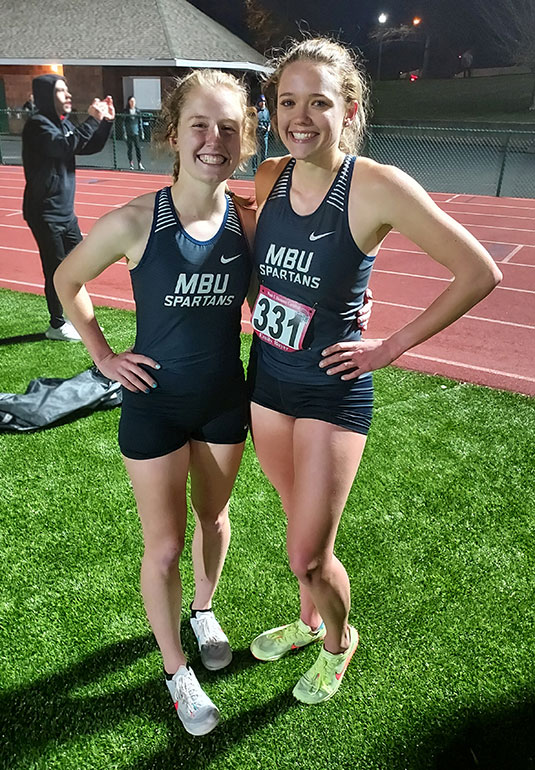 Despite preferring other events, Bayer enjoyed running with Reed and was proud of her teammate qualifying as well.
"I love getting to race with my teammates. It was fun getting to see Mia succeed and run crazy fast, and I definitely feel like it pushes both of us when we race together," said Bayer.
Reed also expressed excitement about going to Nationals with Bayer, where they are competing today.
"It's really fun to get to go as a team and especially with someone you look up to," said Reed. "It's a really good feeling to know that you won't be alone."
Brennan Cape, MBU's head cross country and track and field coach, saw potential in both runners and was not surprised when both hit the national qualifying time.
"I expected both to qualify but not two 'A' standards right off the bat," said Cape. "Mia ran a very intelligent race, I thought, and showed a lot of potential as a steeplechaser. Emily showed her range by stepping up to a longer race than normal."
Although both athletes qualified in the steeplechase, only Reed will be competing in the event at nationals as Bayer will be focusing on the 1,500.