As a devoted lifetime Kansas City Chiefs fan, I'll take you on a trip down memory lane in this personal narrative as I share one of my favorite experiences with you, including how my dad and I were fortunate to witness franchise history during the 2019-20 AFC Championship Game.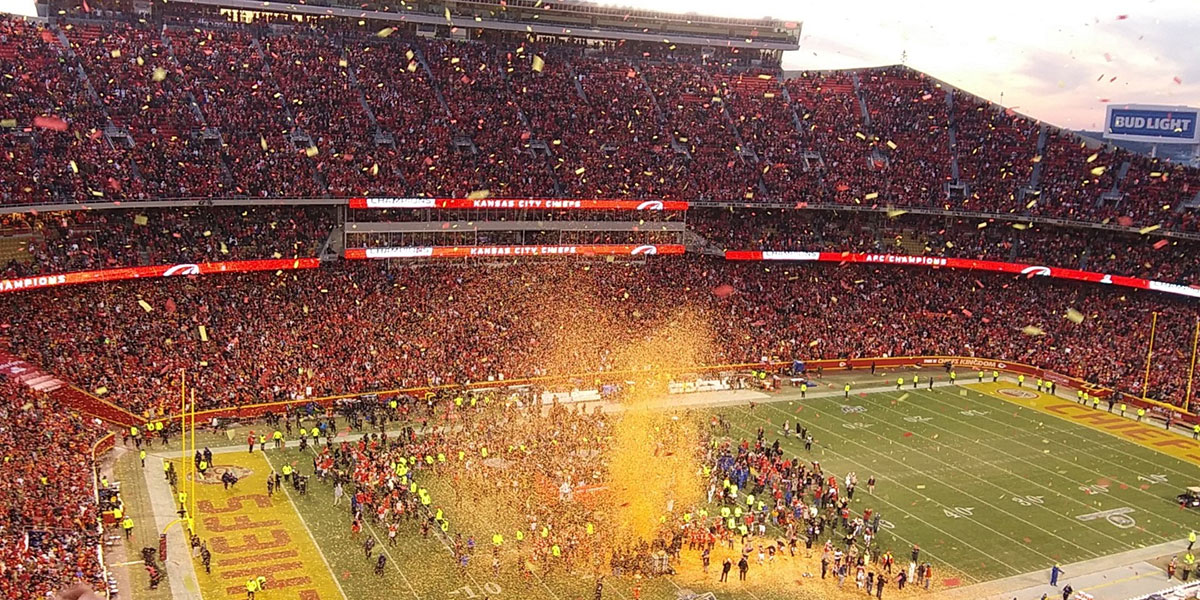 Confetti falls as players celebrate during the trophies ceremony of the AFC Championship game. Photo by Triston Buckley
__________________________________________________
In my family, football has always been very important. 
Throughout the fall, we would gather around the television on Sundays to cheer on our favorite Kansas City Chiefs while also decorating our fireplace with memorabilia that we had accumulated over the years. 
Football has always been a source of pride for my family and is something we take very seriously.
As a Kansas City Chiefs fan, I've experienced my fair share of highs and lows.
I've seen the team win Super Bowls, and I've seen them lose heartbreaking games in the playoffs. I've seen them go from the bottom of the standings to the top and back again.
But through it all, nothing is better than sitting down on Sundays and supporting the team I love, no matter the outcome.
I know that no matter how bad the team is, they will always have a chance to turn things around, and when they do manage to put together a winning season, it makes all the struggles worth it.
There's nothing like seeing your team win on Sunday after a long week. So even though being a Chiefs fan can be stressful, it's also a very rewarding experience.
I still remember the first time I ever attended a Chiefs game.
Even though we were seated in the nosebleeds, I can't help but remember that first game every time I enter Arrowhead Stadium and how it felt to be a part of such an incredible experience I became captivated by the 2005 game between Trent Green and Tom Brady at Arrowhead right away.
I wasn't entirely sure what to anticipate, but as the game began, all those nerves vanished.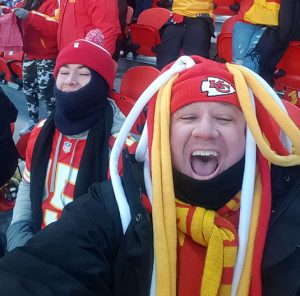 It has become one of my favorite traditions to watch a Chiefs game in the stadium as I get to spend time with my dad while supporting my favorite team.
But by far the most memorable experience in recent times as a Chiefs fan would have to be the time my dad and I drove over from St. Louis went to Kansas City to attend the 2019-20 AFC Championship game against the Tennessee Titans.
This was by far one of the most exciting events I have ever attended.
There was so much on the line for this game as we were one win away from making it to the Super Bowl, something I thought I would never see in my lifetime.
The Chiefs had numerous bad seasons prior to that year, but leading up to that incredible year, everything was slowly coming together as we had barely lost to Tom Brady and the New England Patriots in a heartbreaking overtime loss.
Nevertheless, this year was different. Led by Head Coach Andy Reid and quarterback Patrick Mahomes, we actually had a decent chance of making it to the Super Bowl in Miami.
That year, everything felt like it was clicking, and both the offense and defense were running efficiently on all cylinders. This was our best shot, but unfortunately, we were matched up against a team that was also having a breakout season.
Led by star running back Derrick Henry, the Titans were absolutely unstoppable on the ground. All season they were able to put up large rushing yards on teams with great defenses. The KC defense was definitely not our strong suit, but our offense was explosive.
I felt that if we could just slow Henry down, and contain him to about 100 yards rushing, it would put a lot of pressure on their passing game, which was definitely not as dynamic as ours. If by some miracle we did this, I felt it would be enough to walk away with victory.
As my dad and I approached the stadium, we could just make out the stadium lights shining overhead, lines of bumper-to-bumper automobiles slowly moving toward the main entrance, and fans beginning to arrive.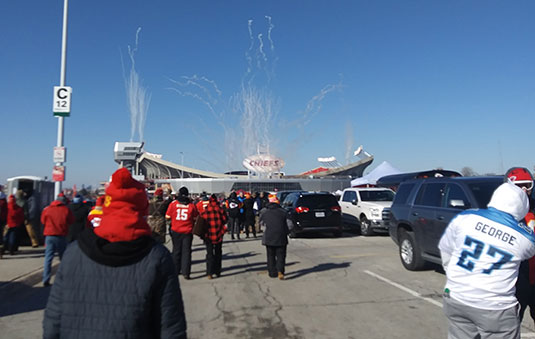 The aroma of that magnificent Kansas City barbeque flooded the air, filling our nostrils from "the best-smelling parking lot in the NFL," as my dad would say.
You could feel the excitement in the air as tailgating parties were in full swing, and the chants of "Go Chiefs!" could be heard from all corners of the parking lot.
The walk to the main gate is always lively, as fans chat and high-five each other while they make their way into the stadium. Once you reach the gate, the imposing structure of the stadium looms ahead, and you can't help but be awestruck by the size of the stadium as you are greeted by a sea of red.
Inside the stadium, the energy is even higher.
The entire stadium sang along to the national anthem, which was sung by retired Navy Petty Officer Generald Wilson. This impressive display of unity and patriotism was a moving sight. And as he finished singing the final lyrics, "and the home of the…" all 76,416 fans shouted "Chiefs" as loud as they could instead of "brave." A Northrop Grumman B-2 Spirit, also known as the Stealth Bomber, passed over the stadium at the same time, signifying that it was time for the action to begin.
The crowd's roaring adrenaline amplified by the unique structural build of the stadium engulfed me as the home team drove the field in search of the end zone.
The gut-wrenching anticipation gripped me more and more in those bright red seats as 76,000 spectators screamed to express their love and support for the game.
It was a sight to see Patrick Mahomes having a stellar performance, throwing for 294 yards and three touchdowns.
He was not only fantastic throwing the ball but he also had a remarkable run, where he had to tiptoe down the sideline and break off a couple of defenders, ultimately barreling into the endzone for what would end up being a momentum-building score.
The Chiefs defense stepped up big when the pressure was on, holding the Titans to only 209 passing yards and holding Henry to only 69 total rushing yards.  In the end, the Chiefs were able to come up with the win, 35-24.
I will never forget the feeling as the clock struck zeros across the board and strands of yellow confetti propelled into the air, slowly falling onto everyone in the stadium.
Fireworks erupted from the top of the towering press box in front of us, and screens on each end showed players jumping for joy,, knowing they had done something special.
We were witnessing part of something special. Emotions too heavy to keep buried, me and my dad were ecstatic as we high-fived each other along with everyone sitting around us.
We knew we had witnessed something incredible. Mahomes had just led the Chiefs to their first Super Bowl in 50 years.
As he held up the Lamar Hunt Trophy, for winning the AFC, fireworks lit up the sky and confetti rained down on the field. It was the stuff of which dreams are made.
It was a moment that I will never forget, and one that I will always cherish.
With my dad by my side, I was able to witness history firsthand.