MBU hosted Spartan Fridays for prospective students to visit the university and be involved in true campus life. The experiences ran from 2020-2022 and lasted from 9 a.m. until noon on various Fridays throughout the fall semesters.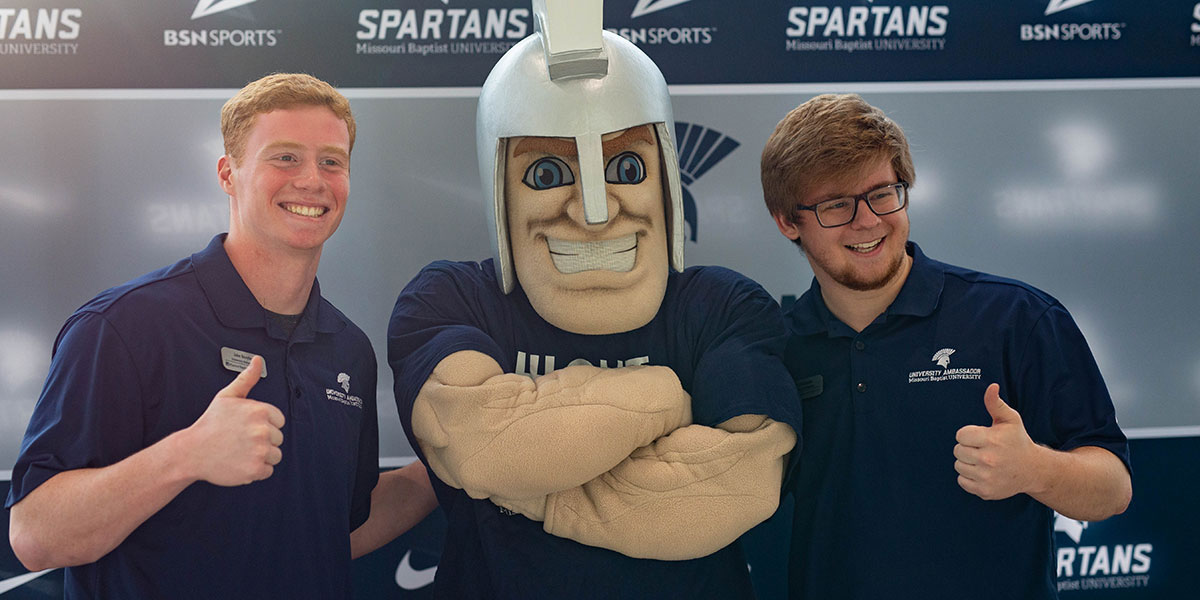 University Ambassadors Jake Broyles (left) and Will McQuade (right) have fun taking photos with Spartacus (center) at Preview Day, a larger event similar to Spartan Fridays. Photo courtesy of MBU Flickr
__________________________________________________
To kick off each new school year, throughout the fall semesters, the Admissions Department at Missouri Baptist University hosted an array of on-campus events, such as Spartan Fridays, an event designed for prospective freshmen to visit campus and gather information about the university while also getting to know campus and college life. But one of the main emphases was giving each student a personalized experience while on MBU's campus.
Spartan Fridays were intended to help prospective students get a true feel for MBU, and various activities were included during the event which helped accomplish this.
Prospective students would sit in on informational lectures in the Performance Hall in the Mabee Great Hall, learn more about the Admissions Department, were given a campus tour led by university ambassadors, were allowed to sit in on a class of their choice in order to experience the feel of an actual college classroom, and were also provided a free lunch.
Haley Eaton, the campus visit coordinator at MBU and a graduate of the university, was highly involved in planning and seeing Spartan Fridays through.
"We have four Fridays in the fall semester where prospective students and their families can come and learn about the admissions process and tour campus and have lunch on us, just to learn more about MBU and just get a very personalized visit experience," Eaton said.
Eaton also said she coordinated with Taira Schertz, director of Student Life, who organized fun activities with current students to take place around campus during Spartan Fridays so visiting students were better able to experience everyday campus life, even during their short visit.
"Student Life plans events during the time students are here on campus for Spartan Fridays so they can have a taste of what it is like to be actively involved on campus," Schertz said via email.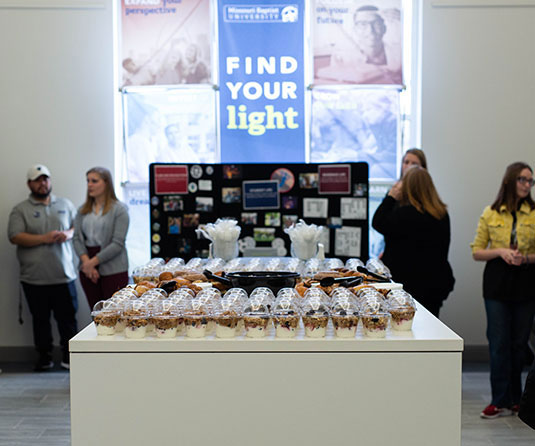 Spartan Fridays were important for MBU because they offered an opportunity to show the university's core values, purposes and beliefs, showcasing the MBU culture.
Cynthia Sutton, former executive director of undergraduate admissions, spoke about the importance of Spartan Fridays and what sets MBU apart from other universities.
"Every single school has beautiful, glossy brochures. We all have websites that, you know, quote 'tell our story,' but until you step foot on a campus and see it, feel it, smell it, just have that personal experience, and the thing that sets MBU apart is the fact that our faculty are literally in the Mabee Great Hall talking to students, sharing with them their story why they should attend MBU, it makes it a much more informative, intimate, personal experience than you would get from a normal visit day or just looking on the website," said Sutton.
Spartan Fridays were not only designed for prospective students to get to know MBU, but also for people at MBU to get to know them as well, helping them along in their college search.
Many details made Spartan Fridays valuable for those attending and those involved with putting the days together for prospective students and their families
While being a student herself who has gone through the journey of searching for the right university, Lillie Ford, a psychology major, university ambassador and 2022 MBU graduate who had worked multiple Spartan Fridays, also expressed some reasons why Spartan Fridays were so important at MBU and for visiting students.
"I would say the biggest thing to take away overall would hopefully be the sense of community that we have here. I hope that people feel that, you know, when they come to visit campus, especially for Spartan Friday, when they're more in with the student body," said Ford, "because I remember coming here and people who didn't even work for the school, just students, were saying, 'Hi, how are you,' 'Welcome,' you know, that kind of thing, and I hope that's what students who are attending Spartan Friday get to take away too."
Ford also expressed why she felt Spartan Fridays helped showcase MBU's true atmosphere.
"I just had such a great and memorable visit experience with MoBap, so my favorite part is getting to help try to create that for other people," said Ford. "Just to be able to connect with people and have good conversations, especially when we just get to sit down and eat lunch with them, just kind of learning more about who they are and why they're interested in MoBap and just kind of trying to cultivate that a little bit."
Sutton noted that getting to know students and their families and hear their stories make Spartan Fridays so rewarding, especially when students seem to have had a transformative experience while visiting campus, and "they realize that MBU might be where they want to call home."