After breaking all previous records for scope,

presenters

and attendance last year, this year's

Faith and Research

Conference will be focusing on mind, body and spirit as Christian faith intersects with academic research over the course of two days this spring, April 13-14, on the campus of Missouri Baptist University in St. Louis.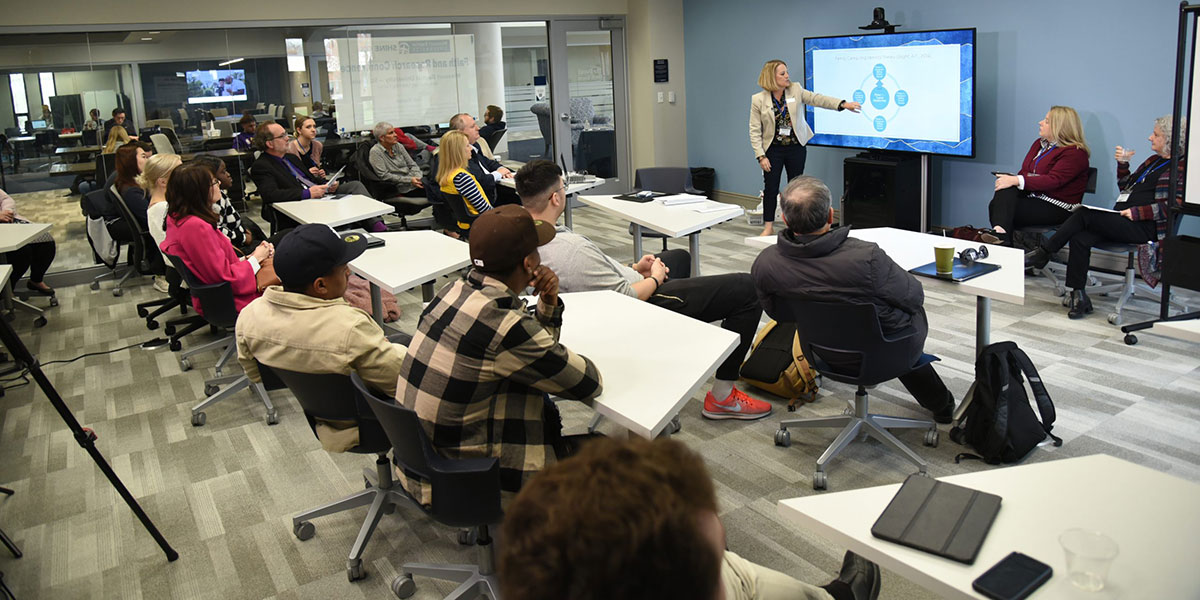 __________________________________________________
After making history last year as the largest research conference in the history of Missouri Baptist University, this year's fifth annual Faith and Research Conference, scheduled for Thursday and Friday, April 13-14, on the MBU campus in St. Louis, explores new heights as it continues building momentum in the Christian academic community.
After focusing primarily on mental health and the wholeness of creation during the 2022 conference, drawing speakers from around the city, nation and world, this year's theme builds on that energy as the conference focuses on physical and whole-body wellness.
The 2023 F&R Conference title reads, "Wellbeing: Being Well … of Mind, Body and Spirit," with this year's theme statement: "As the world emerges from the deadliest pandemic in a century, Christian researchers march forward together with our collective focus shifting to humanity's personal and collective wellbeing, placing a deliberate emphasis on healthy mind, body and spirit. Building logically on last year's Faith and Research Conference theme, which focused specifically on mental health, this year's theme examines our overall positive wellbeing … in mind, body and spirit."
To this end, MBU's Faith and Research Conference has received and reviewed a record number of proposals for paper presentations, roundtable panels and poster sessions addressing topics of faith as related to our wellbeing, including mind, body and spirit.
Here is a link to the general information page regarding the Faith and Research Conference.
"Last year's Faith and Research Conference was about three times larger than the year before, and this year we have received more proposals than ever before in our history. We're excited about that, we're celebrating that. But growth just for the sake of growth is not the point," said Dr. C. Allin Means, Director of the Faith and Research Conference, Professor of Journalism, and Director of the Communications Department in the Fine Arts Division at MBU. "As Christians we know that all truth is God's truth, and so we celebrate the logical connection between strong faith and top-tier academic research. Growth in our conference is fantastic, but focusing on this mission each year is even more important. To separate faith from research would be doing an injustice to not only the Christian community, but also to the academic community at large."
The overall Vision Statement that Means drafted two years ago when he took over as director of the conference captures this understanding: "The Faith and Research Conference celebrates the intersection of Christian faith and rigorous academic research, promoting collaboration among faculty members and students to augment the building blocks of knowledge in the ultimate pursuit of God's truth."
Last year's keynote speaker, Dr. Shane Crombie, Assistant Professor in the Department of Contemporary Communications, and Coordinator of the faculty-wide Faith Integration Initiative at LCC University, in Lithuania, presented via Zoom from near the frontlines of the Russia-Ukraine war. "With students from Ukraine, Russia and Belarus – with a host of other nations – the war is putting faith and practice to the test," Dr. Crombie said.
Last year's conference also welcomed presenters from Trinity Christian College in Chicago; Lindenwood University in St. Charles, Missouri; Maryville University in St. Louis, and several from Missouri Baptist University.
This year's Keynote speaker is Dr. Holly Brand, MBU professor of psychology since 2000, Distinguished Professor of the Year Award winner, published author and public speaker, who will be presenting on, "The Top Seven Predictors of Well-Being."
This year's conference also welcomes presenters from various disciplines across MBU, as well as students and faculty members from Wheaton College in Wheaton, Illinois, Southeastern Baptist Theological Seminary in Wake Forest, North Carolina, and Indian River State College in Vero Beach, Florida, among other institutions.
As important as the conference's reach, Means said, is the collaboration between faculty members and students.
"Something that sets the Faith and Research Conference apart is that we really encourage faculty members and students to work together on research projects they can present at the conference. We have several examples this year," Means said. "We're breaking down those historic assumptions that faculty members do their own high-level rigorous research and students do their own research with less rigor. We are all learners in God's kingdom, and we promote that."
Presentations will run 9 a.m. to 5 p.m. each day, Thursday, April 13, and Friday, April 14, in the Pitch Room of the recently renovated Jung-Kellogg Learning Center, with coffee, beverages and meals provided to presenters and special guests. All free of charge.
"The Faith and Research Conference provides an engaging venue for Christian scholars from various backgrounds and academic disciplines to present meaningful research and ideas in an environment that faithfully celebrates relating scholarship to Biblical truth," said Dr. Keith Ross, President of MBU since 2017.
Dr. Andy Chambers, Provost and Senior Vice President for Academic Affairs, added: "The interdisciplinary nature of the Conference allows us to bring together the best thinking of scholars from different backgrounds and research interests to bear on issues that lie at the intersection of faith and scholarship."
"As director of the conference for my third year now, I can honestly say the Faith and Research Conference at MBU is on solid ground and heading in the right direction, positioned in the academic community as the nation's unique Christian research conference," Means said. "With the support of MBU and our Board of Trustees, and the help of so many willing students and colleagues who do so much to make this conference work so well each year, my hope and prayer is that I can continue leading this important conference into the future, helping our university in its ongoing effort to raise the level of scholarship and research within the Christian academic community."