Read along as I take you inside one of my favorite childhood memories. In this experiential narrative, I discuss the lighthearted tradition my grandfather and I had of treating ourselves to a hotdog and an ice-cold Coke after a long day on the golf course.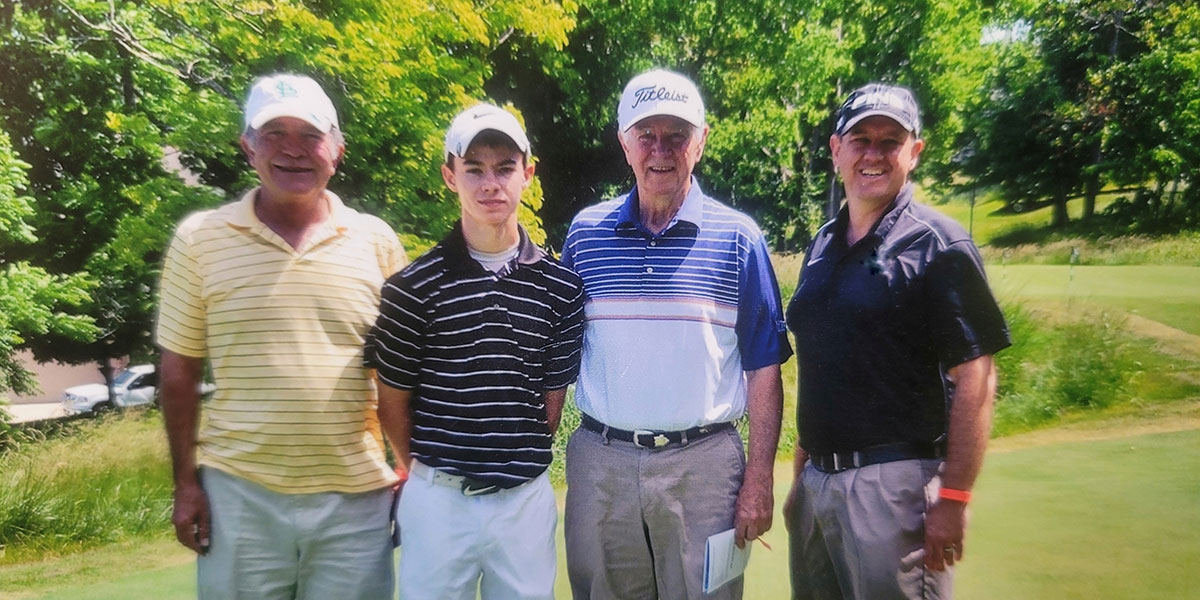 Triston Buckley (middle left) stands for a picture along the putting green at a YMCA scramble at Tapawingo National Golf Club in 2013 with his dad, grandfather, and his grandfather's friend. Photo provided by Triston Buckley
__________________________________________________
It's hard for me to walk or cart around any golf course without feeling the overwhelming presence of my grandfather.
A man who was so prolific in my life and a role model beyond belief, I shared many unique memories and traditions with him that I will hold onto in my heart for as long as I live.
One of these memories came in the simple act of getting a hotdog and Coke at the 19th hole after a lengthy round of golf.
Every time my grandfather and I would spend a day out on the golf course we would end the day with a snack, always a hot dog and Coke.
He also would look at me and say, "Nothing better after a round of golf than an ice-cold Coke."
No matter where we were, whether it was a course in Missouri or Florida, nothing would get in the way of us obtaining that tasty snack that we both looked forward to having.
It is a small and simple tradition, but it meant the world to me.
My grandfather meant the world to me. He was a prominent  role model that I looked up to since I was little, and golf was one of the many things we shared a passion for and playing golf was something we genuinely enjoyed doing togeather.
One particular memory that jumps out to me is when my grandfather, dad, uncle and I all played golf together in Destin, Florida, on a course called the Raven, close to a resort called Sandestin where my family on my mother's side was vacationing.
It was a beautiful, sunny day, and you could smell the salt from the ocean. The wind from the shore was gently colliding with the towering palm trees, and if you listened closely, you could just hear the breaking waves crashing onto the surrounding beach line.
To me, the courses in Destin are some of the most beautiful in the world, and it was always a treat to play whenever we would take our family trips to this renowned tourist destination.
I have many fond memories of playing golf with my grandfather in Destin. He always made me feel like I was his partner on the course wherever we played. During our rounds together we would often talk about life as we drove from hole to hole.
Those moments meant so much to me then, and they still do today.
The stage was set for us to have a relaxing day on the golf course, unaffected by anything else, we were able to simply live in the moment and enjoy the near-perfect weather under the warm Florida sun.
Walking up to the first tee box with my dad and grandfather, ready to begin our long day of golf, I can still remember the smell of freshly cut grass, eager to tee off and listen to the sound of the ball echoing as we all hit our shots.
Although my golf game was a little rusty at the time, I still hoped to put together a round that would not only wow him and make him proud, but also earn a hot, fresh hotdog and chilled beverage.
Conversations flourished throughout the round, along with subtle jabs purely out of the love of competition, and along with being with good company I was able to get myself in a rhythm by feeding off the lighthearted competitiveness.
I struck the ball brilliantly, hitting the correct shot for each hole, but most importantly, I was making putts, putting together a round of one under par.
I was learning from the best. My grandfather was an excellent golfer, and many of the techniques I employ in my own game now stem from his intelligent teaching of the game. During our rounds together, I would try hard to demonstrate to him that I was improving and applying the knowledge he would pass on to me.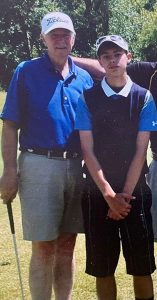 I often close my eyes and remember the many talks we'd have on our cart trips and rounds of golf, eager to hit our next shot, each shot bringing us closer to the last.
Although the prospect of reaching the 19th hole was exhilarating, it would never take away from the incredible sensation of being present with him on a lush, freshly cut fairway.
Finally, we made it to that outside patio attached to the back end of the pro shop, where the smell of the grill filled the air. It was finally time to sit down, relax and chow down on those long-awaited clubhouse hotdogs.
Sitting under the shade provided by the clubhouse, we got out condiments. I would reach for the ketchup, while my grandfather would reach for the mustard, as he always did.
We all popped the classic Coke bottle open, poured it into a clear plastic cup filled with ice, and watched the bubbles rise.
I couldn't help but think that things couldn't get any better than this.
Everything was just perfect.
I can still hear his laughter echoing across the green as we shared stories and jokes. Golf was our shared passion, and it brought us closer together in a way that nothing ever could. 
Those memories are more precious to me now than ever.
Every time I step on the green, I feel like my grandfather is there with me, guiding my hand and cheering me on.
I know he's not physically present anymore, but in some ways, he's more present in my life than he ever was. And for that, I will be forever grateful.