The Sound of Blinking Lights
Some people might find it difficult to name their favorite song of all time, but for me once I heard the song that would be my favorite it hasn't stopped being my favorite since. This song is and will forever be "Fireflies" by Owl City.

————————————————————————————————————
No matter my mood, happy, sad or glad: "I'd like to make myself believe / That planet Earth turns slowly / It's hard to say that I'd rather stay awake when I'm asleep / Cause everything is never as it seems."

These are the words that dance in my head that cheer me up when I'm down and take me to a mental state of simplicity and the joys of childhood.

Singer, songwriter and multi-instrumentalist, Adam Young, most famously recognized as Owl City, released the song "Fireflies" On July 14, 2009.

I cannot remember the exact moment I heard this song for the first time, and I never knew I would have a favorite song of all time, but something about the sound, feeling and lyrics of "Fireflies" made me instantly hooked and it is still my forever-favorite song today.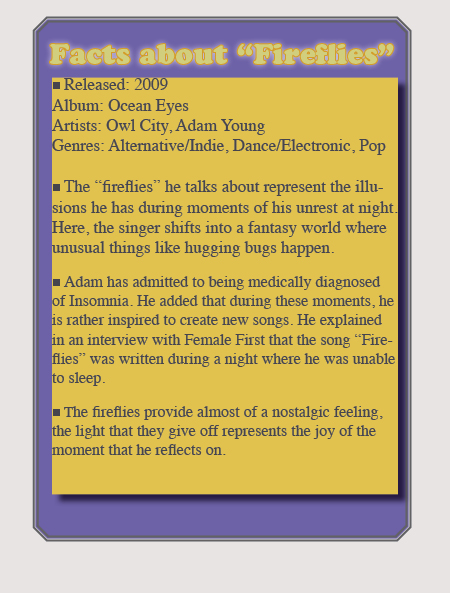 As an 8-year-old I had no idea what "Fireflies" was about, but I knew I liked the way it sounded and it always put a smile on my face.

What makes this song appealing to me is with an instrumental opening of this song Owl City immerses listeners to feel like they are initially surrounded by the blinking of fireflies as the song begins.

To celebrate turning 9 years old in January of 2010, I invited my friends over to a disco-themed birthday party where I made a paper maché disco ball piñata as the staple of my party.

I was so excited to jump and dance around with my friends under the disco ball that my mom attached to our basement ceiling.

Seeing as this was a disco-themed party I definitely needed a groovy dance party playlist, so my mom burned a CD for me with songs I requested at my party.

Can you guess what song was No. 1 on that CD? Yep, "Fireflies" by Owl City

Now being 21 years old, "Fireflies" is such a whimsical song and I think why I like it so much even today is because the lyrics and sound effects take me back to my younger days of being a kid. This song makes me stop and be present in life and just appreciate what's going on around me.

Being a young adult the lyrics are more relatable to what I have experienced within the past five years of my life. With the hustle and bustle of being a college student it can be difficult to pause and reflect on our past experiences and our childhood memories, and to me "Fireflies" does just that.

The imagery conveyed in verse one of "Fireflies" is full of metaphors and symbolism. Young, who suffers from insomnia, intended to paint the picture in this verse that despite the troubles that come from the racing thoughts (positive or negative) that flood our minds as we try to fall asleep, that sometimes our best ideas can come right before our eyes close and our mind drifts off to sleep.

As a university student it can be easy to feel overwhelmed from time to time. With assignments, projects, classes, work and extracurriculars, it is hard to seek out the beauty through it all, but Young hopes listeners can understand the importance of being immersed in an unseemly inspiring life with the lyrics presented in the first verse.

Sometimes we just wish life could go slower and we weren't always spinning in and out of routine and habits. The chorus in "Fireflies" modifies this perspective relating to listeners that although we wish life would slow down we need to do our best to make the most of it.

As the song continues on to the second verse this where not only the melody but the lyrics become more unique. 

My favorite line of lyrics in this verse are sung by Young: "A foxtrot above my head, a sock hop beneath my bed/A disco ball is just hanging by a thread."

This particular lyric stuck out to me so much in fact that this was the sole inspiration for my ninth birthday party theme. 

Now at my current age I view this set of words as a reminder that it's OK to rest and close your eyes and dream. It might seem like we are all hanging on by a thread, but the disco ball remains and the party that is life continues with all of its pretty uncertainties.

As "Fireflies" concludes the chorus is repeated for a final time, except the last line to be sung by Young is, "Because my dreams are bursting at the seams."

With this lyrical change Young expresses that he has come to realize that the daily drivel of life means nothing if you don't let your goals, aspirations and dreams be the driving factors of living life to the absolute fullest.

I try to aspire to have the same mentality. I want my dreams to be so great and so vast that they are just bursting at the seams. 

Sometimes it takes an old song to make us feel young again but the best songs, such as my personal favorite song "Fireflies," are still applicable and relatable as we continue to grow up, leaving lasting memories not only in our hearts but in our ears forever.
Tags: Artie_Navarre, Arts and Entertainment, birthday party, Fireflies, Jessica Kunkel, Julie McDevitt, MBU Timeline, Owl City, YouTube

Jessica Kunkel
Jessica Kunkel is the managing editor (2022-23) for MBU Timeline. A senior double majoring in communications studies and journalism with a minor in math, Kunkel is the current president of MBU's sorority Gamma Delta Sigma. Her hobbies include Disney pin trading, playing tennis and hanging out with her friends, family and pet tortoise.