Hunting for the quintessential calzone experience? Look no further than Sauce on the Side, the undisputed king of calzones in the Gateway City. With locations throughout the St. Louis area, you can enjoy their renowned classics or build your own calzone using their extensive list of ingredients.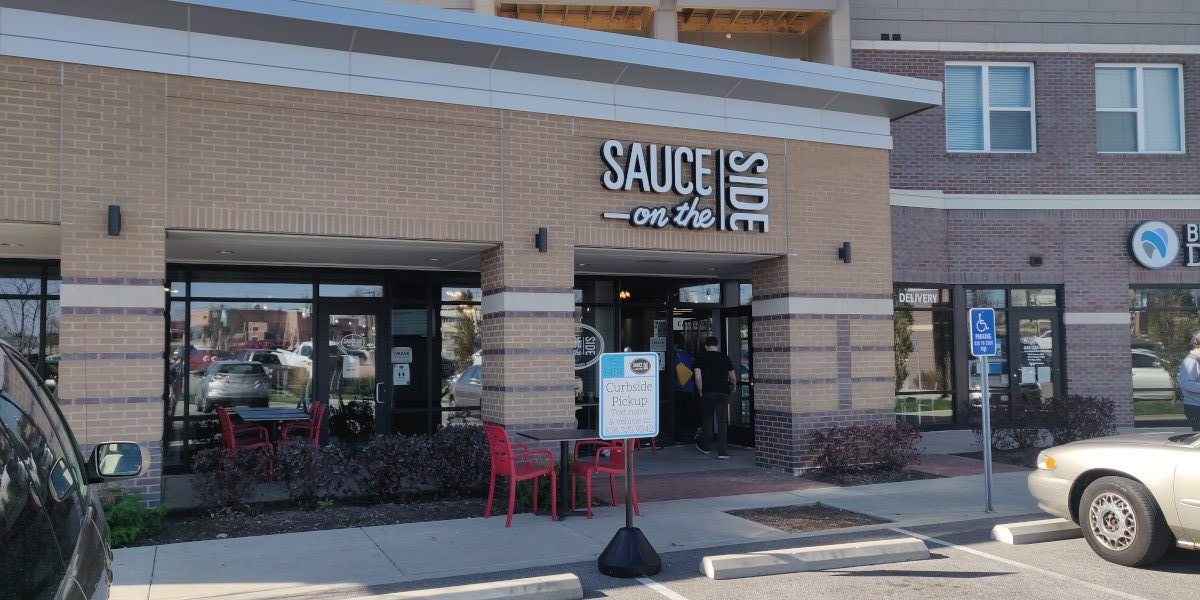 Photos by Jack Gienke
__________________________________________________
Name: Sauce on the Side  
Location: Locations in Downtown St. Louis, Clayton, The Grove, Chesterfield, Twin Oaks and Wentzville  
Price: $$ 
Rating: ****
___________________________________________________________________________
You would be hard-pressed to find anyone who doesn't enjoy the occasional pizza from time to time; it's one of the country's most popular foods. But pizza's culinary cousin, the calzone, deserves just as much, if not more, respect.  
For those unaware, a calzone is often described as a pizza that is folded in half on top of itself to create a contained pocket, but this basic description does not come close to doing justice to the edible experience that is the calzone. 
What a calzone really offers to a diner is a world of meats, cheeses, and specifically selected complementary additions served hot in a capsule of oil-brushed dough that is made to be explored with a fork and knife, or by hand for the truly adventurous.   
This delicious consumable encounter is exactly what Sauce on the Side specializes in.
With locations dotted across the St. Louis area, from Wentzville to Downtown St. Louis, Sauce on the Side offers a wide variety of calzones that will appeal to almost anybody's gustatory preferences.
The menu is packed with classic, prototypical pizza-style calzones, like their "Meat Me in St. Louis" and "Fatty B," to more inventive offerings such as the barbecue-flavored "Duke" and the spicy Mexican-inspired "Pancho Villa."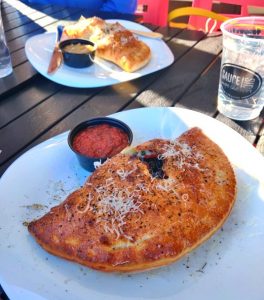 And these calzones aren't just filled with your ordinary pepperonis and mozzarella, Sauce on the Side also offers a taste of some less common Italian meats and cheeses: capicola, prosciutto, pancetta, as well as ricotta, mascarpone and blends of both. 
On the more exotic side of the menu, one of their most famous selections, the "Cock-A-Doodle Noodle," comes stuffed with mac and cheese, roasted chicken and pancetta.   
The only thing they don't wrap into the calzone is, not shockingly, the sauce, thus the name. 
The sauce is served on the side of the plate and they offer 11 different styles, from classic red marinara to barbecue ranch and queso. 
Each calzone comes paired with a sauce on the menu but substitutions can be made if you have a preferred sauce choice.
And of course, they offer the opportunity to build a calzone from scratch, choosing from their exhaustive list of ingredients so that you can create a calzone all your own.
The experience is set within an atmosphere that can be described as a mixture between the neighborhood pizza joint on the corner and an Italian bistro restaurant. 
During a normal, non-coronavirus dining experience, one of the things that really stood out to me was the use of Scopa cards, an old Italian card game, as order numbers for your tables. 
During my latest trip to Sauce on the Side, I was able to get an up-close look with a diverse number of their offerings. 
I personally enjoyed the "Costanza," which was filled with pepperoni and eggplant as well as a sizable amount of garlic. My brother ordered a "Five-O," a calzone take on a Hawaiian style pizza, and my mother partook in their ever-changing monthly special, which in November was the festive "Mayflower," a conglomeration of almost every Thanksgiving staple served with turkey gravy as the sauce. 
Outside of the calzones, Sauce on the Side offers several salad varieties for those looking for a lighter choice, dippable appetizers and a few dessert options. 
As for beverages, their selection includes the normal assortment of soft drinks as well as several red and white wines and local brewery products. 
Sauce on the Side is a fantastic choice, not just for a pizza lover, but for anybody who wants to indulge in a flavorful meal in a homey ambiance, and I personally would suggest it to any and everyone.