Clementine's is a local ice cream shop, specializing in "Naughty or Nice" ice cream and is open for to-go orders all year round. Although it isn't the cheapest option when purchasing an ice cream treat, there are several delicious options that set this shop apart and make it a go-to place when craving quality sweets for all ages.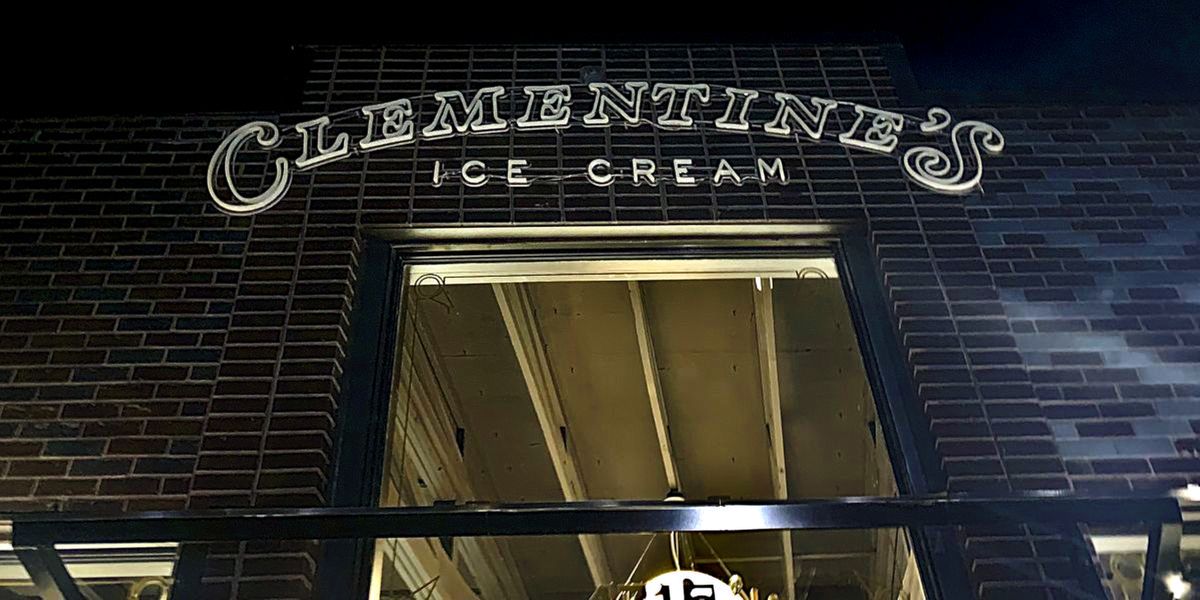 The location of this sign for Clementine's Naughty and Nice Creamery is located off Macklind Ave in St. Louis, just one of the ice cream chain's several storefronts in the Missouri area. Photos by Madisyn House
__________________________________________________
As a college student, one of my favorite activities is trying out new restaurants with my friends, especially ice cream shops.
Clementine's is a local ice cream chain, with one of the nearest stores less than 20 minutes away from MBU's campus. 
The shop I visited was located in Clayton. The atmosphere was cutesy, with classy signage, floral booths and a chandelier made of utensils.
Upon entering the building, there is a section of merchandise customers can purchase to support Clementine's, including hats and T-shirts. 
While ordering, the different flavors of ice cream are visible through the glass top of the cooler. Customers can purchase one type of flavor as well as mix them together.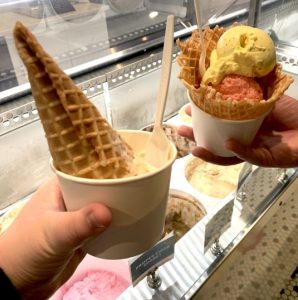 At checkout, customers can take the ice cream that was just made for them, but they can also take a pint of their favorite flavor to go. Or they can order pints to be received through curbside pickup or even delivered. 
The slogan of Clementine's is "Naughty and Nice" because they make both alcoholic and non-alcoholic ice creams. They also have vegan and dairy-free options. 
While all of us were under the age of 21, we still got to indulge in some delicious non-alcoholic ice cream under the "nice" category. 
The dessert was absolutely delicious, rich in flavor and creamy in texture. The waffle cones were also delicious, strong enough to hold the ice cream, but almost soft and sweet in taste. They had many flavors to choose from, all of them being unique. 
The biggest issue that we had was the way Clementine's names the flavors of ice cream. While the flavors were fascinating, such as "Midnight Pleasures" and "Bee the Change," it was hard for us as customers to know how the flavors actually taste. However, the employees did take the time to explain it to us when we asked them to.
Some of the delicious flavors include "Midnight Pleasures," which is a dark chocolate ice cream, "Salted Cracker Caramel" which has chocolate, caramel and three types of crackers and "Lemon Poppyseed," which is a vegan option that includes lemon and coconut milk.
Clementine's definitely isn't the cheapest ice cream shop in St. Louis, but it also isn't the most expensive. For the quality of the food, the price is well worth it.
Overall, Clementine's was a great place to stop by with friends and grab some delicious ice cream. I highly recommend checking it out if you live in or are visiting the St. Louis area.