JV athletics aren't as frequently highlighted on social media or on athletic websites as their varsity counterparts. With this in mind, I wanted to put the spotlight on the MBU men's JV volleyball team and share why they enjoy playing volleyball and why this past volleyball season has cultivated fun memories for them in their sport.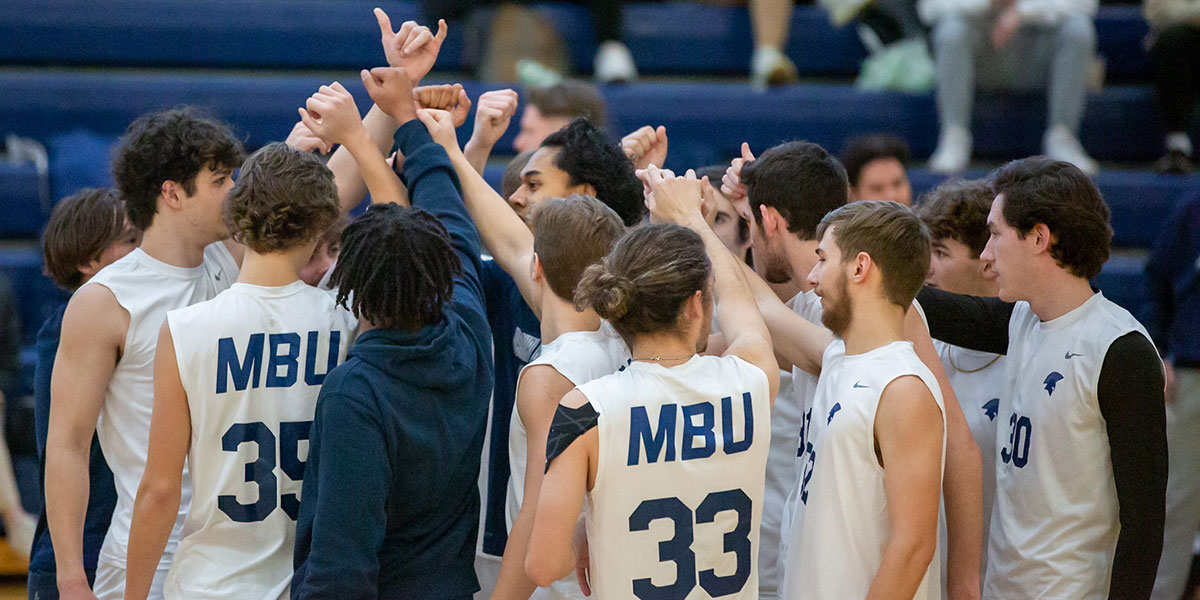 The boys of MBU's men's JV volleyball team rally together in unity in The Carl and Deloris Petty Sports and Recreation Complex before playing a home game against Clarke University located in Dubuque, Iowa.  All photos by Jessica Kunkel
JV athletic teams can often get overlooked at any university, whether it be in the NAIA division or at an NCAA Division 1 school. 
These teams are not typically promoted on social media as frequently, if even promoted at all, as the varsity or main teams that play for a university.
However, this does not mean that JV sports should go unnoticed. 
The players and coaches of the team are valued members of athletic programs, and they put in an abundance of hard work to not only win games but, arguably more importantly, in having fun along the way. 
One of the JV teams that has personally become a favorite of mine is Missouri Baptist University's JV volleyball team. 
Over the years, the team has gone through some unexpected coaching changes, but this has not stopped the players of this team from coming together to practice and play volleyball games well. 
Since the spring of 2022, MBU's JV volleyball team has continued to grow stronger with Missouri Baptist University alumni Colton Albers and Kolby Matsushima being the current coaches. 
As a senior at MBU, I have noticed that there isn't much turnout for JV games in comparison to varsity games, and as a former high school JV athlete myself, I can attest that sometimes it is not as fun to be an athlete when there isn't an abundance of cheers coming from the stands as there typically would be during a varsity game.
Additionally, before being a student at MBU, I had never really attended a volleyball game at any level. It wasn't until I met my boyfriend, who plays the sport at MBU, that I became a volleyball fan, more specifically an MBU men's JV volleyball fan.
To support my boyfriend and his passion for the sport, I tried my best to attend all of his home games, and since I have a passion for taking pictures, I always saw it as a great opportunity for me to capture him in his sport.
As I attended more of his games, I found that I really enjoyed taking pictures of volleyball. There is so much action and unpredictable movement. I see it as a fun and unique photography challenge. The real trick is making sure a ball doesn't fly from the court and hit me in the stands with my camera.
Through my lens, I became the men's JV volleyball team's number one fan, although my favoritism was heavily influenced by my boyfriend's presence.
In my opinion, the best part of a game is getting to see the boys cheer each other on through the highs and lows of the game, making silly or goofy chants following specific actions that take place during a game.
Since JV games are not always highly attended, I thought it would be unique to pair pictures taken at their games with quotes from a few of the JV players themselves about why they love playing the sport. I wanted to give them the opportunity to share what makes volleyball special to them.
As a fan sitting on the sidelines watching the energetic camaraderie of the JV volleyball boys both on and off the court, I have become fond of the game of volleyball.
I hope that MBU students, faculty and staff can see the value of attending JV sports, particularly the men's JV volleyball team, because seeing a team have fun and work hard no matter what a scoreboard might say facilitates an unforgettable, fun and exciting fan experience.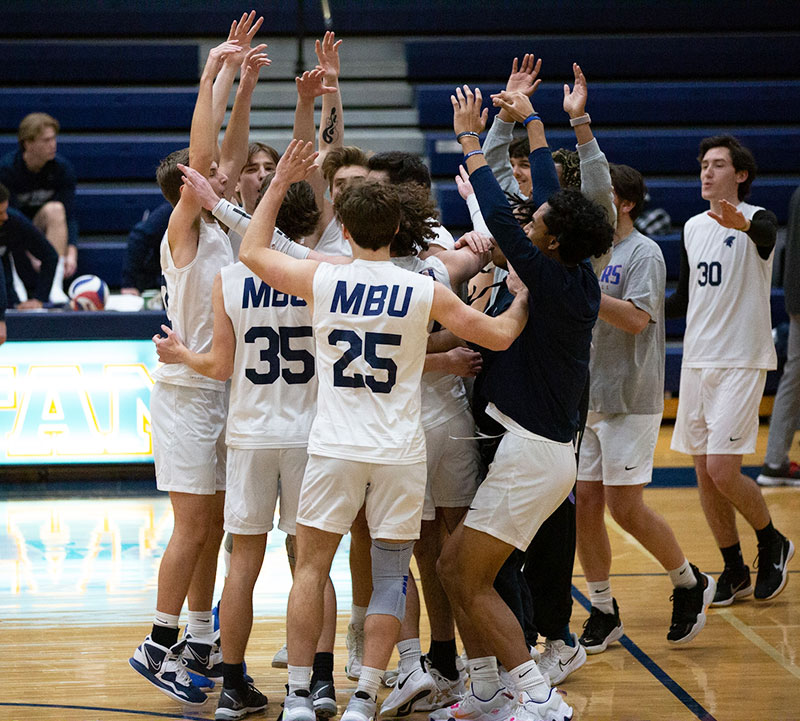 — What Do You Like Most About Volleyball? —
[Read What the MBU Men's JV Volleyball Team Had to Say, Below]