Three athletes on the Missouri Baptist University women's wrestling team left the NAIA Women's Wrestling National Invitational with All-American honors.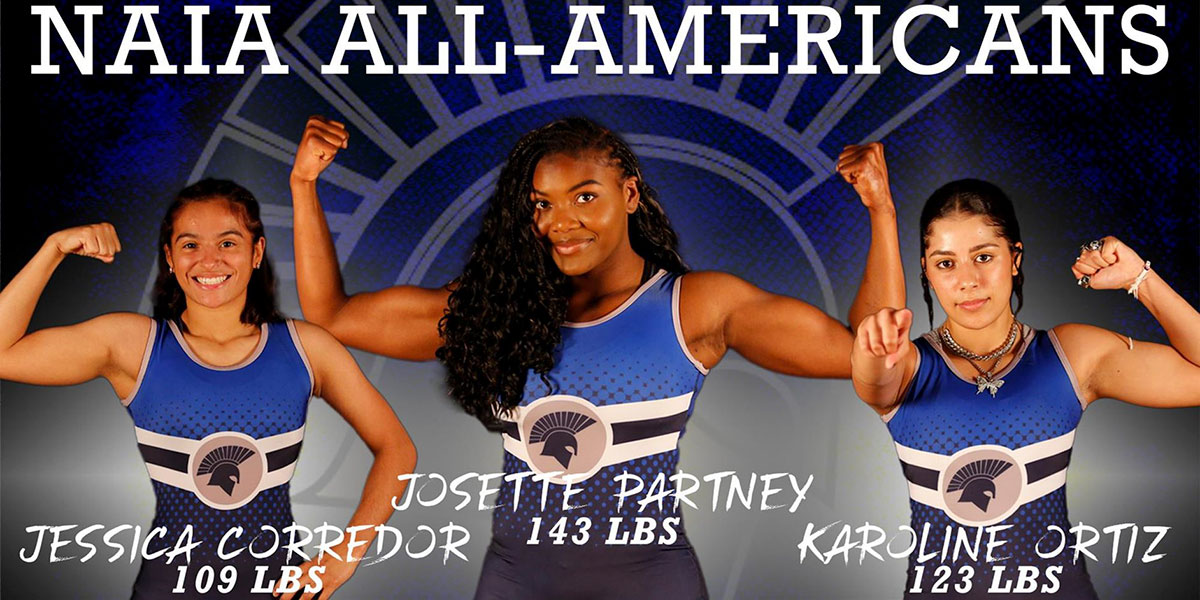 Jessica Corredor, Josette Partney and Karoline Ortiz represent the Missouri Baptist University Spartans well as they finished their wrestling season as NAIA All-American athletes. Photos courtesy of MBU Athletics
__________________________________________________
Pinning their opponents and becoming All-Americans, Missouri Baptist University's Josette Partney, Jessica Corredor and Karoline Ortiz wrestled for their historic honors at the NAIA Women's Wrestling National Invitational March 11-12, 2022, in Jamestown, North Dakota, making this tournament the most All-Americans the women's wrestling team has had at Nationals in the past five years.
"I'm extremely proud," said Kirwny Adderley, who is in his first year as head coach of the MBU women's wrestling team, noting that while in other sports the All-American status is voted on, in wrestling the athletes must earn it on the mat. "It's an extremely hard thing to do. You go, you compete all year, and only the top eight in the country are going to get All-American status, so I was ecstatic. … They earned it, and I'm glad that they got recognized." 
Partney, a freshman secondary education major from Ellisville, Missouri, competed at the 143-pound weight class and placed seventh at her first college national competition.
Despite not knowing what to expect at Nationals having previously competed only at in-state competitions, Partney said it was an exciting experience.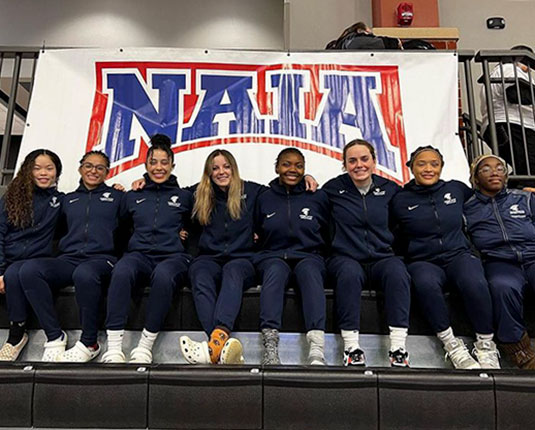 "People put lots of hard work into getting there and I feel like now I can take it more seriously, because I see what it is and how much of a big deal it is," Partney said.
Corredor, a sophomore biomedical science major from Orlando, Florida, competed at the 109-pound weight class and placed eighth with a record of 4-3.
"It feels good, but it came a long way 'cause I lost in the first round, and I had to wrestle all the way, like four to five matches in the same day, just to become All-American, so it was a long process, but happy, but it could have been better results," said Corredor, who believed a strong mindset was a huge factor in her wrestling matches.
Ortiz, the captain of the wrestling team and a junior broadcast media major from Davenport, Florida, wrestled at the 123-pound weight class and placed eighth. 
"If it's your first time going, it is a great experience. I mean, it is also a nerve-wracking experience, because it's the biggest tournament of the year. You see all of the schools there, good people that you've wrestled all season, but as this is my third year going to the NAIA Nationals, it's not so much about the experience of, 'I'm at Nationals. This is my first time. How am I going to do?' It's more about, 'I have a goal and I have to make it, no matter who's in my way, no matter who's in my bracket.' So I was just focused on that before I even got there," said Ortiz, who left the tournament with a record of 3-3.
Despite earning All-American status, Partney had even bigger dreams. 
"I'm proud, but I also feel like I am disappointed, because I wanted so much more," said Partney, who went 4-2 during Nationals. "I am OK with it for now since I am a freshman, but I plan on working harder to be a national champion."
Partney reflected on her mindset on the first day of Nationals. 
"The first day went great. In my head, it was very hazy. I didn't really know what to do. I knew I had to make weight and I cannot let my team down. … I have to be good for my team. I have to make it to the second day so we can place," said Partney, who was nervous going into Nationals.
This season, these athletes saw their fair share of challenges leading up to Nationals, both on and off the mat, which affected their matches that day, whether it be personal or physical. Despite these challenges, these women rallied together and cheered each other on as the season progressed, and they provided support to their teammates.
"The biggest thing I love about wrestling is when you're cheering your teammate on," said Ortiz. "As a team, I do believe we grew a lot closer. Especially at Nationals, because we were all just hyped every time any one of us won. We were always at each other's corners, screaming, yelling and just supporting each other."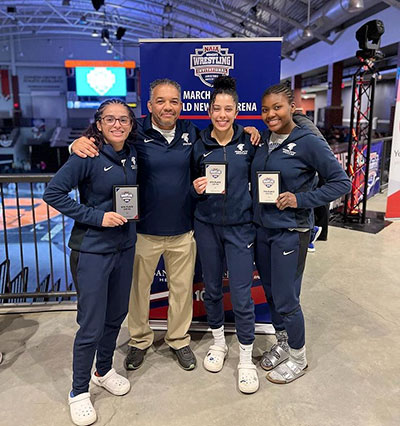 Adderley previously served as the head women's wrestling coach at Dr. Phillips High School in Orlando, and coached both Ortiz and Corredor at the high school level, so he was able to see them become All-American in high school and in college.
"I've been where they've been," said Adderly, also an All-American in college in 1988 and 1989, wrestling at Norfolk State University. "I know their road. I think we can connect on that. It's really about everyone getting better. Everyone's growing and learning the sport. Their achievements, whether it's All-American status or they had a better season than the year before, so I think when we look at the overall team, the overall team is getting better and the program is getting better. That part, I am the most pleased with to say, 'OK, we have the right energy, the right teamwork.'"
Changes were made to the women's wrestling schedule to prepare the athletes for the tournament schedule. Practice times were changed and the team began scheduling more morning practices to get their bodies ready for Nationals.
Athletes would weigh in at 6 a.m. at practice knowing they would have to weigh in and compete in the early morning during Nationals. The biggest key was making sure the athletes were as healthy as they could be going into Nationals.
Overall, MBU's women's wrestling team worked hard this past season, grew as a team, and crushed it on the mat at Nationals, placing 17th overall.