The scouting and recruiting process at MBU consists of so much more than meets the eye, yet when it all comes together smoothly as planned, the student's academic degree is the final product.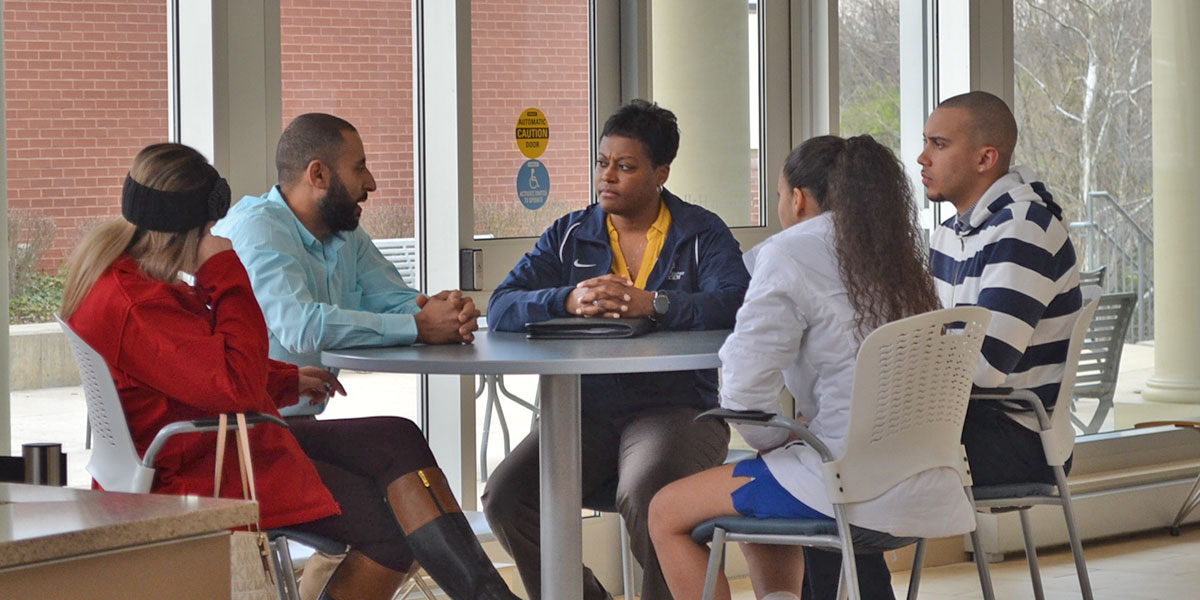 Photo by Jessica Danielle Moore
Iris Dixon, head women's basketball coach and NAIA compliance athletic director, with Assistant Coach Samuel Pearson (far right), speak to recruit, Rose Wassef and parents.
__________________________________________________
Spring is in full swing, as basketball and wrestling come to an end and baseball and lacrosse make their heavy moves into the 2017 season competition.
Groups of spirited students and family members are beginning to make their way to the outdoor bleachers to cheer on the Spartans, around 850 this year competing their way to not only a championship playoff game but also a college education.
Prior to students coming into Missouri Baptist University on athletic scholarship, they are required to meet two of three criteria in order to be considered eligible, according to Dr. Thomas Smith, associate vice president and director of athletics.
"To be eligible their first year as freshmen, they have to have an 18 ACT, a 2.0 on their grade point average or upper 50 percent of their class rank graduating from seniors in high school," said Smith.
Smith said coaches look for talent first and foremost, but will not recruit players with poor grades or bad character because it is important to keep in mind that it generally costs about $2,500 to recruit each student when adding up time, labor, gas and other variables.
Therefore, coaches will be initially attracted to talent, however, will not waste any more time if they find out the student's academic records are not up to par.
"Coaches are looking for talent. We're just gonna make sure that they can't come in unless they meet the academic standards of admissions," said Smith.
In terms of a coach's limitations when handling athletic scholarships, the NCAA and NAIA have different rules regarding players and their scholarships.
In the NCAA, there is a specific number given to coaches as to how many full scholarships — meaning tuition, room and board, textbooks and fees — may be awarded to recruits and that given number may be divided up however those coaches choose.
Smith described how the NCAA process is different for NAIA schools such as MBU. Because NAIA schools are not given a scholarship limit, it is all about the number of players allowed to actually compete in games.
"The NAIA is different. We can give scholarships to as many people as we want. But, only a certain number could step on the mat and compete," Smith said. "So, what happens is you get those kids in here that can red-shirt and mature that year and they can still practice with the team, the chemistry's building and all that and they're getting a scholarship."
In other words, instances where there may be an incoming freshman predicted to not play that first year, they are typically "red-shirted," which means they are still on scholarship and are able to practice, but not play in games. They would use this time to grow stronger and more mature going into their sophomore year ready to compete.
Being the head overseer of a college athletic program, it is important to understand the economics behind what drives scholarship funding.
Scholarship money must initially be divided between each team and then more specifically divided down to each player. Smith handles the larger scale of money dealing with each team and said it is based on the market of potential college athletes.
In 1972, when Title IX was signed into law, the number of baseball and wrestling programs was substantially reduced in order to level the ratio of male sports to female sports.
Years down the road in around 1997-98, college athletic coordinators such as Smith were set on the new idea that there weren't enough college programs, and therefore added baseball and wrestling back into the mix while adding female programs as well to maintain balance.
"The market of potential college wrestlers is big, but the demand is very small. So, when we started wrestling, I could bring these kids in at a 35 percent discount rate off of their tuition whereas most teams were at 50 percent," said Smith.
In addition to the market of supply and demand of athletes, what competitors are doing is also taken into consideration.
"If Columbia College is giving 15 full rides to their men's basketball program, and if we don't do that, we're not going to be able to compete with them," Smith said. "So we look at that, we study that; what are our competitors doing? What does the market dictate? And what does the NAIA allow? And we make that combination."
Once all of that is determined, then each head coach is able to decide how much each player receives, just as long as they don't go over budget.
It is primarily the head coaches who recruit players, but they can also delegate to their assistant coaches or their graduate assistants.
After the athletic contract is signed by the recruited player, it then makes its way through a handoff process in the athletic department before it is considered valid.
That starts with Iris Dixon, NAIA compliance athletic director who is also MBU's head women's basketball coach.
"She checks eligibility with the eligibility center of the NAIA. Once she certifies that that's good, then it comes to me and then I will sign it. But that contract is not valid until I sign it," said Smith.
Of all 850 or so student-athletes on scholarship this year at MBU, there isn't a single one whose contract didn't undergo this exact process.
Each and every recruit was first noticed or discovered by a coach, then checked for grades, eligibility, individual character and background before ever signing pen to paper.
Despite the large number of recruits MBU signs each year, Smith admits that it involves extensive work to create multiple teams that can maintain academic standards while also consistently achieving athletic victories.
"Lots of work. You have to build that relationship with the community, with coaches here," Smith said. "The ideal coach gets a good mixture between freshmen and transfers."
According to assistant women's basketball coach, Samuel Pearson, recruiting is perpetual.
"It never stops. Recruiting is all the time, all year round," he said.
Watching film of players is a way that coaches like Pearson are able to scout recruits that may live out of state, or even out of the country.
"Sometimes they come to me with film. Sometimes I'm really invested in a player and I go watch them or I just get film from their coach," Pearson said. "Typically I ask for film within the first couple of emails or texts that we have just so that I can get a good idea of what kind of player, either varsity or JV."
Pearson also explained the difficulty that comes with recruiting a great player only to find out their grades are below standards.
"You would like to have great students first. Now, there's those players that are just phenomenal athletes that lack on the academic side, and going into it you know that you're going to need to invest more time in their academics as to getting them tutors, getting them help, you know," Pearson said. "You're going to have to focus or monitor their grades a lot more. But, you would like to have those smart players who are coming in with 21 and above on the ACT and can play basketball, you know, that tells me that she's smart on the court. She's able to think on the fly."
After the entire recruiting and signing process is complete and the student-athlete is officially a member of the athletic program, the expectations are constant.
At MBU, there are specific obligations that a student on scholarship is required to abide by throughout their time at the university.
"If they fall below a 2.5, they have to go to study hall two hours a week. If they fall below a 2.5 two semesters in a row, I'm going to be having a serious conversation with that coach about their scholarship, and I will likely cut it," Smith explained. "Anybody who falls below a 2.0 is probably going to be gone. If they are not gone, their scholarship will be substantially cut. The whole name of the game here is getting your degree. We want students to get their degrees and we're using athletics as an excuse to get them in college, and it works."