Missouri Baptist University beckons students of various backgrounds to engage in a well-rounded liberal arts education enhanced by a tight-knit community. Spartan Spotlight features incredible talent and stories that MBU offers.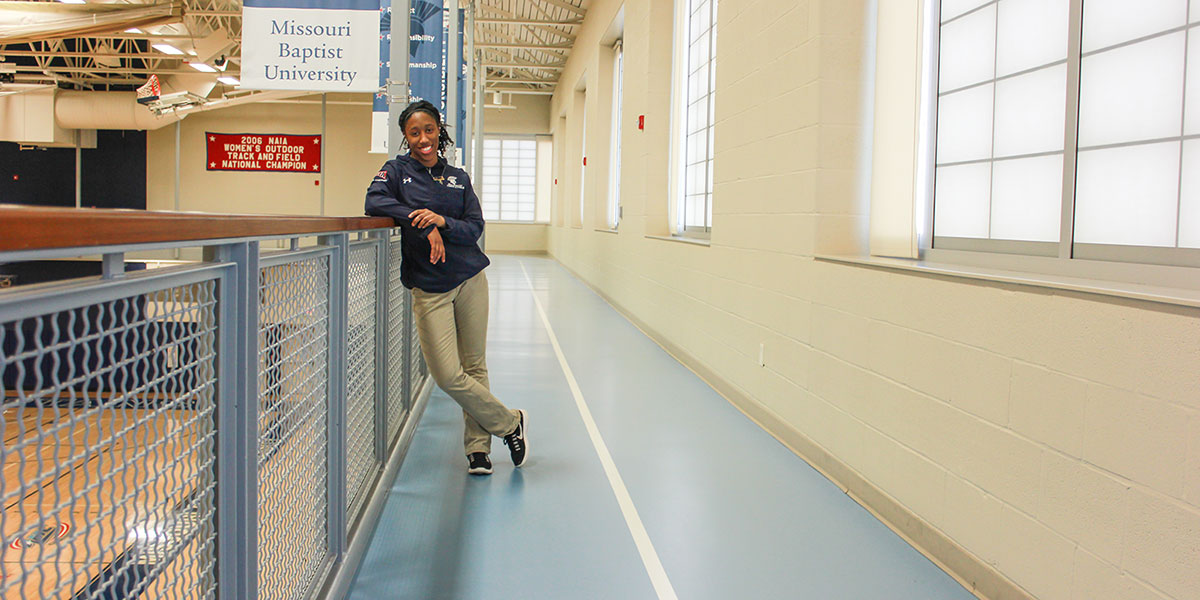 Photo by Elizabeth Harris
__________________________________________________
Adrenalin pumps through her veins as she pushes for the finish line, whether it's competing for All American honors in the National Championships, or racing her friends on the playground back in elementary school.
"Track has always been my thing," said Aliyah Reams, 22, senior majoring in exercise science, and member of the MBU women's track team.
Reams, who grew up in Waukegan, Illinois, with her parents, twin brother and three other siblings, recently competed at Nationals and finished sixth in the 60-meter dash with a time of 7.76, earning All American honors.
Her love for running sprints all started on the playground when she was in third grade.
"In recess, I had a friend that would point to other kids and be like, 'I bet you could beat him.' She was like my manager. We'd race from the fence and back and then I'd be like 'OK, who's next?'" said Reams.
After the early years of racing friends she joined the school track team. As a high school freshman, she raced on the varsity team at the same level as the seniors.
"I wouldn't win everything the first time but I always worked hard for it. My dad would say, 'You're doing great,' and my mom would say, 'Keep pushing and just use the ability that God's given you,'" Reams said. "Sometimes people forget about that. You have to realize like, God has given you this talent. Just enjoy it. Don't stress about it."
MBU wasn't her first choice for college, but when her other plans fell through, she made a visit to the campus and realized she appreciated the small feel the university offered.
"I liked the small classes. I need small classes in order to stay focused and not zone out," she said.
Her first year at MBU was tough since she didn't know many people and didn't have the results she was looking for in the track season, but being the hard-working athlete that she is, she stuck it out.
"I didn't make nationals and I was really upset about it. I was calling home and telling my parents that I didn't like track and I didn't like it here and then my mom was like, 'Just have fun, you like running right?' And I was like, 'Yeah but …' and she said, 'No buts, just have fun!'"
Reams joked that her mom always takes Nike's slogan, "Just Do It," literally when offering advice and, after hearing her say it over and over, it's become something that she lives by.
"It's made me realize that I should just do anything and everything to the best of my ability. So now I make sure anything I do, I try to do it right. Give everything 100 percent all the time."
Even though Reams has always been close to her family, she rarely gets homesick because MBU has become a home away from home for her.
"Some people get homesick that live like 20 or 30 minutes away but I don't get homesick until it's necessary, like when I need a break from school, period," she said.
The person who has influenced Reams the most during her time at MBU is athletic trainer, Ashley Broughton.
"She's a great trainer who takes care of her athletes and carries herself in a way that makes me want to do better," Reams said. "I can always count on her when I need advice."
Her greatest accomplishment at MBU was receiving the Character Award at the Hall of Fame Banquet, fall 2016. "I don't always look at myself as someone on top, I'm always just trying to reach the top. I didn't expect the award and was definitely humbled and honored to receive it."