For the first time in four years of existence, Missouri Baptist University's Dance Program has qualified for the Nationals, overcoming all expectations.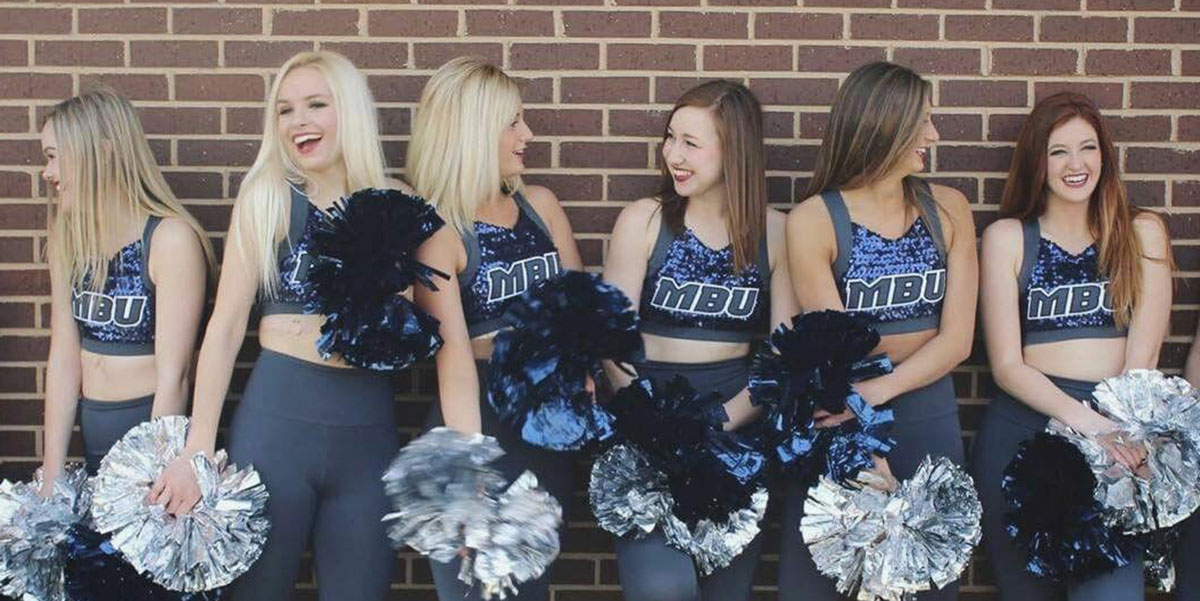 Photo by Stacey Biermann
__________________________________________________
After outstanding performances at the NAIA Southeast Regional Qualifier earlier this spring, Missouri Baptist University dancers took second place and guaranteed their trip to Oklahoma, looking forward to making even more history at the National Championship.
The NAIA event happened Saturday, Feb. 25, and MBU totaled 88.8 points — the highest point total of the season — finishing behind Grand View University (Iowa), which guaranteed the team's first bid to Nationals.
Even though MBU didn't guarantee its spot into Nationals with a win at regionals, the dancers accomplished one of the highest team scores from around the nation.
Based on that, the NAIA website announced on Sunday, Feb. 26, that MBU had guaranteed the trip to Oklahoma, on March 10.
Jessica Johnson, head coach and spirit coordinator, expressed her feelings for the historic accomplishment.
"It is unbelievable the amount of growth that the dance team has shown in the past couple of years," Johnson said. "It is amazing that in just our fourth year of the program our dance team is going to the first-ever NAIA National Cheer and Dance competition."
Indeed, due to commitment from staff and athletes during the past four years, the team has continued evolving in talent and competition results.
Lauren McLaughlin, a sophomore majoring in marketing and accounting, who is also part of the dance squad, claims that glory comes only if all team members are committed and show willingness in the practices.
"Dance is a sport that starts in August and goes through April. We have put in over 300 hours plus into the Spirit program on and off the floor," McLaughlin said. "Each member truly walks in at practice, at competition, games, and gives 100 percent."
Besides commitment and hard work, there is another factor which certainly counts toward victory: the supportive and mature environment.
"Our attitudes, not one person shows up to anything with a negative attitude, ever," McLaughlin said. "When we walk into practice, restaurant, a game, an event, we walk with a positive attitude and our best manners."
Another characteristic is positive relationships among teammates.
"The leadership and support that each member brings to the team is truly indescribable," McLaughlin said.
The group of dancers, which includes eight athletes in total, is amazed and excited for the next episode in Oklahoma. Some of them expressed how they are feeling, enjoying this magical moment in their college lives.
"This dance team has given me an an enormous amount of opportunities and I can truly say that I am blessed," said Madelyn Shotton, a freshman at MBU majoring in communications.
Katelyn Lewis, a junior majoring in accounting, and part of the squad, is pleased to be among the girls.
"We are so privileged and humbled to represent MBU for the first time since NAIA dance has become an official sport," Lewis said.
MBU is now preparing to compete against the most-qualified schools across the United States, such as Missouri Valley and Lindenwood-Belleville.
The main event of the year will be held on two days, March 10 and 11, in which 57 universities from different states will face each other, all desiring the NAIA National ring.