The Spartan basketball team added a notable acquisition this past season. John Oden's journey from pro athlete on one side of the Atlantic Ocean to volunteer coach on the other makes for quite a memorable experience.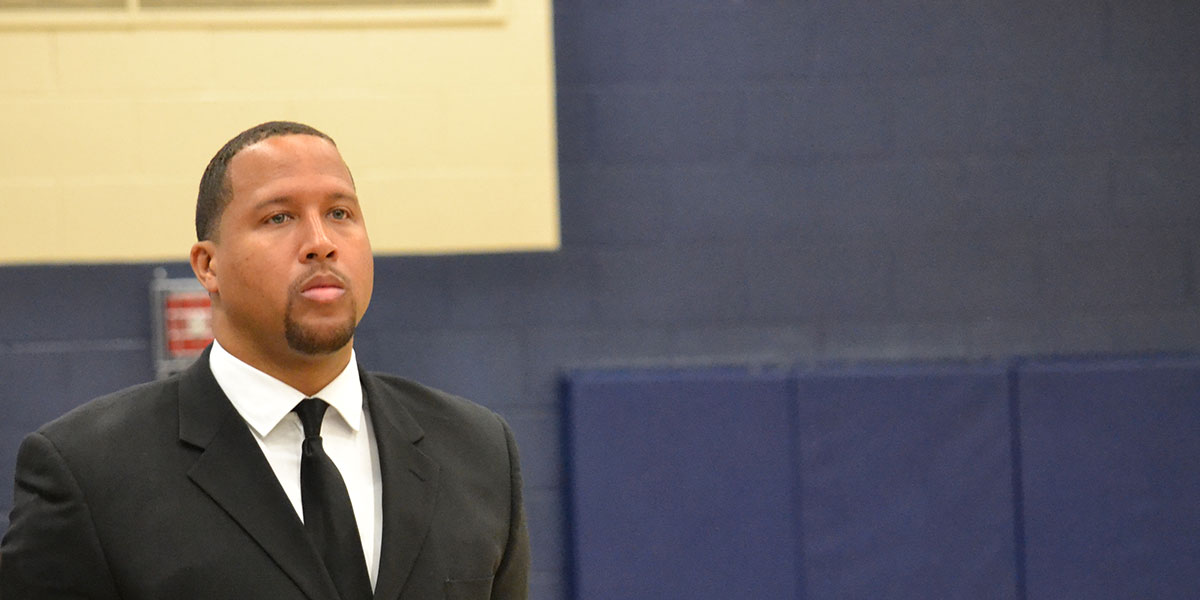 _________________________________________________
After traveling around the world playing professional basketball, Johnathan Oden has landed in St. Louis at Missouri Baptist University to finish what he started over 14 years ago.
What he did in those 14 years between high school graduation and re-enrollment in college makes for a memorable time and the dream of a lifetime completely lived out — playing pro basketball from Israel to France, and all points in between.
Oden was born on Aug. 3, 1980, and remained in St. Louis until his sophomore year of high school at Cardinal Ritter, then moved to Phoenix to finish at Carl Haven High School.
Oden was not a conventional one-sport athlete who succeeded only in basketball as a kid growing up in St. Louis. He played basketball and football until he felt that it was time to focus on what he truly loved.
"From 10 up to my freshman year, I was a two-sport guy: mainly football and basketball. But after my freshman year of high school, I hit a growth spurt and just got too tall. I was always in love with basketball, so I kind of felt like I had to give football up," said Oden.
He proved to make the right choice and paved the way to future successes in the sport that he had always held so close to his heart.
Oden finished his remaining two years of high school in Phoenix, and according to the 1999 final survey on RSCI Hoops, the Recruiting Service Consensus Index rated Oden No. 78 on the top 100 high school players in the nation.
The individuals who managed the recruiting service had notable players on that same list, such as Joe Johnson, Jason Williams, Jason Richardson, Matt Bonner, Samuel Dalembert, Keith Bogans, and Donnell Harvey, who Oden actually played with overseas.
Oden, in fact, was 21 spots ahead on the list of a fairly elite and former NBA guard known for his years with the Washington Wizards, Gilbert Arenas.
"After high school I had multiple offers, pretty much every school in the country beside North Carolina and Duke. Every school in the country wanted me. I took a total of five visits. I took a visit to Arizona, UCLA, UMass, Xavier and DePaul," Oden said.
On a questionable selection that Oden still looks back on today, the young man chose the school in Chicago.
"I ended up choosing DePaul. A lot of people ask me and, looking back on it, it probably was not the best choice for me. You know I wasn't really from Phoenix, Ariz., so I was kind of homesick after a while and I wanted to move closer to St. Louis, but I didn't want to go to St. Louis, so DePaul was the closest school that I wanted to go to. I just fell in love with Chicago and that is why I chose it," Oden said.
But Oden would not complete his four years with the DePaul Blue Demons, transferring after three years to the University of Southern Indiana, a Division II school where he played his final year.
While Oden spares the details, he said the reasons were similar to those of many young big-time college basketball players who downsize to smaller schools.
"I was a little immature back then, making some bad decisions. It was in the best interest to finish my last year at a different school," Oden said.
The transition from a college mindset to a professional mentality began creeping its way into the head of the college standout.
"After a good year at Southern Indiana, I got myself an agent. I had multiple offers to go overseas and play for different countries," Oden said.
Oden had his one shot into the National Basketball Association before making the choice to leave the country.
"When I got out of college, I actually got invited to the Indiana Pacers summer camp. I ended up staying there all the way down until the last two cuts from making the team. But with contract situations, I did not stick around," Oden said.
The whole process of getting that first job playing professional basketball was now becoming more difficult for the young American. Oden had left before finishing at Southern Indiana University in hopes that his career would yield income and prosperity.
Oden quickly recovered and his agent's work paid off. Oden was now on a plane overseas to a different part of the world, completely foreign to him.
"My first job was in Israel, Tel Aviv. My agent sent some film out there from college and he had a lot of connections. They saw me and they wanted me. That was my first job," Oden said. "I was terrified when I first went there. I did not know the language, you see things on CNN. I was a little nervous."
Oden had to start somewhere, obviously, and this was a great place to start.
"I played in the first division Israel. We weren't very good that year. … We had all Americans on the team and it was their first job," Oden said.
Everything seemed to pan out for Oden after that initial year, and he enjoyed a life of a professional athlete in a myriad of countries.
"I played a total of about eight and a half years professionally overseas. I played in multiple countries. I played in France, Germany, Israel, Poland and Greece," Oden said. "I played in the Middle East in Kuwait and Lebanon. I played in Venezuela, the Dominican Republic and Puerto Rico. So I've been around. I only played with the same team once for two years."
One may wonder how that all worked out, but Oden received short contracts.
"It depends how you sign your contracts," Oden said. "Some guys sign one-year contracts, some people give you two or three years. I mostly only got one-year contracts."
Oden enjoyed his time overseas, especially since he was a starter and played some heavy minutes for multiple teams.
"I played power-forward. I was a starter. That is one thing about when you are an American over there, they are looking for you to be the man, so you are going to get most of the minutes," Oden said.
The professional experience he gained was remarkable and he was involved in some games that really left a mark on his time as an athlete.
"I remember a lot of moments, so many great times. I actually got this one highlight in Poland. It is on YouTube where a teammate of mine, Ed Cota, a great point-guard that played at North Carolina where they went to three Final Fours, who played with Vince Carter, Antawn Jamison," Oden recalled. "With like 10 seconds left in the game he comes down and crossed a guy over and throws it up. I come in for a reverse slide, dunk-it buzzer beater. That was probably one of the biggest moments of all my seasons."
Click here to see the game-winning dunk – Cota to Oden.
Oden traveled to numerous countries, but his favorite league and city was the first one he stepped foot in for his first team.
"My favorite league was definitely in Israel. Tel Aviv was like New York to me. The basketball, the culture, the life, it's just crazy," Oden said.
The level of competition throughout the duration of his time was intense and the play was identically sharp.
"The highest level and the best league that I played in was probably France. It was a really good league," Oden said. "Many guys from France get drafted into the NBA from the league, but it is not as good as the NBA."
Looking back on the transition from college to his life overseas, Oden noticed all of the challenges that he faced and overcame.
"It made me grow up fast. When you are over there, you are on your own. You've got to cook for yourself, you've got to shop for yourself, wash clothes, you learn just to grow up fast over there," Oden said.
Oden, who did mature as a player and a person, made the most of the time he spent with the various professional teams.
Unfortunately, he suffered from knee problems and had to slow down on his career as he was aging.
"I started having multiple problems out of my knees. I had three or four knee surgeries and I tried to recover. You know, finally, I just told myself it's about time," Oden said. "I promised to my mom and myself that whenever I stopped I would come back and finish my degree."
After 14 years of playing basketball professionally, the game becomes the life, and does he miss it?
"Aww, every day, every day," Oden said promptly, making it known that he still desires to play the game. "The life is good and the money is great. It was truly a blessing. Every day I miss it."
The drive and the want to play has not left the 6-foot 9-inch frame of Oden, and that is why he is at Missouri Baptist University finishing his degree and also assisting the MBU men's basketball team.
"My brother (Josh Ramsey, former MBU player who is currently playing for Division I Chicago State University) was playing here, and I used to come here sometimes and work out with the team. I developed a relationship with Coach (Ray) Farrell, and that is how it all came about," Oden said. "I came to Coach Farrell and pretty much just said I am looking to come back to school. Is there anything that you can do to help me out? He helped me out and here I am."
Oden is gradually coming to know his new position in life. He is adjusting to the role as a coach and mentor, rather than being the one who slams the ball through the basket and swats the ball into the crowd.
"This is my first year here and it has been a frustrating year at times, but I have learned a lot. I learned how to run a practice and different schemes. Coach Ray is a good coach," Oden said. "I'm just like a volunteer coach, more like an internship, just helping the guys with little things that I know about the game and learning from Coach Ray."
Oden seems to be a tremendous help to the coaching staff as the head coach offers positive thoughts about his presence on the court.
"He (Oden) brings his experience of a professional and Division I athlete and also brings many skill sets of a low post player to the team in practice," Coach Farrell said. "When he practices, he acts as our scout team guy and he gives us an opportunity to practice against a bigger and taller post player that we do not have on our team."
The key starters on the team also feel that Oden is truly a solid addition and benefit to the overall success of the team.
"If I had to sum up the John Oden effect on our team in one word, it would be experience. All the experience he has acquired in his years playing pro, he uses to help us," senior starter Kalvin Lewis said.
"In practice, he is constantly helping every player on the team develop skills. We are fortunate to have the chance to have a former pro player coach us, but more fortunate to have a good coach like Coach Oden helping to guide us along the way," said Lewis, a physical education major from Houston.
Freshman Chris Buzzell, also from Houston, could not agree more with Lewis. "He talks about how to apply what we learn in practice to the games and how preparation before each game is important. He has great insight on how to approach each game. He mostly works with Stanley (Eboh) on certain things that he needs to work on like footwork," Buzzell said.
Eboh is a freshman starter at MBU coming from Travis High School in Richmond, Texas. He is 6-foot-5, which is a below-average height typically to play the post position in college.
Oden has continued to relay tips to Eboh in areas such as maturity, as well as skills on the court to make up for the constant height disadvantage.
"Big John has taught me a lot throughout the season and has helped me grow and develop as a player. He has taught me different moves as well as different aspects of viewing basketball in general," Eboh said. "He will push players to play harder and put in his suggestions with coach. Going up against him in practice has definitely helped me grow and mature physically and mentally, considering his size, and how much he bangs me up."
Oden has proved to have a positive impact on the team and seems to have a successful future in the coaching industry after college.
Shifting from the life of a professional athlete to a student has not been easy for Oden, but he now seems to be full force ahead.
"I am going to graduate with a sport management degree hopefully next spring and I want to get into coaching. I know many people and I just want to see where it takes me," Oden said.
The experience from a skilled athlete overseas such as Oden is immense. He has a great deal of knowledge to offer a player pondering the chance to leave the U.S. for various professional organizations overseas.
"A lot of guys play basketball, but it is only one in a million guys that make it into the NBA. So all of those other guys that are really good usually have the opportunity to go overseas," Oden said. "I think those guys can go overseas, but you have to work your butt off to get overseas. Basketball is a game all about what you put into it. Whatever you put into the game, you will get out of it."