For MBU senior Morgen Filla, lacrosse began as little more than an afterthought, but it has become a source of scholarships, team leadership and even coaching opportunities.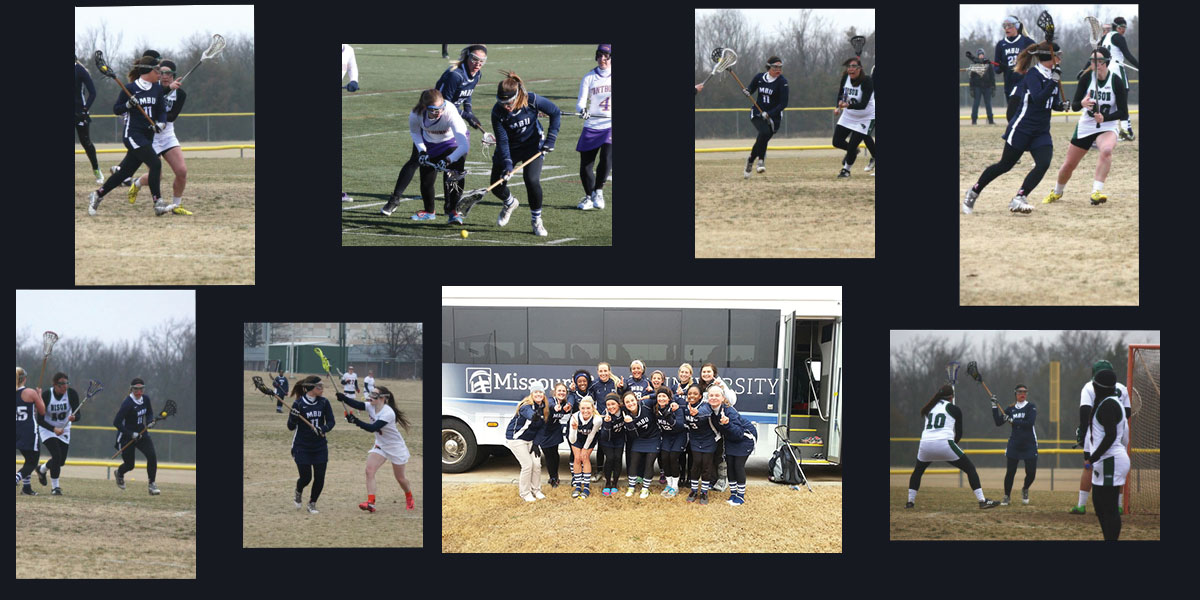 __________________________________________________
By: TAYLOR SCHUSTER
Not everyone enjoys putting themselves out there and trying new things, but every now and again it pays off big time, especially for Missouri Baptist University senior Morgen Filla.
Filla, a varsity lacrosse player at MBU, did not expect to end up where she is today.
She started her athletic career as a ninth-grade basketball player at Marquette High School in Chesterfield, Mo., until one day one her friends decided to persuade her to other sports.
While she was closed inside practicing layups and drills, her other friends were outside enjoying the elements in more of a contact sport. So began her interest in field hockey.
Filla finished out the first semester of her freshman year playing field hockey, trading hardwood for grass.
It's easy to assume that she must have enjoyed the change of scenery quite a bit when she decided to take a leap of faith and try out for lacrosse that upcoming spring season.
Unfortunately, to her disappointment, she recalls that she was awful.
"I was so bad and hated it so much that I begged my mom to let me quit," Filla explained, but once again to her dismay her mother told her to tough it out because the $400 start-up check was nonrefundable.
The game of lacrosse is one of its own as not too many people know how it is played. Some may think it's just a bunch of men and women running around beating each other with sticks.
The best way to explain lacrosse is to think of playing very physical basketball with a mix of hockey.
Basketball comes in to play with how the offense and the defense are set up, and how there are many picks and one-on-one plays.
Now for the physical part of the game. There are things that are not allowed, such as many of the same penalties you can receive in hockey.
Some of them would be tripping, cross checks, slashing and illegal body checks. Not to mention while trying to do all of that running around and avoiding being smashed to the ground, you have a ball the size of a baseball and a net attached to a stick that requires intense hand-eye coordination to master.
Here is a quick link that can show you more about the game of lacrosse.
So here Filla was, stuck in the sport and trying to make the best of things.
Being the perseverate girl she was, Filla was not going to be mediocre at anything she did. Therefore she put in the time and effort and extra practice time to improve her skill and athletic ability.
Time and effort paid off for her. By mid-season her freshmen year, in 2006, she was bumped up to varsity where she stayed for the next three years.
"Being on varsity as a freshmen was a little intimidating but the upperclassman were all so nice and helpful. They all made playing with them a blast, which I think helped me love the game even more," Filla said.
Junior year in high school rolled around for Filla and the best was yet to come as she finished out that year and season making the Midwest National Team, as a midfielder defender.
"When I made the national team it was very exciting. That was the first time I had ever tried out for something that intense. It was an 8-hour tryout and I remember it rained the entire day. We had paper numbers paper-clipped on that kept falling off from all of the rain and we had to write our number on our calf and arm in Sharpie," Filla recalled. "I was ecstatic when I found out I made the team. Me and one other girl from my high school made the team so it was a very exciting experience."
Making the Midwest National Team brought lots of opportunity for her when it was brought to her attention that her coach, Katie Rau, was also doubling as the coach for a well-known local college team at Missouri Baptist University.
Giving her a leg up and the most financial support, Filla decided to finish up her senior year to begin her new start at MBU the following fall in 2010.
"If I didn't play lacrosse I would probably be playing field hockey somewhere," Filla said. "I couldn't imagine my life without lacrosse or sports in general in my life."
Her first year at the school, playing defense, resulted in her receiving an Honorable Mention in her conference division, the National Women's Lacrosse League, NWLL.
The next two years she was named First Team Defender in her conference.
Named team captain her junior year proved that she was becoming a leader of the Spartan women's lacrosse team, and she is continuing to lead her team her senior year.
Now finishing up her psychology major with a minor in communications, Filla has lots of experience along with the honor of playing alongside her current coach, Amanda Sullivan.
Not only is she a player of the game, she has picked up coaching positions at various schools and recreational leagues, such as coaching this year at Marquette High School as well as KYL and STL Elite.
"I take pride in knowing that one day the girls I coach will do great things through lacrosse and maybe take what they learned from me and teach someone else in the future. I love coaching, it's the best job to teach young girls how to play the sport I'm so passionate about," Filla said.
"I had several coaches growing up playing several different sports, some were amazing coaches and I had some that I butted heads with, but I learned something from each of them and I do everything I can to be one of the best coaches that my girls look up to and respect."
Filla's story provides a real-world example of how taking a chance and making a simple change in scenery can prepare and mold you for big steps in your future.