Kristen Strange, a freshman education major, loves to ride horses, but more importantly she uses that love of riding to provide therapy for students with certain needs.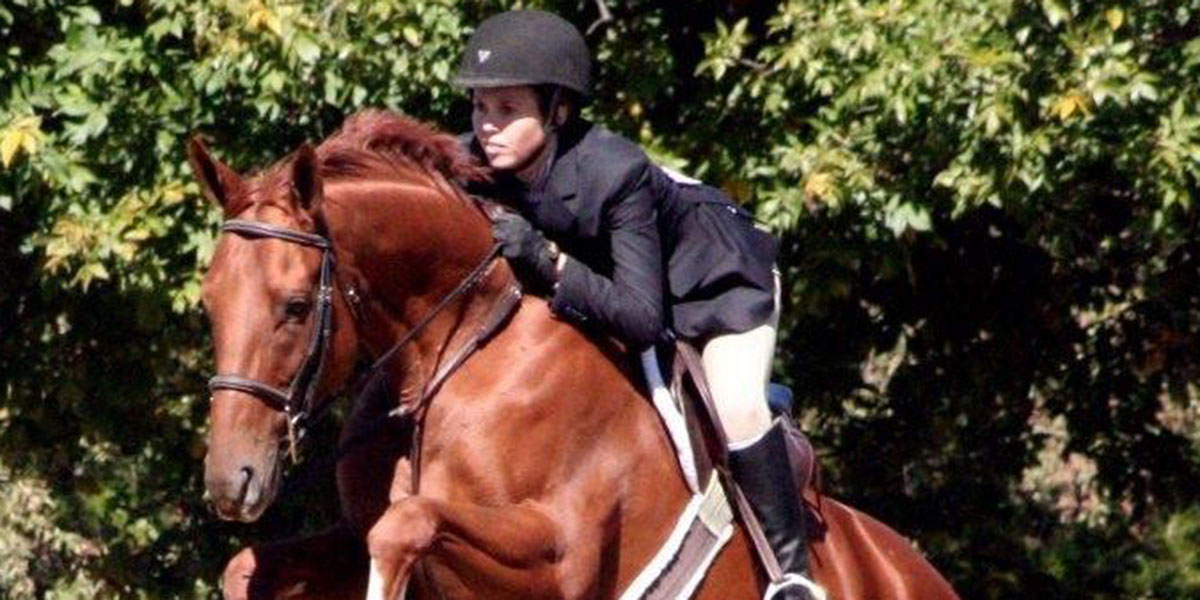 __________________________________________________
Standing in the middle of an arena with her hair tied back and fresh mud on her boots, breathing in fresh air and the smell of newly dispensed hay, the preparation to ride has always been long, but worthwhile.
Looking at the large, brown Thoroughbred before her, Kristen Strange puts one foot into the stirrup and moves on instinct.
Riding is nothing new to her, but the feeling never gets old. With each rhythmic trot and graceful canter, the old feelings of serenity, happiness and freedom return. There is nothing like it.
After all, it's with this gentle creature that she knows so well, this horse that has helped her grow into the rider and trainer she is now, that she feels so confident.
A natural horse trainer and rider at heart, Strange, a freshman at Missouri Baptist University, uses her unique gift with horses to compete, instruct and bless others.
Currently working as a barn manager at Therapeutic Horsemanship in Wentzville, Mo., Strange has been teaching riding lessons to disabled students for 15 years.
There isn't a student who is out of reach for her.
"Working at TH, I've worked with students of varying disabilities from traumatic brain injuries to autism to reactive attachment disorder to spinal cord injuries to Down syndrome to cerebral palsy. The list goes on an on," Strange said in an email, adding that she most often works with autistic students. "We work with anything and everything."
Falling into TH by chance, Strange originally had a career at a veterinary clinic. Looking online for job postings outside of a veterinary clinic due to her cat allergies, Strange found a posting from TH for an equine manager position.
TH contacted Strange shortly after, explaining the position had already been filled, but offered her a position as a full-time barn management assistant and riding instructor, which she accepted.
A few years later, she was promoted to barn manager.
"The thing about teaching for me is when I walk into the ring and I have my students, especially the students that I really know, it's one of those things that kind of comes naturally to me," said Strange, who has a passion for middle schoolers. "That's my favorite age. They are becoming their own person and being faced with a lot, and that's when they need the horses the most. It's such a hard age. And I think we can all say that, looking back at middle school."
Strange said that working with disabled students at Therapeutic Horsemanship is one of the most rewarding experiences for her.
"The miracles that I have seen happen there, it makes you look at life completely different," said Strange.
In one particular example, a little girl, now 12, suffered a spinal cord injury in gymnastics.
"I watched her grow and change until she could walk again and now she canters around," Strange said. "She told me her goal is to jump, so that became her ultimate goal. … I feel like it's a gift to me to be able to say, 'OK, I can help make this kid's dream happen.'"
Another student, 17, started training with Strange as a beginner and now owns her own horse.
Because of her recent dedication to college, Strange only works at Therapeutic Horsemanship one night a week with a very select group of students who she has developed relationships with. Her students call themselves School of Strange.
"I've taught [these students] for awhile and they are going to outgrow me, and that's kind of my goal for them," said Strange. "They are going to outgrow me and they are going to outgrow TH. They are going to need to go to a non-therapy barn. There is nothing that is going to hold these kids back."
Aside from competing herself, Strange also allows her students to compete on her horse, Boogie, known as Moonstruck in the arena, who was a two-time Reserve National Champion for UPHA, United Professional Horseman's Association, and who also won the Exceptional Challenge Cup in 2009 and 2011.
For Strange, who said she does not have much confidence, the success of her horse, Boogie, was huge for her.
When recalling her student's win on Boogie at the UPHA National Competition, Strange described the feeling as one of her best.
"I have never cried so much in the middle of the ring. There are videos of me in the middle of the ring with just tears running down my face," said Strange, who had been watching the competition from the sidelines.
After training her students for years, Strange witnessed the success they worked so hard for.
"Just to see my riders on this horse that I love so much," said Strange, her face lighting up, "Yea, that's the pride right there."
Coming to MBU from William Woods University for a degree in middle school education, Strange brings with her a testimony and lifestyle that places equine competitions in a new light.
Strange, 30, has been riding since her 12th birthday, in which her parents gave her a series of horseback riding lessons every other week.
"My parents got me riding lessons … thinking that I would do it and give it up like I did everything else as a child, and now 18 years later, I'm still riding," said Strange, who now owns two nationally ranked Thoroughbreds.
In order to continually afford lessons in her youth, Strange began working at a barn at the age of 15.
"The way it went," said Strange, "was eventually … my parents said, 'We can't afford [lessons], so if you want to do it, find a way.'"
Buying her first horse at 18 with savings bonds meant for college, Strange trained her horse and sold him for three times her purchasing price.
"It just happened to work out. I bought him for just a fun horse and went beyond his abilities and sold him as a lesson horse," Strange said.
A few of the most notable organizations that Strange has competed with are MHSA, Missouri Hunter Show Association, and MOHJO, Missouri Hunter Jumper Association.
Both organizations specialize in Hunter/Jumper competitions, which involves both Hunter and Jumper competitions.
According to MedalMaclay, a fan website about equitation, in Hunter competitions riders must take their horse through a series of jumps and obstacles meant to mimic traditional, outdoor hunt field obstacles.
Jumper competitions involve more technically difficult courses that are not modeled after natural outdoor obstacles. Riders in Jumper competitions are also judged on their appearance while riding as well as in the appearance of their horse, according to MedalMaclay.
MHSA also participates in Dressage competitions, where the rider and horse complete a complicated list of commands, set forth by the judges.
Currently, Strange rides Pocket Full of Cash, also known as Pockets, a Thoroughbred who was MHSA Champion for Baby Green Hunters and MOHJO Reserve National Champion in 2011.
This winning horse, Pockets, was purchased by Strange for $500 cash fresh off the race track.
Seeing his ad on Craig's List with a group of trainers for $800, Strange said she was skeptical about him until she saw a video of Pockets on YouTube.
"There's a 10-second video," said Strange. "It's really cool. It's literally 10 seconds of [Pockets] cantering and it's just from this video that we went, 'This horse has major potential.'"
It was because of this video that Strange and some close friends decided to go down to Springfield, Mo., to look at the horse.
"So I went down there with $500 cash in my pocket with absolutely no desire to make this work, because I did not want another Thoroughbred, at all. I wanted my nice little Quarter Horse," said Strange.
"[I] went down there, tried him and decided he was worth the idea. I pulled $500 cash out of my pocket, offered it to [the trainer], and she signed over the jockey papers right then and there. And that's how he got the name Pocket Full of Cash," said Strange.
She also calls Pockets The Wonder Horse as from that point on, he has only succeeded despite doubt from trainers.
"He's amazing. His first year, I bought him in October of 2010, he had never jumped anything before in his life, and in 2011 he was MHSA and MOHJO champion," Strange said. "He rocked it. His first show, he won every class. He was just amazing."
Strange said this was a big moment for her as she was lacking confidence. "We were showing against horses that cost a lot of money," said Strange.
That first year she had Pockets, Strange showed at all the schooling and state shows. At their first recognized event at Queeny Park in 2012, Strange and Pockets finished second overall with no faults in Cross Country, an endurance and agility-based track averaging about two miles in length, or Stadium, where riders go through an indoor obstacle course consisting of various jumping obstacles.
Moonstruck, Strange's other horse, otherwise known as Boogie, is now 26 and is retired from showing.
"My old man is my baby," said Strange, who has had Boogie for 10 years, after begging for him for two years. "I rode him at William Woods and I fell in love with him."
Just before her 21st birthday, Strange got a call from her trainer, Linda McClaren, saying, "Kristen, if you want him that bad, come get him," Strange recalled. "He was my 21st present to myself. He is my pride and joy. If it weren't for him, I probably would have quit riding completely."
Before purchasing Boogie, Strange struggled through riding with a difficult group of horses that she had frequently fallen off of. Losing her confidence, Strange became burned out on riding lessons and barn work.
"[I] just wanted to get away," said Strange.
Boogie proved to be Strange's redeeming factor.
"Little by little, he helped to rebuild my confidence in my abilities, thus helping me build some confidence in myself," said Strange, who also credits Pockets for her continued passion for riding. "After Boogie retired, I got myself into another non-ideal horse situation and lost whatever confidence I had gained. Finding Pockets and realizing his patience and willingness helped me to rebuild that confidence again."
For Strange, horseback riding is a form of release in which she is able to escape from or process the pressures of the day.
With her horses, Strange feels that she can approach them regardless of her life circumstances and always find a companion. "They don't judge you," said Strange, adding that riding is "completely therapy."
Strange still uses much of her love and inspiration of riding to continually influence her involvement with TH.
"Not only do I see the impact that riding has on [my students], but they have a huge impact on me. I watch my students daily overcome adversity and push beyond expectations," Strange said. "They don't allow their disability or their diagnosis to define them. Instead, they so often live by the idea, 'Tell me I can't do it, and I'll show you that I can do just that and more.' We can all learn something from these kids."
Last year, Strange made the decision to go back to school. Choosing MBU for its faith base and smaller size, Strange explained that while she loves working at Therapeutic Horsemanship, working at a barn is physically laborious and eventually would get difficult.
It has also always been a goal of hers to obtain a college degree.
With her middle school education degree, Strange plans to continue to work in the lives of young students while still competing on the side.