New head coach Lindsay Carlile comes to Missouri Baptist University from Westminster Christian Academy, bringing a successful coaching record with her, but more importantly, bringing Christian values to her new team.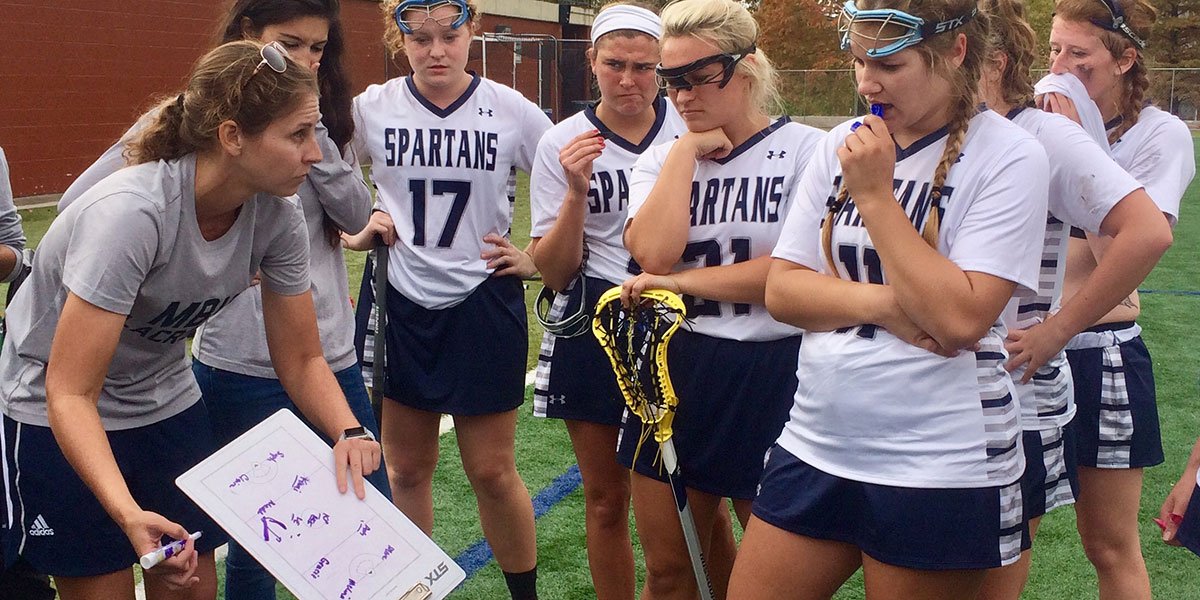 Photo by Stacy Rohan
Coach Lindsay Carlile draws up a play on the whiteboard during a lacrosse game. Left to right are Terra Ringo, assistant coach, and players Melina Custer (17), Gracie Adams (2), Laura Ebers (21), Jessica Scalise (11), Ashley Avery (1) and Kimmi Mathews (8).
__________________________________________________
The Missouri Baptist University women's lacrosse team is taken under the wing of new head coach Lindsay Carlile as they train and condition for the upcoming season.

Carlile, who enters her 12th year coaching lacrosse, said MBU originally appealed to her for many reasons, but she's most excited about its Christ-centered foundation.

"I feel called to coach, so having the opportunity to do that full time not only felt like a good challenge, but also where He was sending me," Carlile said. "I love that it's a Christian school. I like that we get to share our faith through athletics. That's kind of my heart beat."

Alumna and former coach Amanda Sullivan said she knew immediately after Carlile applied that she would be a great fit for the position.

"She has an incredible coaching history and is an overall awesome human," said Sullivan, adding that what makes Carlile perfect for the job is "her strong faith and desire to help young adults grow into successful women."

Sullivan spent four years as head coach but stepped down in order to return to her hometown in Austin, Texas, with her fiancè, former assistant men's lacrosse coach Brad Keel.

Before joining the MBU family, Carlile worked eight years on staff with the Fellowship of Christian Athletes as the St. Louis area director, and then worked full time at Westminster Christian Academy for three years where she served as athletic director and the varsity girls lacrosse coach.

Carlile has specific goals for the season regarding her team's character and potential outcomes.

"The first thing we have to do is establish our culture of excellence — our Christ-centered culture of excellence in everything in that we do," Carlile explained. "If we focus on our controllables — our attitude and effort — results will follow."

The Spartans completed the 2016-17 season with a 6-4 record, and the 2017-18 spring schedule contains nearly twice as many competitions.

"As far as specifics, I want winning seasons, I want to be conference champs, and ultimately we want to compete at the highest level, which is Nationals," Carlile said.

When looking to hire a new coach, Athletic Director Dr. Tom Smith sought someone who is mission-focused, faith-based and experienced in coaching, and said Carlile obviously met the criteria.

"I could tell after the first interview that she was the gal I wanted," Smith said. "She had great references. The fact that she was at Westminster as an athletic director was something I was happy to see because Westminster is mission-focused. And her involvement with FCA was intriguing to me because that's how I became a believer."

Defining herself as a relational coach, Carlile said she wants to be positive but disciplined in terms of expectations; she won't settle for less than the best, and she hopes to be seen as a transformational coach.

"Every coach, whether we want to admit it or not, we have the fear of failure, and that can mean a lot of different things: failure over the scoreboard, yes, that's disappointing and I don't want that. To me, though, the biggest failure would be girls walking away not knowing the Lord because of the time that we've spent together. It's the fear of not being the best example I can be," Carlile said.
What the players have to say
KATIE PILLA, sophomore
major: nursing
position: midfield


"Coach wants what's best for each of us. She puts so much time into us and shows that she cares about everyone both physically and mentally. She pushes us, in a good way."

________________________________________________________________________

KAITLIN MILLS, sophomore
major: human services with a psychology minor
position: goalie


"Coach Lindsay incorporates the Holy Spirit in everything she does. She never fails to show us her love."

________________________________________________________________________

KIMMI MATHEWS, junior
major: human sciences
position: midfield

"Coach Carlile is wonderful. She will lead us to victory."

________________________________________________________________________

SOPHIA WALLACE, junior
major: business administration
position: midfield

"Coach is awesome, kind and exactly what we need to take this program to the next level."

________________________________________________________________________

The key component of Carlile's coaching style is her faith as it is foundational to her entire identity.

"To me, Jesus was the greatest coach of all time. He was a guy who got his team of 12 players, equipped them, spent time with them, challenged them, and loved them unconditionally. That's the example of servant leadership I look to," Carlile said. "I became a coach through FCA so for me, it's impossible not to see the Gospel through the lens of athletics. That field is my place of worship; it's where I'm able to use some of the gifts He's blessed me with, for His glory, and I hope that translates to my players."

Carlile defines success in terms of coaching as something bigger than the scoreboard.

"I want to win and I believe we need that, but on the flip side I think a successful coach is someone who helps their players eventually become meaningful members of society who change their surroundings for the better, and hopefully for the Lord."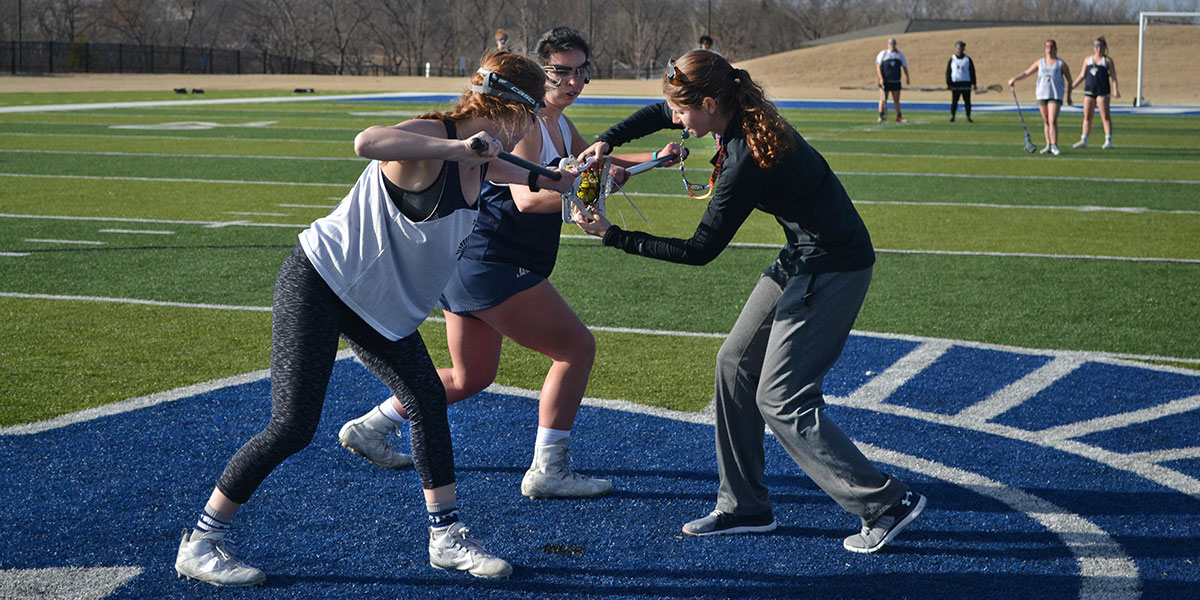 Photo by Stacy Rohan