The Spartans, coming off a season cut short last spring by the COVID-19 pandemic, are taking every precaution to ensure a safe and strong start to this 2021 season, hitting the road to take on three teams in games starting Thursday and running through Saturday.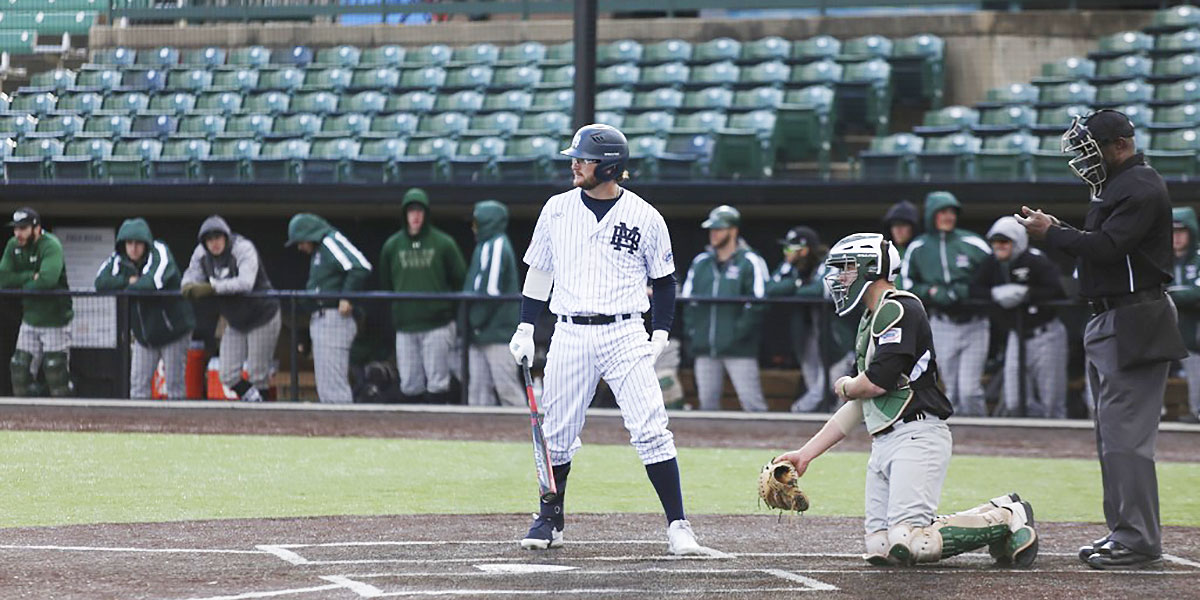 MBU Spartan Trey Steffler, a junior from Boise, Idaho, steps into the batter's box. After a disappointing and abrupt ending to last season, the Spartans find themselves in an optimistic mindset heading into this season, opening against NAIA-ranked opponents.        Photo Courtesy of MBU Athletics
__________________________________________________
EDITOR'S NOTE: The upcoming games mentioned in the following story have been postponed due to weather. The Spartans are scheduled to play in Kansas City next week.
____________________________________________________________
Hungry for baseball after a 2020 season cut drastically short by a global pandemic, MBU baseball opens its 2021 season by hitting the road to play three games in three days in the Peach State of Georgia, beginning Thursday, Feb. 11, and running into the weekend.
The Spartans will play the following games beginning Thursday:
♦ 1 p.m. Thursday, Feb. 11, vs. Indiana Wesleyan University, in Lawrenceville, Georgia
♦ 5 p.m. Friday, Feb.12, at Reinhardt University, in Waleska, Georgia
♦ 11 a.m. Saturday, Feb.13, vs. Tennessee Wesleyan University, in Emerson, Georgia
Tennessee Wesleyan and Reinhardt are both opening with preseason rankings in the top 20 nationally, at No. 5 and No. 17, respectively, but the Spartans are more than ready.
Missouri Baptist baseball, led by longtime Head Coach Eddie Uschold, is stacked with experienced returners and talented new faces. Due to COVID-19 cancellations, players were given another year of eligibility, which should be a significant help for the ball club. 
Experience helps culture and drives a team. With the extra year, plenty of guys are back for one last go around in the navy and white. 
Josh Seiglitz, Hunter Hill, Caleb Miley and Matt Huss are a few veteran Spartans who will help the team get rolling this spring.
The Spartans also have many names back this year who had notable impacts during the 2020 season before cancellation, with names like Trey Steffler, Carter Mize, Luis Tajia, Masen Palmier and Jackson Keller.  
Talented new faces include big hitters like Tommy Patrick Jr. and Kyle O'Brien, along with smooth fielders Manny Garcia and Noah Hemphill. 
Pre-season has been productive for the team. Uschold was able to get the program a new infield tarp this spring, which has allowed players to get outside on the infield dirt more than typical Missouri January weather allows, which helps in preparation. 
"We are fortunate to have a new tarp and some good weather. We have been able to be outside as much as we have been inside," Uschold said in an email. "This has added in our preparation for the season. We are making progress but still have a lot of work to do."
The team is on the right track for success, Uschold said, as quality leadership has moved this process along.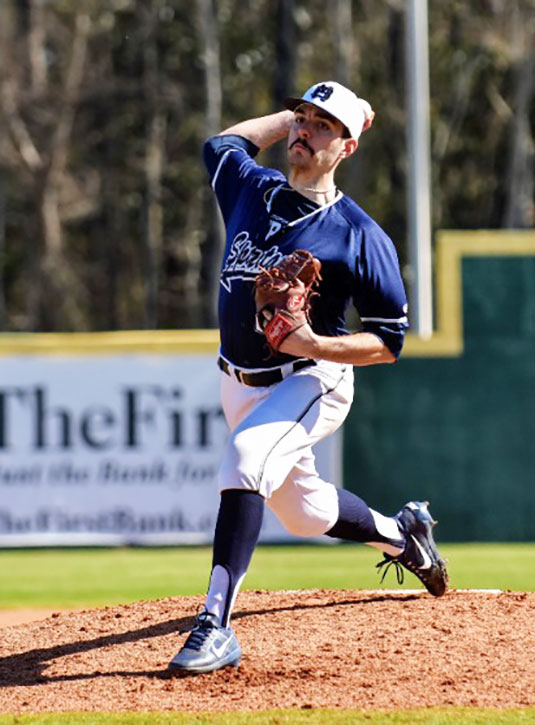 Senior Masen Palmier, 6-foot-3 right hander from Ballwin, is expected to be a strong contributor on the mound this season.
      Photo Courtesy of MBU Athletics
"This team is beginning this season with what I see as some maturity in the leadership. They have worked at getting the culture back to where it was three years ago," Uschold said. "This has been a direct result of buying in to MBU baseball. This has been done through good examples and a good work ethic."
While the future is bright as the squad is locked and loaded, ready to hop on the bus to head south, Uschold recognizes any new season brings many unknowns. 
"I say these positive aspects of this group exist. Fact of the matter is I have yet to put a lineup on the dugout wall for a game," Uschold said. "We will find out what these young men are really made of when we see how they respond when they are not in the lineup. When things do not go their way. Then we will know what we really have."