Emma Vogt is excited to lead the Student-Athletic Advisory Council in her role as president, which is the first time in MBU history a competitive dance team member has assumed that position.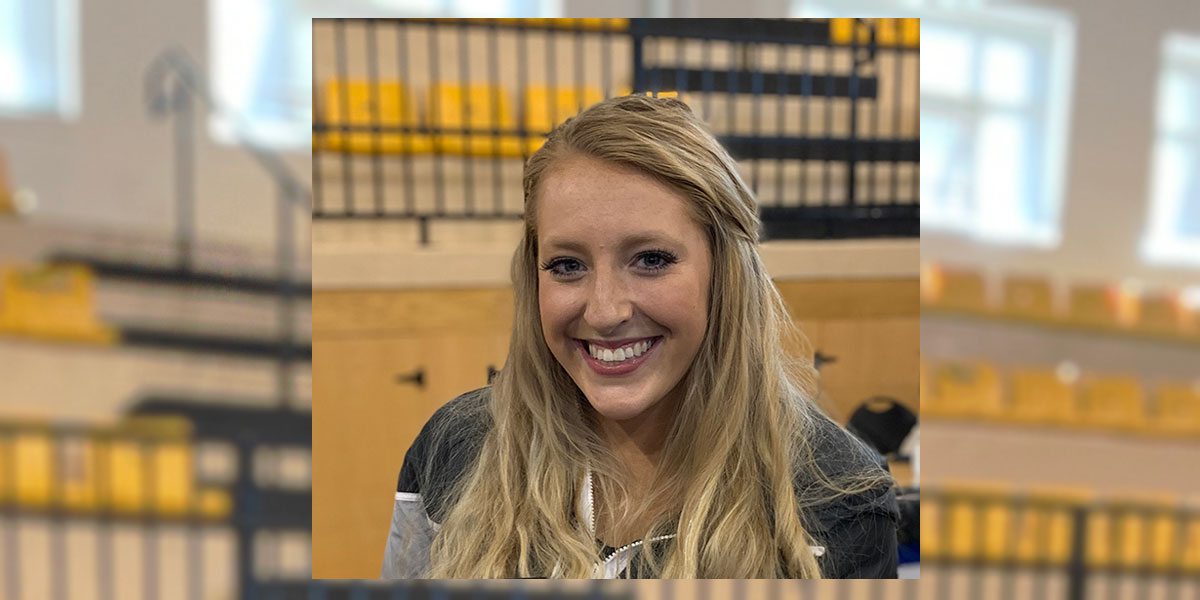 SAAC President Emma Vogt happily accepted her role with confidence and has strong aspirations for the future. She sees this as a leadership opportunity and is up to the challenge.      Photo Courtesy of Autumn Heaton
__________________________________________________
Spartan Line dancer Emma Vogt has been chosen to represent Missouri Baptist University student-athletes through her new role as president of the Student-Athletic Advisory Council, a first in the history of the competitive dance team.
SAAC includes representatives from each sport at MBU, with the mission of creating communication between athletics administration and student-athletes.
Vogt, a junior business management major who has been dancing since she was in fifth grade, serves as captain on the Spartan Line dance team.
"I really like doing things a certain way. I feel like I provide a good leadership background, and I also give people the room to give me their opinions so I'm not going to overstep," Vogt said. "I also like to hear how people want things done and I am gonna do it that way for them. So being president just gave me the opportunity to be more involved with other sports as well. So if anybody else is having issues, I can bring those up to the head of athletics."
Vogt is able to communicate with leaders of other sports, while also getting to learn how they practice and how much work they put in.
"My biggest obstacle so far would probably be if the teams have issues. Sometimes I don't know how to handle them because I'm not a part of that sport. If it's like equipment issues or practice times or something like that, like field time, I don't really know because I'm not around that, so it's hard for me to know what to do," Vogt said. "I try to do the best that I can with their concerns or whatever they need done and I try to handle those as best I can. I hope that I create a good foundation for the people that are on the sports teams now and for people to want to come to MBU because I know that it's kind of a smaller school and people don't know a whole lot about us, so I'd like to make a name for us and bring more people in to add to our program."
Claire Ward, the Spartan Line dance team coach and founder of the dance minor at MBU, has toured nationally with the Radio City Rockettes in the 2018 Christmas Spectacular Arena tour.
"Emma having this role means that the dance team has a voice, and that people recognize what dancers do and how dance is so specific and unique as a sport. A lot of people don't know what our needs are and they aren't there to advocate for us. Having her there is incredible because we have a voice at the table that's really powerful," Ward said. "I feel like whenever I tell her my concerns or whenever she sees them I know that they're going to be heard higher up. Also, other people will recognize dance as a sport at MBU because very often they don't really know what dance involves."
All sports have their needs and responsibilities that are required for them to function properly, and the SAAC program helps allow students to get things done.
"I feel like I can turn to her and know that any concerns that I have … that may need to go to someone else, I know that she will be an advocate. She's also not afraid to advocate and speak up for the team even if it's an uncomfortable situation," Ward said. "Dance is truly a very strong competitive sport that requires a lot of dedication and space and specific supplies that we have. I feel like we have more of an avenue if we have any struggles. I feel like as a team we are a very selfless team, but now I feel like we have the ability to get the space that we need when we need it, and I think it's going to help us build."