Being an athlete comes with no shortage of challenges and Coach Ben Johnstone recognizes that. Throughout his time at Missouri Baptist University, Johnstone's goal for the MBU women's soccer team has been to inspire players to not only be the best athletes they can be, but the best people they can be.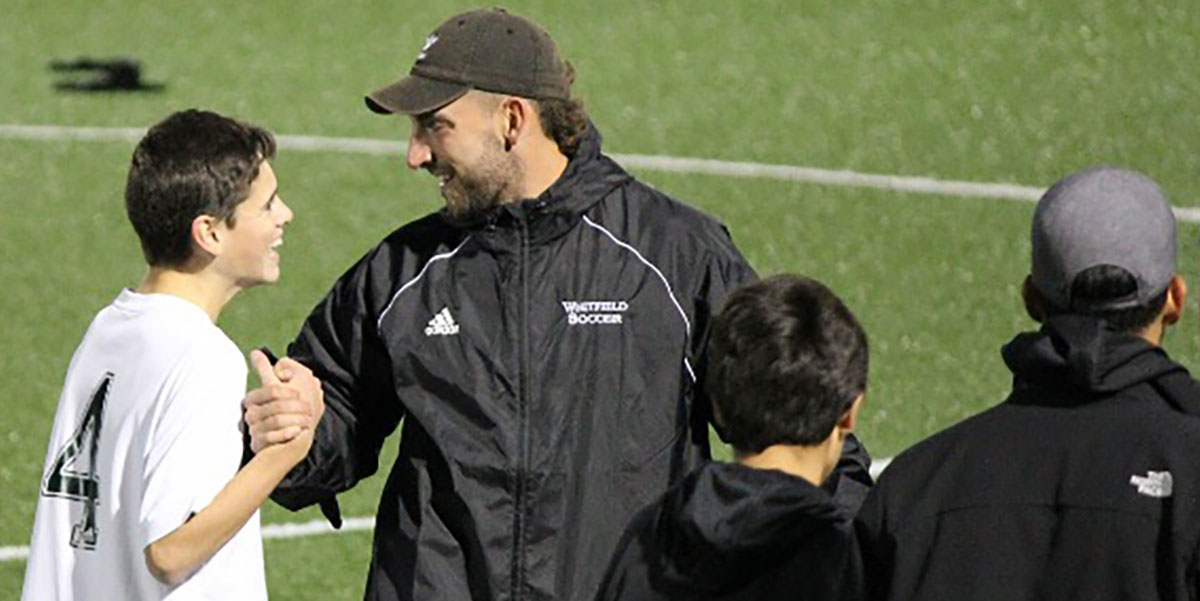 Coach Ben Johnstone is known at MBU, Whitfield High School and various additional club soccer teams for his honest approach to the game, both encouraging and inspiring players to reach their best and settle for nothing less.      Photo courtesy of Hannah Leahy
__________________________________________________
The Missouri Baptist University women's soccer coaching personnel had quite a unique makeup in the 2019 season, with five graduate interns on staff, which allowed for a 1:5 coach-to-player ratio, including head coach Deno Merrick.
Among these interns is Ben Johnstone, a second-year graduate student in the MBU Education Department who functions as an assistant coach to Merrick. 
Johnstone, a native of Newbury in Berkshire, England, began his coaching journey at 16 years old, working as a coach within his former academy, Reading FC, located in Reading, England. 
When Johnstone was 18, he came to the United States to pursue his undergraduate degree in physical education at Lindenwood University.
This paved the way for Johnstone to become a current assistant coach of two different teams, the MBU women's soccer team and the Whitfield High School boys varsity team, as well as the head coach of another team, a girls Kirkwood United club team. 
"I love the range of coaching positions and contexts that I am blessed to work within. Each context requires a different approach to be able to best serve each group," Johnstone said. 
One of the places that St. Charles resident Johnstone coaches is at Whitfield High School, located right down Conway Road, making it almost neighbors with Missouri Baptist. 
Mike Quante, the assistant director of athletics at Whitfield and head men's varsity soccer coach, has known Johnstone for almost five years and works closely with him during the boys' high school soccer season each fall.
"One of the benefits of having Ben on the coaching staff is that he complements me and the other coaches in the areas we are not as strong," Quante said in an email. "Being a more rational person, Ben helps connect players to the coaching staff on a deeper level than I wish to."
Taking on a similar style of coaching at MBU, Johnstone filled the role of the leader students could talk to about anything and get them into the right frame of mind with the simplest words and phrases. 
"When I had a lot of personal problems going on, Ben could tell. During an easy drill, I kept messing up and he could just tell that I was off. He pulled me to the side and told me that no matter what was going on, he was there for me. He told me to focus on one specific moment, taking three steps off of the ball after I passed it," sophomore midfielder Maddie Mrazik said in a text message. "He complimented me every time I did that and it made me forget about what was going on outside of soccer without even having to talk about it." 
Johnstone said he enjoys being able to have an impact on his young athletes in a positive way, and because of this, he works tirelessly to develop his coaching skills in various aspects.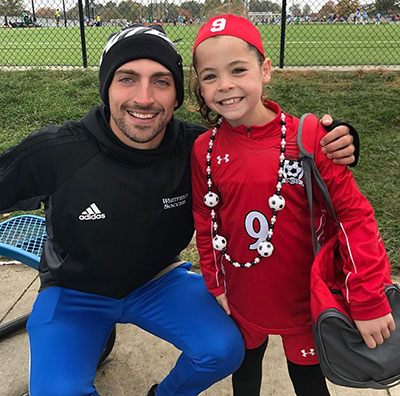 "Honestly, it's hard to narrow down just a handful of resources that I use to strengthen my coaching. I am constantly reading, listening to podcasts, and using any experiences/knowledge I gain to best serve the players I coach," Johnstone said. "Much of these resources aren't even necessarily soccer-specific." 
Johnstone is also part of a program run by the professionals at "What Drives Winning," a sports psychology company created by up-and-coming coaches Brett Ledbetter and Becky Burleigh, which is taking the nation by storm with their coaching and development resources. 
"We have monthly webinars on topics ranging from character development, leadership, player management, self-management, and so on," Johnstone said. "It is a great resource and something that keeps me focused on what's really important." 
Someone Johnstone has worked closely with during his coaching experience at MBU is one of his fellow graduate assistants, Mark Hammond.
Hammond was new to MBU's campus and program in 2019, spending the previous year being a coach of both the men's and women's soccer programs at Jefferson County Community College in Hillsboro, Missouri.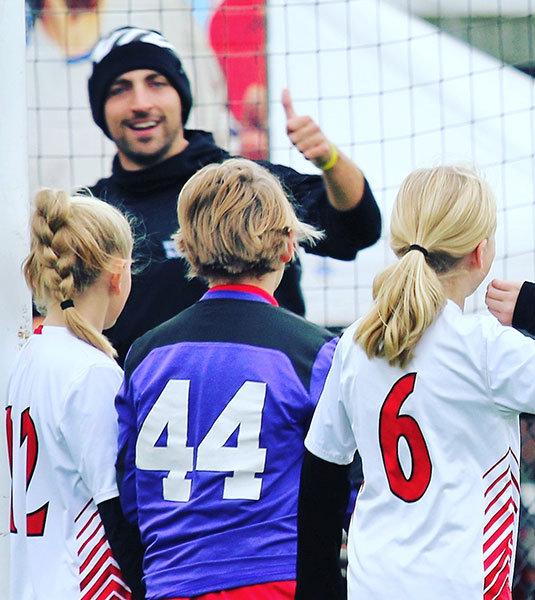 It is always easy to find Coach Johnstone with a smile on his face, demonstrating his love for the game and all who play it, at all ages.
Photo courtesy of
Hannah Leahy
Much like Johnstone, Hammond came to America in hopes of getting a more expansive athletic and academic experience, one that included playing soccer at Louisiana State University of Alexandria, an NAIA school located in Alexandria, Louisiana.
"Joining any program, whether it be as a player or a coach, can be difficult. I definitely had some anxiety meeting the team on that first Sunday of the season," Hammond said. "This was my first time being a part of a program that had five other coaches."
Coaches Lauren Krebs, Alexis Baez, Saphir Salvador, Hammond and Johnstone all had a strong dynamic, but Hammond and Johnstone especially hit it off, becoming the "bromance" the team couldn't get enough of. 
"I think that most of the time we balanced each other out. Most of the time, he was the optimist while I was the pessimist," Hammond said. "At times, the roles changed throughout the season."
It's no secret that Johnstone has made lasting impressions on many people, those he has coached and coached with, and he does not take any of that for granted.
For example, one young woman who Johnstone spent just one short season with was senior defender Madison Gentry, who was a new addition to the MBU women's soccer team the year after Johnstone arrived.
Gentry had a hard pill to swallow this year when she found out there were some issues with classes at her previous school, St. Charles Community College, when it came to transferring over to MBU, thus making her become ineligible right before her first season at MBU. 
"This season was a lot of trying to figure out what my role was on this team," Gentry said. "Ben played a huge part in making me feel wanted and needed, not only by my teammates but by the coaching staff as well. He took the time every day to make sure I got a chance to express my feelings and concerns for the team as a whole as if I was a part of the staff and the team at the same time." 
Johnstone prides himself on coaching the entire person, not just the athlete, and that is a personality trait every coaching staff member could benefit from, no matter what sport, age or gender is being coached.
"In a selfish way, I think it provides a massive amount of purpose in my life. I experience an immense amount of fulfillment when I feel that my life and time is being used to serve the players I work with," Johnstone said. "When I feel that I can use knowledge and skills I have to help others grow, it brings a pure sense of fulfillment." 
Johnstone hopes all the players he has worked with over the years can take away at least one thing from his coaching, personal growth.
"Some players may love the experience, some players may acutely find it to be less enjoyable," Johnstone said. "However, I hope that anyone who is coached by me comes out the other side as a better person and player."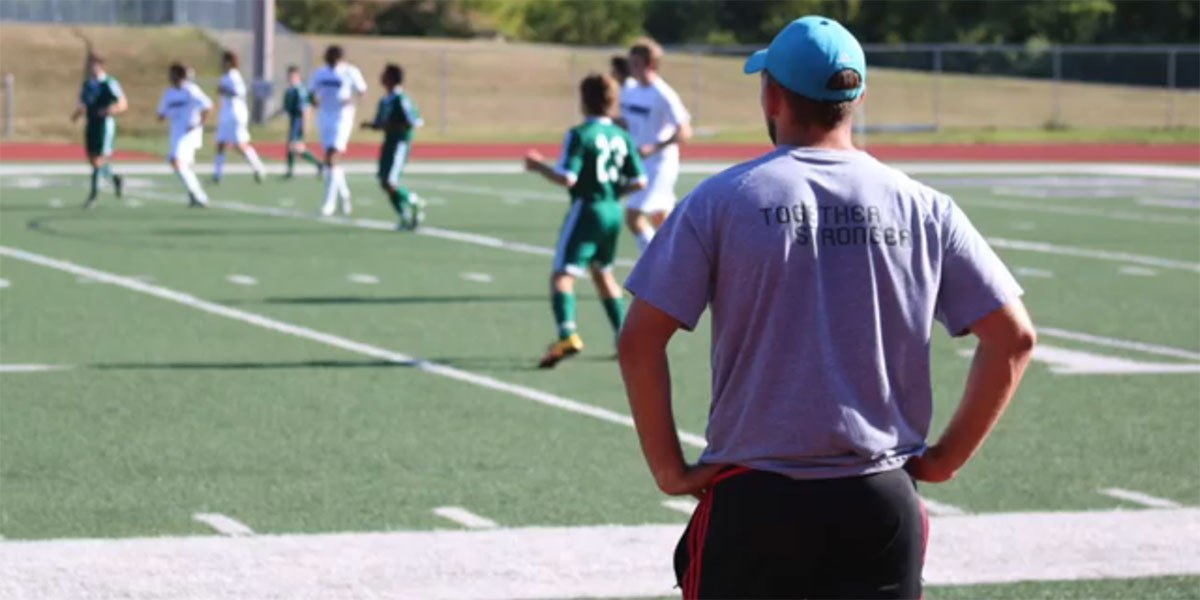 Coach Ben Johnstone surveys the field during a high school soccer game. You can find the passionate coach on the pitch at many games throughout the St. Louis region, from Missouri Baptist University to Whitfield High School to area club teams.       Photo courtesy of Hannah Leahy