The women's volleyball team at Missouri Baptist University has used this season during COVID-19 to grow as a team and as individuals. Led by Coach Chris Nichols, the team quickly approaches competing in the postseason as one of the best teams in the nation.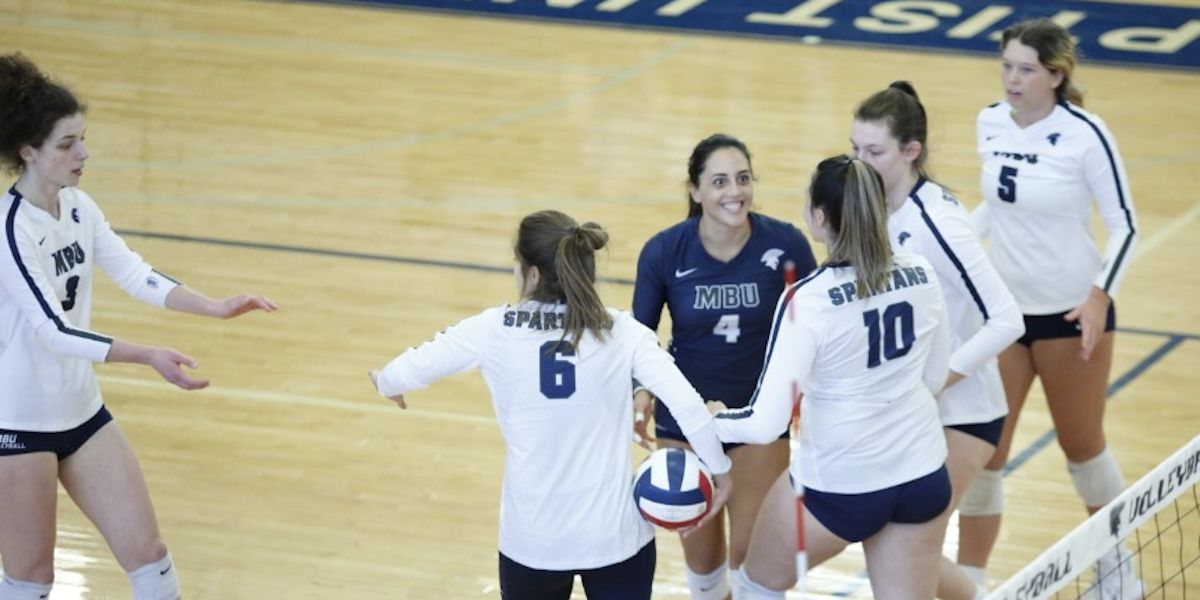 Balancing homework and sports is challenging for any student-athlete, especially during a pandemic. The women's volleyball team at MBU has successfully learned to adapt and have found success on and off the court.      Photo courtesy of MBU Athletics
__________________________________________________
Players on the women's volleyball team at Missouri Baptist University are battling through a season that earned them respect from their opponents, but also respect for each other as they have competed to historic levels during a crippling global pandemic.
While they lost the first game of the season to Midland University back on Sept. 5, 2020, it didn't take long for a record-breaking comeback to begin.
"We started off losing the first game, and the same day we played against a really good team after that, and we won," Giovanna Tapigliani, a senior business major, said via Zoom interview. "I think we were just building our confidence. Since we are one of the top in the nation, I think that helps us whenever we go to play because the teams respect us. It's easier to build our confidence in this program just because we already have the history to win the games."
As the head coach of the volleyball team since 2013, Chris Nichols has led the team to their 15-2 record this season. One of Nichols' favorite parts of coaching the team is recruiting new players to join the winning Spartans.
"I really like the recruiting aspect, as far as kinda building the team and putting all the pieces together," Nichols said via Zoom interview. His Spartans have amassed a 248-50 record since he took over the helm eight years ago. "There's different positions on the court as far as setters, hitters, defenders. … We want to make sure we have depth, so we make sure we have about three players in each position and then as one graduates in that next class we need to bring in a freshman."
The tactics used by Nichols and his recruiting board have built a winning and respected team.
This season, the team had a 37-set winning streak, which was the best in the program's history. While the team lost one set to Lincoln College on Feb. 24, 2021, ending the streak, they won the match and maintained a 14-game winning streak that started back in September 2020.
"It's 14 games, but it's really tough because we started those games back in September. So we really only played 14 games from September all the way until now," Nichols said. "Usually we would get 14 games in just a couple months, but with COVID, we've been playing very few games. Sometimes only one every two weeks, and taking breaks and all that stuff. So it's been a really long year, but the kids have stayed focused throughout the whole thing and winning 14 in a row, it's really a testament to their focus level every day."
While the team has kept this focus through the drawn-out season, COVID still has taken its toll in other ways. Staying motivated during the pandemic has proven to be difficult at times.
"I know it's been hard on them, and that's one thing that I think everybody needs to realize. For students and student-athletes, it's been really tough on these kids, but they've been finding a way to battle through it, and I'm proud of the adversity they've shown," Nichols said. "It's been the toughest year for us for sure."
In collegiate sports, or sports at any level, an important factor in success is often structure in practices, schedules and games, a factor completely set aside during this unpredictable COVID season.
"The biggest thing is just the uncertainty. It's hard to get kids motivated when you don't even know what you're really getting ready for because there's a lot of times either where games have been canceled due to COVID or we've been put out because of contact, there's quarantine situations when other teams have been put out," Nichols explained. "They want to know what they're planning for ahead, and they really can't do that with everything changing daily."
He added: "This year is just not normal at all for us. We have to stop practicing for 14 days and then we come back and have games. As soon as we get in shape, we have to start over again."
One player who has been learning to adapt to the ever-changing schedule is Sara Klunder, a freshman business major from Cedar Falls, Iowa, and a starter for the Spartans.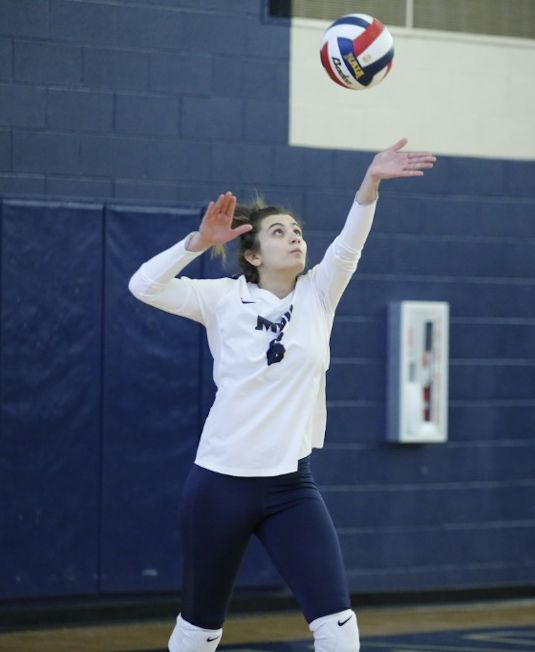 Senior Manuela Vargas is one of the many international players on the women's volleyball team.    Photo courtesy of MBU Athletics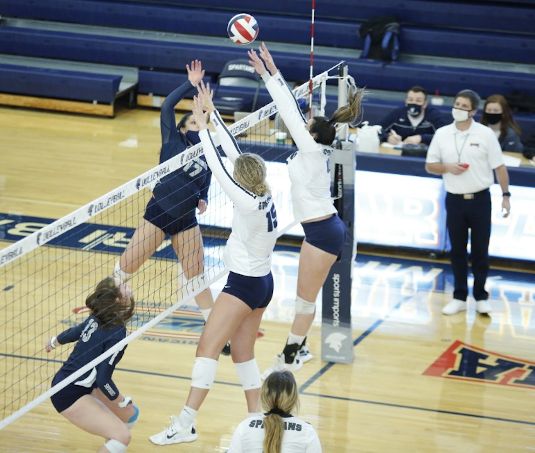 Freshman Sara Klunder (left) earned a starting position as a middle blocker for the 2020-21 season.
     Photo courtesy of MBU Athletics
"That has been for me probably one of the hardest things, especially coming in as a freshman," Klunder said via Zoom interview. "In high school I had a set schedule and everything was just, 'You do this every day.' And so it's been completely different coming into college. And then add COVID on top of that."
Described by Nichols as one of the best middle blockers in the country, Klunder is grateful for the opportunity to start with the Spartans.
"That is something that has taken a lot of work, and I'm still growing. I remember talking to coach last semester, and I was like, 'I can do so much better.' And so that's been totally a mindset thing for me, too," Klunder said. "That was really cool just to be able to step in and make that kind of an impact and then being able to see I'm able to grow with all the amazing players that are around me. I've been loving it."
The women's volleyball team at MBU has a unique culture. In addition to the mutual high energy shared with players on the team, the team is made up of several international players.
"The other thing that I really enjoy is that we have a good mix of kids from the Midwest and the area, and we have some international kids from South America and Europe and really all over," Nichols said. "Being able to bring all those people together to create a culture in our gym is really probably the coolest thing." 
Both the international students and the players from the U.S. also appreciate the diverse culture of their team. Tapigliani, a right side from São Paulo, Brazil, said she believes the culture of their team contributes to their success.
"We have so many people from so many different countries. That brings us together because they want to know our culture, and we want to learn from the Americans too, and I think that helps us a lot, to get together as a team," Tapigliani said. "I'm international and I'm not alone. There's a lot of internationals too, and it makes me more comfortable around the team. It makes me happy to play for people who care about me."
International players on the team include: Tapigliani, Isidora Stojovic, Ariana Macies, Manuela Vargas, Liz van Houwelingen, Maria Hanusik and Nathiellen Machado. Players from the Midwest and rest of the U.S. include: Klunder, Abby Braswell, Emma Lattimore, Carlee Wise, Raylym Dodd, Katie Duncan, Tessa Schneider, Shannon McLain, Kaili Smith, Sam Kurm and Lindsey Major.
"Having the internationals and their different cultures, it's been so cool to see now how we've grown through that as a team," Klunder said. "Everybody's energy bounces off each other. So when our team has high energy, it's so much fun and everyone does so good and it's a blast."
In addition to their impressive winning streak, the team received national recognition as Tapigliani was named NAIA Attacker of the Week for the week of March 2, 2021.
"That's a pretty huge honor. There's only one kid in the whole country who gets it each week, so for her to get that, it's really big recognition for Missouri Baptist," Nichols said.
The 24-year-old Tapigliani recognized that it took help from the entire team for her to earn the title.
"That was really nice. That was my first time being NAIA Attacker of the Week," Tapigliani said. "I think my team helped me a lot, and they trusted me … because we didn't have two of our outsides that get a lot of balls. The team made me get to that because they were trusting me, that I would help them more than I was before because we needed somebody to score. They made my mindset. That was not just me, it was the whole team." 
The Spartans' regular season is quickly coming to a close, as their last game and senior night is April 1. Even though they lost all three sets to Ottawa University on Monday, March 22, ending their 14-game winning streak, the Spartans came back the next day, Tuesday, March 23, and won all three sets against Central Methodist University. This win has kept the team on track to be seeded No. 1 going into the AMC Conference, which will take place next week.
The team is ranked No. 5 going into the NAIA National Tournament, which will take place the third week in April, in Sioux City, Iowa.
"The thing that has kept them going is that they're one of the best teams in the country and they know that they have a chance to compete in the national championship in the end of April," Nichols said. "I think that's what really keeps them motivated. They want to win that national championship. They want to bring that trophy back to Missouri Baptist." 
Visit the Spartans website for the latest updates on women's volleyball at MBU.