After a long string of tough seasons that didn't end how the Spartans wanted, the MBU women's basketball team achieved heights of success it hasn't experienced in over 10 years and broke recorded program history as the threat of COVID-19 loomed ominously over the year. Now, the team is already looking ahead to how it can build on its achievements this year.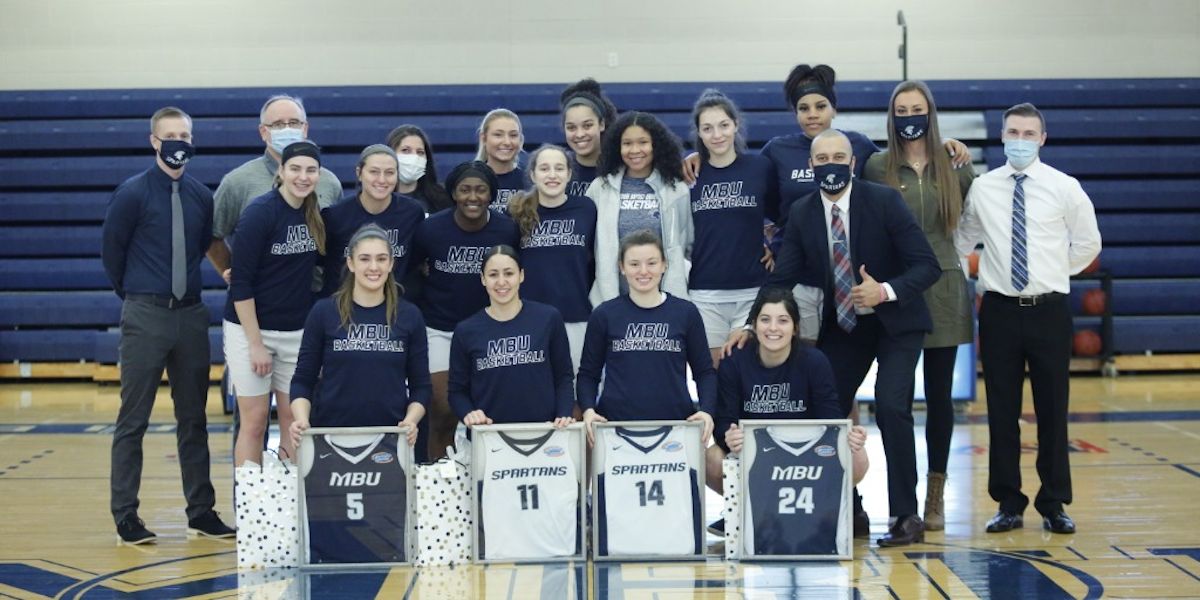 A group photo of the players, coaching staff and parents taken on Feb. 20 for Senior Day before defeating Stephens College, 97-47.     Photos by MBU Athletics
Front row, left to right: Kim Shaw, Rose Wassef, Caroline Rogers, Joelle Atkins
Center row, left to right: Grace Burrows, Kamryn Mack, Tionne Taylor, Taylor Norris, Kenzie Burt, Sara Hermosa, Vinnie Winters, Samuel Pearson, Peyton Greenlee, Nicholas LeGrand
Back row, left to right: Stephen Allen, Larry Rogers, Jennifer Atkins, Lauren Ebert, Alexis Allstun 
__________________________________________________
Like a buzzer-beating 3-pointer hanging on the rim before dropping in, the season for the MBU women's basketball team was exhilarating for fans and players alike as the squad performed in ways it has never done before in recorded program history.
Making their first appearance in the American Midwest Conference Tournament semifinals since the 2010-11 season, the Spartans made a valiant effort at a comeback against Lyon College, the No. 1 seed in the tournament, but ultimately fell short by just 7 points, 66-59, on Feb. 26.
As the season has officially ended with the Spartans enjoying a 17-6 record and a winning percentage of .739, the best since the 2005-06 season when the Spartans boasted a percentage of .758 after a 25-8 finish, Samuel Pearson, head women's basketball coach, said the best word to describe the year is togetherness.
"This year has been such an unorthodox season with game cancellations, COVID-related quarantines, continuous scheduling adjustments, lack of practice time, injuries, etc. But through all the challenges this year has presented we've stayed connected and together," Pearson, who was named head coach in March 2018, said in an email. "Our group is such a unique group in the selflessness they express. We win together. We lose together. We laugh together. We cry together. The strength of our team is the team."
Despite the disappointing ending, there were still silver linings from the season, such as the first AMC Tournament win for the Spartans since the 2013-14 season as they defeated Harris-Stowe University on Feb. 24 with a blowout score of 84-42.
Stephen Allen, assistant coach, said the feeling of the team after beating the Hornets was pure excitement, and the road ahead for the Spartans is promising as they build on their success.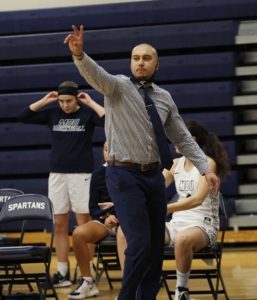 "We played so well in that game; it was nice to feel like we were playing our best basketball at the right time. We didn't much think about the history in that moment because we had more work to do. Our aspirations were much higher, but being able to take down a rival was exciting," Allen, who was head coach of women's basketball from 2017-20 at University of Health Sciences and Pharmacy in St. Louis, said in an email. "Looking back, it's great to have accomplished something that hasn't been in a while. This program is in great hands with Coach Pearson and the young ladies on the team. They are incredible, and the future is brighter than this year's result."
The Spartans lost only three of their 15 games played against AMC opponents. The Spartans also posted winning records at home and on the road, 9-5 and 8-1 respectively, for the first time in over 15 years since the 2005-06 season.
Pearson said even through the team's wins, they were still learning from their mistakes to continue playing better and improving their performance.
"I always like to say the game of basketball is about W's & L's. You (W)in some & (L)earn from others. Sure, we had the fewest losses on record this year, but we had numerous learning experiences," Pearson, who received his bachelor's degree in 2013 and his master's degree in 2015 from MBU, said in an email. "We've grown tremendously over the journey of this season. We're going to continue to strive for a culture of excellence and represent the university to the best of our abilities."
One highlight moment of the year was a triple overtime win for the Spartans against the Central Baptist College Mustangs, 87-81, a team that was undefeated going into the game and an AMC opponent.
Joelle Atkins, a senior center who averaged 22.7 minutes per game, said the victory against CBC was one of her favorite moments from the year. 
"It was sad because we did not have our coach there for that game due to personal reasons, but our assistant coach really stepped up and led us to a victory. Going into overtime is rare but going into triple overtime is crazy and we did it twice this year," Atkins, a Cabool, Missouri, native majoring in business administration, said in an email. "The feeling in the locker room was just so overwhelming. Everyone was so excited that we were able to walk away with a win, and we were able to do it for our coach." The second triple overtime game was a 110-107 loss to Williams Baptist University, an AMC opponent.
Pearson said seniors on the squad like Atkins and her teammates Rose Wassef, who averaged 5.8 points per game this season, Caroline Rogers, a guard with over 160 points in her career, and Kim Shaw, a forward from New Zealand with 151 points on the year, were stabilizing forces through adversity during the season, and their veteran experience set the example for other members of the team.
"Our seniors have been the backbone of our team all season," Pearson, who served as the top assistant for Iris Dixon, former head women's basketball coach and current associate athletic director, said in an email, noting that Wassef and Rogers are four-year players who have been "through the thick and the thin over their time at MBU. Their veteran experience has allowed them to lead our team both vocally and by their example day in and day out."
Rogers said she hopes she had a positive effect on her teammates during her time as a player and helped them be their best despite difficulties and challenges.
"These girls have made a lasting impact on me that I will cherish forever, and I hope that I have made just as much of an impact on them by being a positive, hardworking and caring teammate to them," Rogers, a human services major from Grays Summit, Missouri, said in an email. "I hope that the girls will have learned how to be the best teammate and individual they can be no matter the adversity they go through, and I believe that to be the most important thing I could hope to teach them during my time here at MBU."
Pearson added that Shaw and Atkins, who he called the "the fraternal twins," were the "glue that held us together on the court. These seniors selflessly played their roles and had countless contributions to our breakthrough season."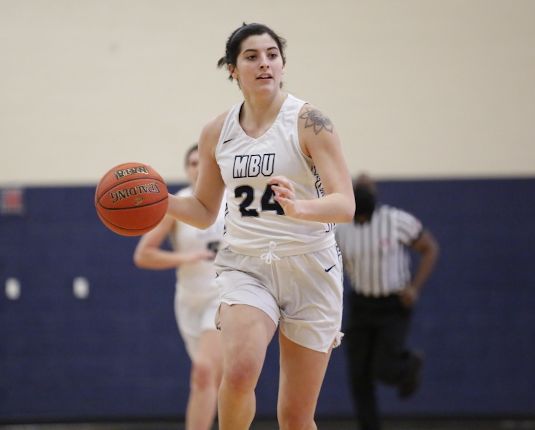 Joelle Atkins, who scored 85 points on the year, makes her way up the court in the Jan. 9 loss to Lyon College, 82-69, one of only six games the Spartans dropped this season.
The Spartans finished the regular season with a stellar run, winning 12 of their last 13 games, which Taylor Norris, a sophomore point guard, said was part of a larger objective and led by a focused mindset.
"It was a great feeling to go on that run honestly, and before every game our coach would say, 'different opponent, same mission,' which the mission was winning conference and on to the big tournament," Norris, a Salem, Missouri, resident, said in a direct message. "Even though we didn't get to where we wanted, I'm so proud of how much we accomplished this year."
Pearson said the team took every opportunity they could to the fullest because of cancellations and the risks coronavirus created in playing games.
"We were really hitting on all cylinders to close the season. Our defense was stout and our offense seamless. We were playing a great brand of basketball. But most of all, we had FUN. After serving a whopping four quarantines throughout the season (three or which were out of our control) we took on the mindset 'tomorrow isn't guaranteed.' Our motivation became to 'enjoy this moment we have today, 'cause at any moment it can be taken from us,'" Pearson, who played for the MBU men's basketball team in the 2011-12 season, said in an email.
Obviously, the COVID-19 pandemic has created special challenges in allowing athletic events to take place normally, and Atkins said it was difficult to play without the fans who usually attended to cheer the team on.
"It was hard playing without fans, obviously, none of us are used to that, and a lot of our away games were allowing fans, so it was hard. Our team really stepped up this year knowing we were not going to be able to have fans," Atkins said in an email. "We had a bench full of some of the loudest players/coaches that made up for the loss of fans."
The Spartans lost only three games against AMC opponents, posting a 12-3 conference record, and Pearson credited the women's hard work and dedication for the year's accolades.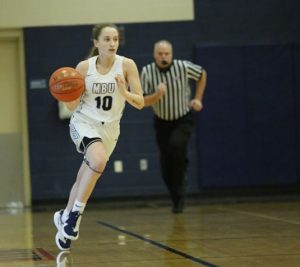 "Excelling in the American Midwest Conference is no small task. The competition top to bottom is stout and on any given night we can be defeated if we don't bring our A+ game. We were able to go toe-to-toe with the top teams in the conference," Pearson said in an email, adding this season's conference record tied the best in program history. "To be able to achieve what we did speaks volumes to the talented and hardworking group of student-athletes in this program."
In addition to the groundbreaking success of the team as a whole, individual players on the team broke personal bests and raised the bar for their play.
Norris, who had a breakout season leading the team in scoring with 344 points and posting a .753 free throw percentage on 97 attempts, gave credit to the teammates and coaches surrounding her.
"Honestly, I couldn't have done anything that I did this season without my teammates and coaches behind me, they're always pushing me to be a better me and to always work hard no matter what," Norris said in a direct message.
Atkins, who led the team with a rebound average of 8.9, nearly four times more than her performance last season, and with a team-high 32 blocks, also gave credit for her success to her teammates.
"Defensively it takes a team to be successful, although I am very tall, so it makes it easier to rebound. I could not have done it without my team all boxing out and keeping their players out of the paint so that I am able to go against a player for the rebound," Atkins, a 6-foot forward who has played for MBU since the 2018-19 season, said in an email. "I think a lot of success defensively is how hard our coach pushed us in practice to work on defense and rebounding. He would always tell us offense will come, but defense is the key to winning ball games."
As the team looks ahead to next year, Norris said the result from this season will help the team grow next year.
"I think that we learned from how we lost this year in the tournament, and we will grow from it, and it's only gonna go up from there. We're gonna come back stronger next season, we just gotta keep working hard," Norris, a management major, said in a direct message.
Allen said the loss to Lyon will help build on the change the women's basketball program has undergone in previous years and make the team more determined to do better next year.
"Going forward, the plan is to continue to grow our games, and build upon the toughness and resolve that we developed and showed this season," said Allen, who added the conference tournament loss to Lyon has doubled down the team's resolve moving forward. "The culture of this program has changed greatly over the past three years and we are much tougher, smarter and determined."