Orlando Olivera is among a small percentage of athletes who have found success in a game of failure, and he added consistency to his success by being named first-team All-American twice during his college career. Along the way, he established himself as one of the best players to wear the Spartan uniform.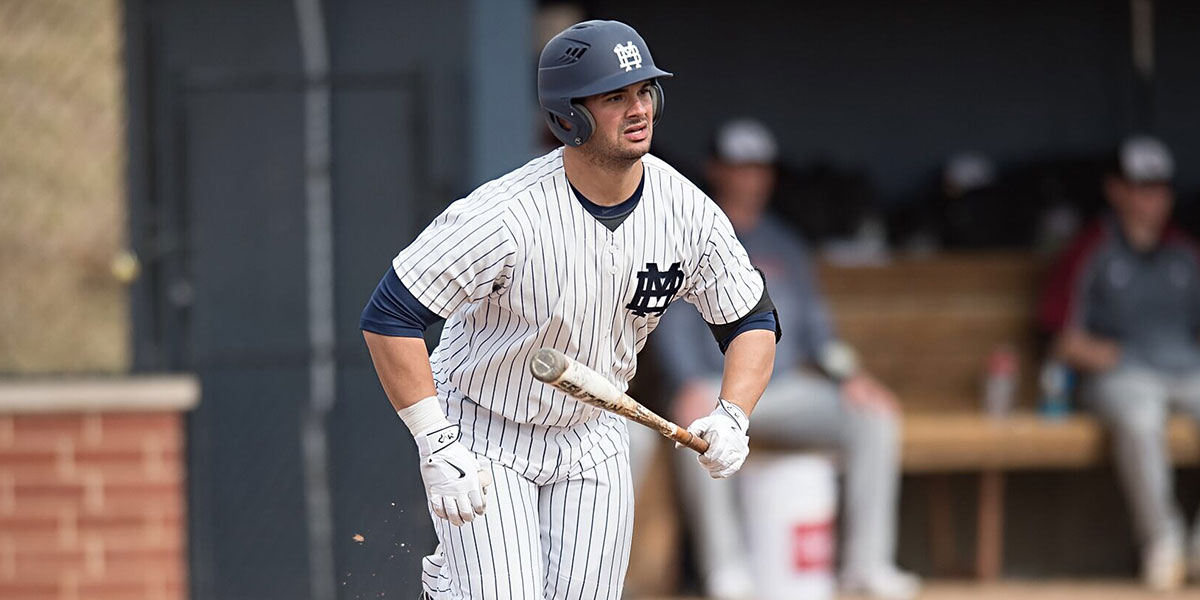 Orlando Olivera watches a hit during a game. During his tenure at Missouri Baptist University, Olivera won consecutive All-American awards and set multiple school records before being drafted by the St. Louis Cardinals. Olivera returned to MBU as an assistant coach for the 2019 season.       Photo courtesy of MBU Athletics
__________________________________________________
MBU baseball has had several All-Americans in its 45-year history, but Orlando Olivera stands alone as the first ever to be named a first-team All-American … twice.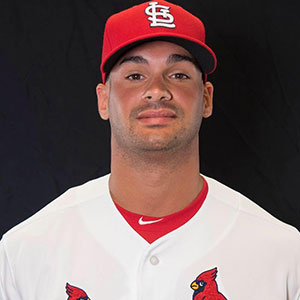 "I was just grateful, man. Grateful to God for giving me the opportunity to prove myself to be one of the best," said Olivera, who earned those honors in 2014 and 2015.
Coming to MBU from Broward College in Fort Lauderdale, Florida, just a short drive from his home in Miami, Olivera played left field at MBU during the 2014 and 2015 seasons and is still tied for third in career home runs at the school with 31.
Standing 6 feet tall and weighing 230 pounds, he is a strong athlete, with or without a bat in his hands.
"I don't remember a day where he wasn't hitting or lifting on his own," said Ryan McClaran, Olivera's former teammate. "He knew what his goals were and exactly what he needed to accomplish them."
Aside from the power, Olivera batted .421 in his career at MBU, which is a school record. He also set a record for most hits in a season with 101 in 2014.
Olivera wasn't just a two-time All-American, but he was also a back-to-back recipient of the American Midwest Conference Player of the Year award and runner-up for the NAIA Player of the Year award in 2015.
"Orlando is the best hitter I have ever had in my 20 years as head baseball coach at MBU," said Eddie Uschold, head MBU baseball coach. "I coached a first-round draft pick at Kent State in 1992. Orlando was as good as him."
After his time at MBU, Olivera was drafted by the St. Louis Cardinals in the 38th round. 
"It was a pretty good feeling to get drafted by the Cards because it was the city that I played college in. It means I was doing something right," Olivera said. "Getting drafted, period, was a very special moment because it was something that I worked really hard for, and to see it pay off was a great feeling."
After being released by the Cardinals in March of 2017, Olivera came back to MBU and served as an assistant coach for the 2019 season while finishing his degree.
"I believe he brings more than the baseball aspect to the program. Technically, he is sound as a coach. I believe he is learning how to process that knowledge and deliver to the student-athletes so they can take it and apply it," Uschold said.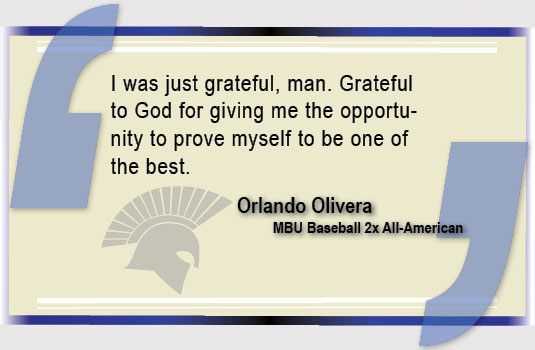 With many accolades throughout his baseball career, Olivera's statistics show he is one of the best players to touch Spartan Field.
"Apart from all the accomplishments, there was a huge one that I never accomplished and that was not making it to the World Series. I would give all my accomplishments away just to have a trip to Idaho under my belt," Olivera said.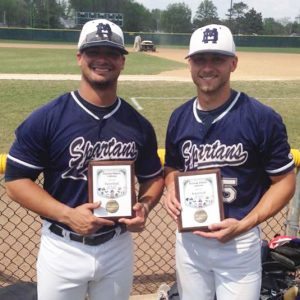 After coaching together at MBU, McClaran took a coaching job at Murray State College in Oklahoma in 2019.
McClaran and Olivera remain good friends, despite the distance.
"I have never respected anyone I played with more than Orlando," McClaran said. "He is as good a coach and friend as he was a ballplayer. I hope there comes a day where we can work together again."
Olivera graduated in May 2019 with a degree in criminal justice, and he became engaged to his fiancée in February 2019.
"I see St. Louis as a home, but I'll go back to Florida and be by the beach, and eventually, I'm gonna start a family," Olivera said.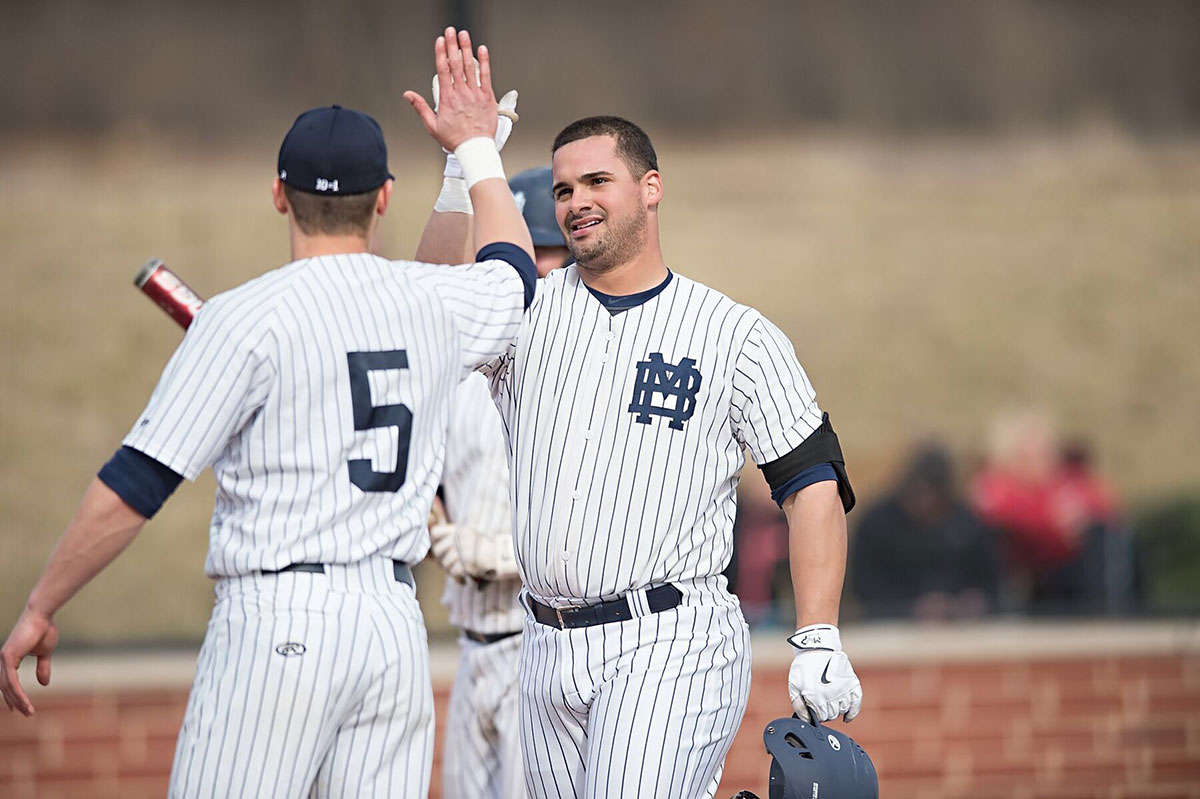 Orlando Olivera and teammate Jeff Smith high-five after scoring a run. Olivera is third in MBU history in home runs, third in career hits and fourth in career runs batted in. He also holds school records for highest career batting average and most hits in a single season.     Photo courtesy of MBU Athletics