Among the sea of transfer students participating in the athletics program at Missouri Baptist University is senior baseball standout Carter Mize, whose transfer story is quite unique compared to many.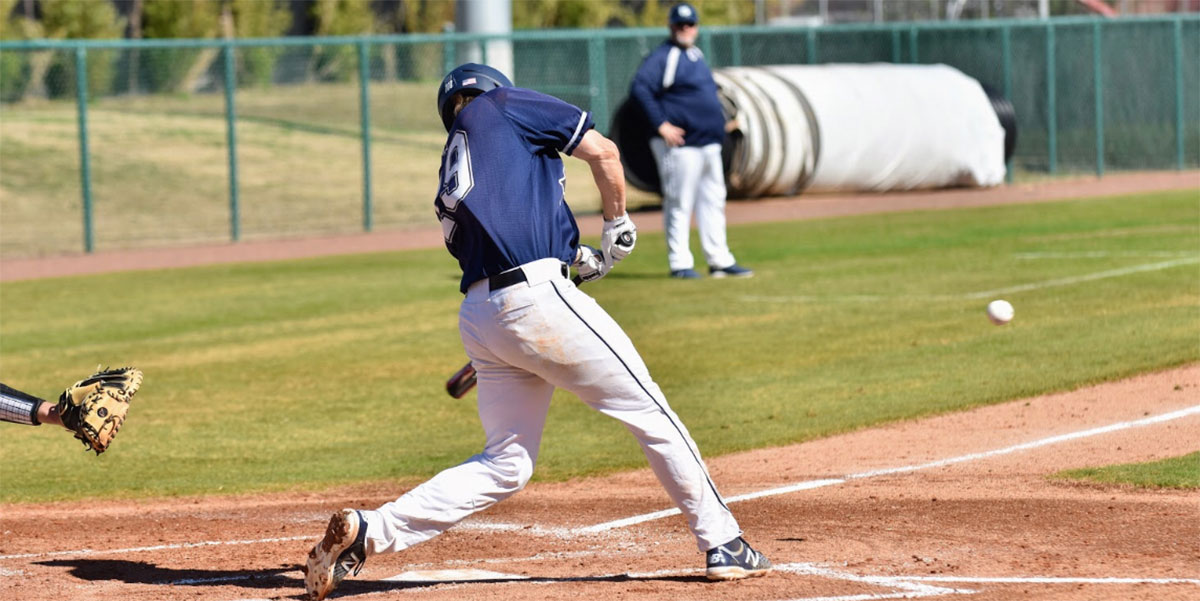 Carter Mize, who is a senior majoring in communications studies, swings at a pitch during a Spartan baseball game. Mize, who transferred to MBU after playing baseball at the junior college level, has landed a starting position at first base.     Photo courtesy of MBU Athletics
__________________________________________________
Think back to a time when you were turned away or rejected. … Probably not the best feeling, right?
Well, imagine being shut down by your high school coach, and then having to skip around to not one, but two different college baseball programs, all in the span of about a year and some change, and all to play the game you love.
This was the reality for Carter Mize, a senior now playing baseball at Missouri Baptist University.
Mize, who has been passionate about baseball for most of his life, was part of the 2017 Fort Zumwalt West varsity baseball team that took second place in the State Championship series that year. However, Mize experienced that playoff run as a sub coming in off the bench, spending most of his senior season as a fourth outfielder.
"Senior year was an odd time for me," Mize said. "I was still trying to figure out who I was as a person, on and off the baseball diamond."
Right out of high school, Mize signed with the Park University Pirates, a fellow American Midwest Conference member located in Parkville, Missouri.
However, that wasn't all it was cracked up to be in Mize's opinion, so he found himself considering other options soon after his arrival at Park.
"I quickly realized that I wanted to move to the junior college level to open my recruiting," said Mize, who then transferred over winter break to Kaskaskia College in January of 2018.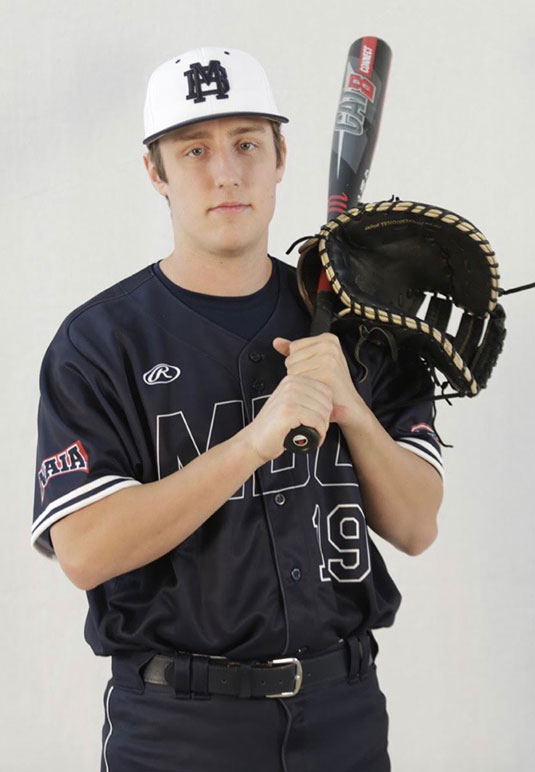 Kaskaskia seemed to be a better fit for Mize until they made some budget adjustments within the athletic department by the end of the 2018 season. For Mize, who wasn't seeing much playing time, that meant elimination of his scholarship.
"I actually ended up getting my baseball scholarship cut at the end of the year," Mize said. "This was a trying experience for sure. I questioned if baseball was really in my path anymore, if that was it for me. Luckily though, I decided to stick with it and keep going."
Mize said one of his former high school teammates, Zach Krause, a current sophomore infielder at St. Louis Community College, made a significant positive influence on him during this hard time.
Krause, who will be playing against Mize and the rest of the MBU squad in the AMC with his commitment to William Woods for the next two years, was Mize's go-to guy for anything workout and baseball related, which Mize believes helped power him through the confusing few months he tried to find a new school.
"Carter and I met my junior year, his senior year in high school, and that year playing together sparked the most unreal friendship," Krause said. "Most days, Carter and I would hit and throw, then lift together. While he was going through the hardship of finding a school, we would go to work to get his mind off it. Although it was unclear where he was going to land, we both knew deep down he was a very good player and he would be an asset to somebody, somewhere."
Still, despite the support from Krause, the future was unclear for Mize, but he knew he needed to continue playing, despite the setbacks.
Without "a school to call home," Mize landed himself in a collegiate wood bat baseball league, a summer-specific league where only wooden bats are used in order to prepare players for potential opportunities in professional baseball. This experience during summer 2018 reminded Mize of his passion for the sport and kept him hitting and fielding consistently.
"It was really weird being between schools, not knowing where I was headed in the fall. That summer went well though, and I'm glad it all fell into place," Mize said.
Going into the fall of 2018, Mize was still unsure about where he was going to end up, until he heard St. Charles Community College was rebuilding its baseball program, starting with a new head coach.
SCC was a familiar name for Mize, given that the majority of students from public high schools in the area, like Fort Zumwalt West, end up going there on A+ scholarships, which are scholarships that cover two years worth of junior college tuition in exchange for 50 hours of tutoring while still in high school.
SCC's baseball program did not have a strong history, falling victim to what former players considered to be outdated and less-than-committed coaching that went on for many years. The Cougars amassed a record of 10-40 in 2016, 10-30 in 2017 and 12-24 in 2018, before turning things around in 2019.
However, determined to play baseball at the college level, Mize wasn't fazed.
"I just waited for SCC to hire a new coach. Then, I had a workout at their field in front of the new head coach and the rest is history," Mize said. "Making the move to SCC was the best decision I made for my career."
That new head coach would be the highly respected Jeff Bolen, an Illinois native who started his collegiate career out at the junior college level as a pitcher for Lincoln College in Lincoln, Illinois.
Bolen then went on to continue his baseball career at MacMurray College, where he majored in physical education with a minor in coaching and health before later receiving his master's degree in education-curriculum and instruction from Fontbonne University.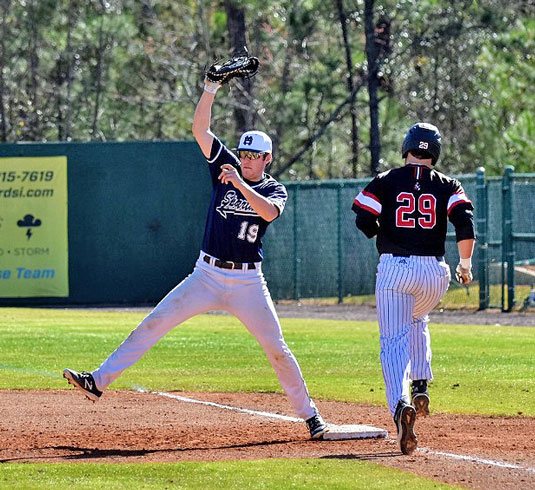 Coach Bolen took a particular liking to Mize right from the start, although he wasn't quite sure what to make of his "goofball personality."
"Personality-wise, Carter is in no shortage of that. He's smart, witty. He coined our program's hashtag (#SCCougs, short for SCC Cougars)," Bolen said. "Talent-wise and skills-wise, Carter can hit. He has a great swing, and he grew to have a great approach at the plate. He was a critical part of our playoff run last year."
Mize appeared in 38 games for Coach Bolen and the SCC Cougars in the 2019 season, recording a .516 slugging percentage, 7 home runs, 39 RBIs, 24 runs, a batting average of .281 and a .338 on-base percentage.
"Carter went from a guy who was just a 'swinger' to an overall baseball player," Bolen said. "He went from a guy who just showed up there to have fun and be there to being the guy that was always getting extra reps and swings after practice and helping teammates."
Mize and Bolen still keep in contact, checking up on each other's seasons and making sure to catch each other up on aspects of both baseball and life.
Another person Mize continues regular contact with is his former SCC teammate and longtime friend, Seth Denoyer.
Denoyer and Mize played youth baseball together for several years before separating during high school, although still meeting up in conference play, since Denoyer went to Francis Howell Central, another member of the Gateway Athletic Conference and one of Fort Zumwalt West's biggest rivals.
"We would play each other's high school teams and that's the only time we would see each other and we never really talked. It wasn't until our sophomore year of college that we started talking as friends again due to the fact that he had transferred to St. Charles CC that fall," Denoyer said. "Ever since then, we've been like brothers. We both had the same goal in common and that's what bonds us together."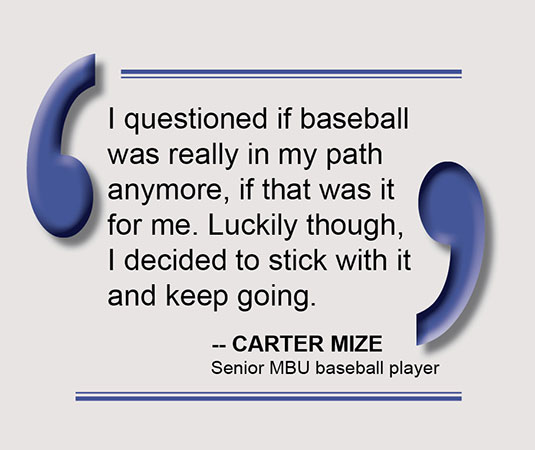 When Mize came to SCC, he had raw untapped talent, which Bolen and his staff, as well as teammates like Denoyer, who is now playing baseball on a scholarship at the University of Indiana Kokomo, quickly brought out and polished.
"Carter is a very talented ball player. Not only has he gone from a scrawny twig of a little boy to a strong man, he has proved a lot of people wrong in how far he would go in baseball. It shows a lot about someone who gets told one thing and turns around and proves them wrong," Denoyer said. "He has a beautiful left-handed swing and, defensively, he is becoming even better. He competes all of the time and that is needed to play at this level and higher."
Like Mize, Denoyer was a crucial piece of SCC's new and improved 2018-19 baseball program, and he attributes a lot of his growth to his friendship with Mize.
"One thing I have learned from Carter is confidence. It truly has changed how I look at myself and how I play baseball. That is something I will never be able to repay him for. I don't know where I would be baseball-wise if I hadn't learned this from him," Denoyer said.
Flash forward to spring of 2020 for Mize's first season at MBU, where, despite the season coming to an abrupt halt due to the COVID-19 outbreak, he had an immediate impact on his new team.
The 6-foot-2-inch 200-pound started all 19 games played before the season cancellation, and during those games, had a total of 15 hits, 9 runs, a batting average of .242, an on-base percentage of .338 and a slugging percentage of .323.
Mize has big hopes for his senior season, and even bigger hopes to play in the Major Leagues afterward, which seems completely plausible considering the amazingly challenging path he's been down thus far.