For Pablo Hernandez it was not only a difficult transition from growing up playing soccer to playing basketball in college, but it has also been a challenging transition from his home country, Spain, to St. Louis, in the middle of the United States of America, but he is handling both transitions well.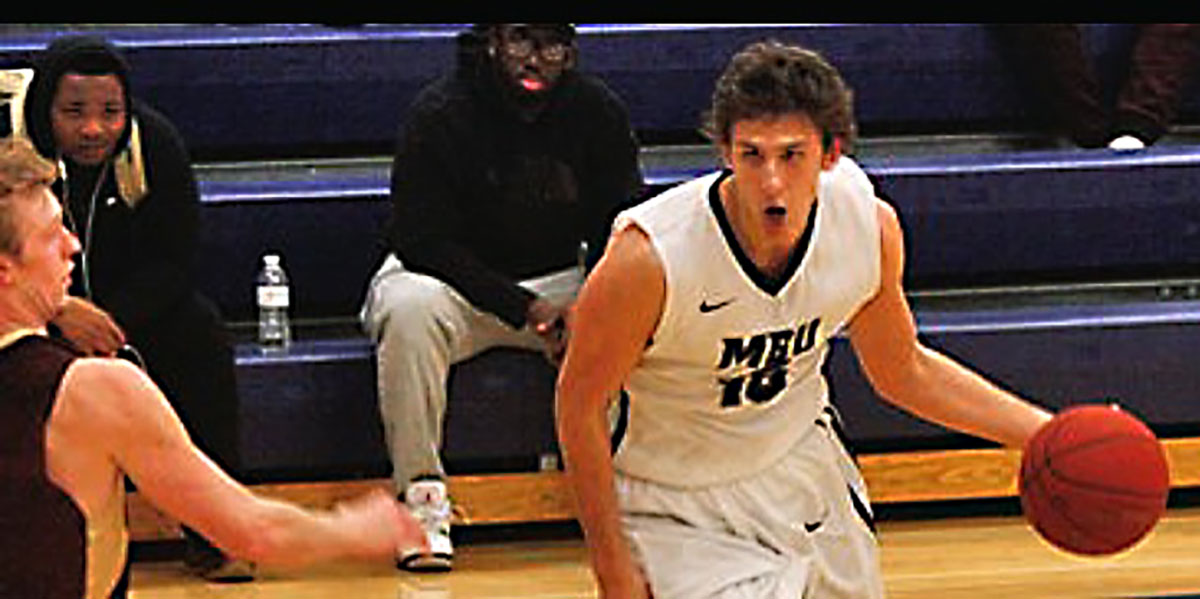 Photo provided by Pablo Hernandez
Pablo Hernandez drives the lane during a basketball game at Missouri Baptist University. Originally a soccer player, the Spain native has embraced American basketball to the point of earning All-Conference and All-American honors.

__________________________________________________
When thinking about the struggles an athlete goes through, most may only consider the tedious workouts, dealing with injury and time managing life outside of their sport.
But what about having to leave their home country to play their sport?
This would be the case for Pablo Hernandez, a junior basketball player from Ames, Spain, who loves the game so much he was willing to leave his home country in order to play at the college level.
"The first sport that I played was soccer and my mom introduced me to basketball when I was 8. So, probably my first year I didn't fall in love with it but after that I sure did," said Hernandez.
While his mother didn't play basketball, she suggested he try basketball because he was tall and because his friends on the soccer team played the game.
Typically, the taller a player is, the more likely they are to be successful at basketball. While standing at 6 feet 7 inches tall, some may feel playing basketball would be a walk in the park for Hernandez.
However, the only thing that came naturally to him as it pertains to basketball was his height.
"Well, I'm tall. So I guess that came naturally to me. My height came naturally to me but all the skills that I learned, I've worked on that," said Hernandez.
Most athletes only deal with challenges such as getting stronger, more athletic and becoming more skilled.
But what about having to adjust to a different style of the sport in a different country?
"In Spain I used to play the 2 and the 3 spots. When I came to the U.S. I started playing the 4 spot, which is a position where you have to be more physical and play against bigger players. I came here, my weight was like 178 and I was playing against players whose weight was 200 or 210 pounds," Hernandez said. "So that was a big challenge for me. I wasn't strong enough. I wasn't big enough to compete with them. So I had to find a way to be able to compete with them even though I was weaker or not as big as them. I got bigger and stronger so that helped me during the years. But at the beginning, my freshman year when I first came here, that was probably the biggest challenge I faced."
It would seem that Hernandez's weakness became a strength as testified by Matt Brock, head coach of MBU's men's basketball team.
"The biggest thing, probably is, physically he's much stronger and he's gotten a lot bigger and that's just a testament of how hard he's worked in the weight room and working on his body. So, that's the biggest thing you can see," said Brock, whose 2017-18 squad finished with a 23-8 record, 15-7 in the American Midwest Conference. "Skill-wise as well. He's worked hard on developing his game, not only in the post but on the perimeter as well. He's just really exploded as far as how much he's improved from when he got here until now."
With Hernandez having to change positions when coming to MBU, does this mean the level of competition is stronger in Spain or the U.S.?
"Two of the main differences is the U.S. basketball is more physical, there's a lot of physical contact, probably more than European basketball," Hernandez said. "And it's a lot faster even though the shot clock is 30 seconds in the U.S. and 24 seconds in Europe. Most of the possessions in Europe you would use the whole shot clock, but in the U.S. if you have an open shot, you're going to shoot it. Doesn't matter if it's 29 seconds on the shot clock. So, U.S. basketball is more physical and faster."
When failure comes along, sometimes people decide it's best to toss in the towel when pursuing a goal. Even at 6-foot-7, Hernandez has been at that point where he felt it was best to give up.
"One of the best coaches I've ever had was one of the reasons I almost quit basketball because he saw that I had potential and I could be a great player. So he always pushed me really hard, further beyond what I thought I could do," Hernandez recalled of his coach, Angel Castro, who coached him in Spain for the club Rosalia de Castro for three years. "Him pushing me to do bigger things, sometimes I wasn't able to handle it well. Pushing me a little bit to the edge when I felt uncomfortable and I was close to quitting but I never did. He never pushed me that far to make me want to quit, but I thought about it because of the pressure."
While they mean players the best, some coaches may push their athletes to the point where they don't have fun playing their sport.
"Like I said, I know he did it for me and he was one of the greatest coaches I've ever had. Most of the stuff I know I've learned from him. So I'm really thankful for him even though it was tough sometimes."
With Spain being so far away from the U.S., one may wonder how often Hernandez gets to visit home.
"Not very often to be honest. I go home during the summer. … We barely have Christmas break because we are in season, so all I have is about five days," Hernandez said. "But this past year I've been lucky. I've been able to go home for those five days. So I go home for like a week for Christmas and then the summer."
With MBU being so far from home, why come to St. Louis just for basketball?
"In Spain, it's really hard to get your degree and play basketball at a high level at the same time because we don't have college sports. It would be either play professionally or get your degree," Hernandez explained. "So coming to America, I found the option to do both things at the same time. Play basketball at a high level and get my degree. So that's why I came here to college. So I can keep playing basketball, the game I love, and get my degree at the same time."
With Hernandez going through all these challenges to play basketball, surely he has accomplished something worth the sacrifice.
When Hernandez was 12 and 13, he played for the Spanish national team, Seleccion Espanola de Baloncesto.
While being an Academic All-American, Hernandez was named All-American Honorable Mention on the court while being the second leading scorer for MBU, averaging 12.6 points this past season. He also made Second Team All-Conference in the AMC this year.
"I think both of those accomplishments are probably the biggest accomplishments I've ever had," Hernandez.
It would appear despite the challenges that get in his way, Hernandez will continue to conquer in his basketball career.