Missouri Baptist University volleyball player Mason Crabtree came to MBU from a town too small to have a high school volleyball team, so he never played in high school, except working out with the girls team, but now he has managed to make the nationally ranked volleyball team at MBU.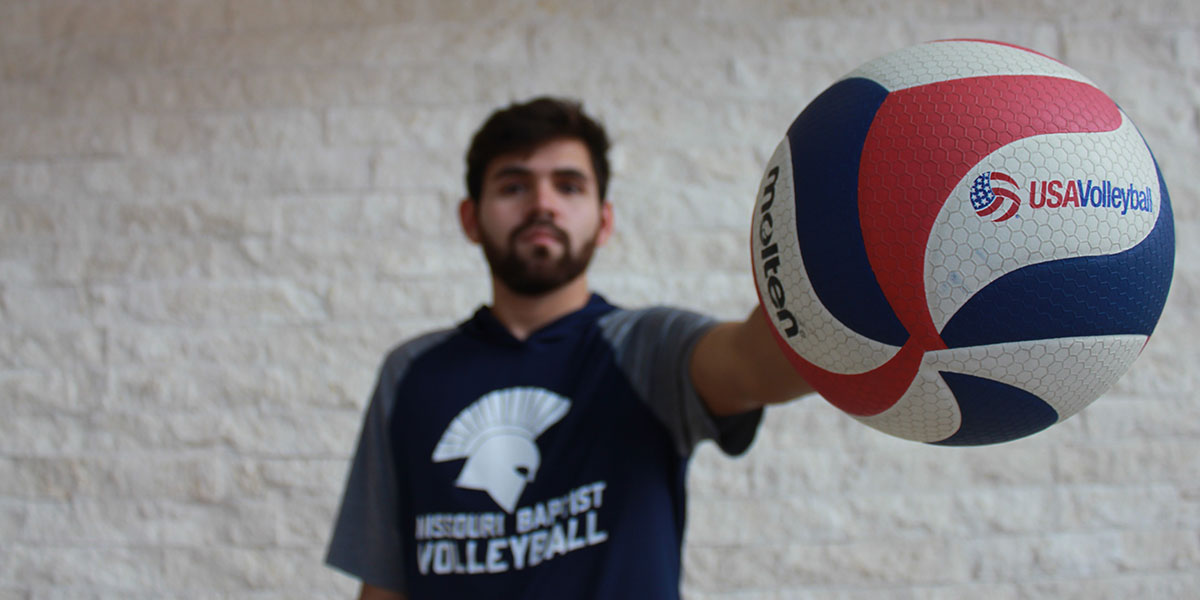 Photo by Haley Sandvoss
Mason Crabtree played basketball and ran track in high school, but he always loved volleyball, even though his hometown of just over 100 people did not offer the sport at his high school. But through determination and sheer athletic ability, he caught the eyes of coaches at MBU, and the rest is history.
__________________________________________________
Who would have thought that Plato would be so small. Plato, Missouri that is, only having 109 people. About 15 minutes driving north you will come across Big Piney, Missouri, a town so small it was not even included in the most recent U.S. Census count.
This South-Central Missouri area is where Mason Crabtree is from, a 6-foot-3 junior health sciences major with a minor in communications studies at Missouri Baptist University who always planned on coming to MBU, where the small student population suits him perfectly.
You would think that since Crabtree plays volleyball this year at MBU for a nationally ranked team he would have an extensive background in volleyball, however he doesn't.
Throughout high school Crabtree played basketball and ran track and field. Being on varsity almost all his life, sports is something that came naturally for him.
Crabtree, who plays at the varsity level for the NAIA volleyball team at MBU, knew when he was in high school that MBU was where he wanted to go for volleyball.
"MBU was my first choice out of the volleyball schools because it felt like home when I toured and it gave the best scholarship for volleyball," said Crabtree.
Crabtree didn't grow up playing volleyball because his high school did not have a boys team, but he did help out for his high school girls team during their practices.
"I didn't practice regularly in high school until my sophomore year, I would go and practice with a local girls' club team twice a week and I also did that my junior year but it was once or twice a week," said Crabtree. "My senior year I didn't practice with the club because I focused on my high school sports such as basketball and track and field and tried to get as far as I could in those."
Crabtree came to MBU on a volleyball scholarship and to him the outcome was unexpected.
"Coming from a school with no volleyball it was interesting to see how men's teams' practices were run," said Crabtree. "I was excited to see how I compared to everyone who had club experience and high school experience."
John Yehling, assistant athletic director and head coach for the men's and women's volleyball teams, who is also an instructor of social and behavioral sciences, said he saw potential in Crabtree when he was in high school and looking for a university to attend.
"When Mason came for a visit I could see he was athletic, loved the game, and had been working with the girls volleyball team at his high school," said Yehling. "We don't shy away from kids with limited experience because it often allows us a chance to develop a player the way we see fit from the start with little or no bad habits."
Freshman year on junior varsity for Crabtree was short, with only about eight games to play, and that first year was a great learning experience for him.
"All in all, it was a good first year and the varsity team won nationals, and that was crazy to be able to watch and see the team do so well," said Crabtree.
As Crabtree's sophomore year rolled around, his season was short again, but this time due to an injury during a game.
Volleyball consumes a lot of Crabtree's day-to-day life, so being fit is something he has to keep up with to stay in shape for the season.
He lifts weights and does cardio every day, along with eating healthier foods and trying his best to avoid snacks. His favorite healthy snack is banana chips with peanut butter.
"Mason has worked extremely hard on and off the court and he cut his weight quite a bit this fall and winter," said Yehling. "He transformed himself into a physical player that warranted a jump to the varsity team."
This current season has been challenging for Crabtree being on two teams, as he swings back and forth between JV and varsity.
"Being able to help mentor the freshmen on the JV team and encourage them was definitely a highlight," said Crabtree. "But being able to go to the varsity bench and watch the guys win game after game and be successful was also incredible."
The MBU men's volleyball team currently stands with a record of 22-1, 12-0 in the American Midwest Conference, with Nationals right around the corner.
This season Crabtree has encouraged the varsity team from the bench, but remains always being ready to play. As captain of the JV team he has helped shape incoming athletes on the culture of MBU volleyball.
"Since joining the varsity team he has provided much-needed depth at the middle hitter position but his future might very well be as an outside hitter," said Yehling. "He has the skills to contribute on the court as a starter at some point, but his contributions as a leader, hard worker and great teammate certainly make him extremely valuable."
With senior year approaching, Crabtree is excited to see what his final season has in store.
"I'm excited for my senior season to just work hard and finish on a high note," said Crabtree. "I'm looking forward to seeing all of the new recruits come in and just to learn and have fun with them for my last year here at MBU."
Crabtree has been told many wise words throughout his volleyball career.
"I've heard it from several people but growing up my role models told me to stick with it," said Crabtree. "Stick with my sports, stick with my goals, stick with my schoolwork. I will never forget that, and I will continue to stick with it."
Sticking to something you are truly passionate about will give you a sense of power and a drive to work hard. Crabtree is a motivated individual, and a hard-working player as well.
Crabtree doesn't have a pre-ritual that he does before any game, but he does have a few encouraging words.
"One thing I always tell myself is to just work hard and be confident," said Crabtree. "Coaches will see that drive and appreciate that work that you are putting in, it will pay off in the long run."