Any athlete knows knee injuries can be devastating, even career ending, but for Krista Tyson, a player on the Missouri Baptist University women's tennis team, her torn ACL set her back only temporarily, in fact, it set her back less time than even her own doctors expected.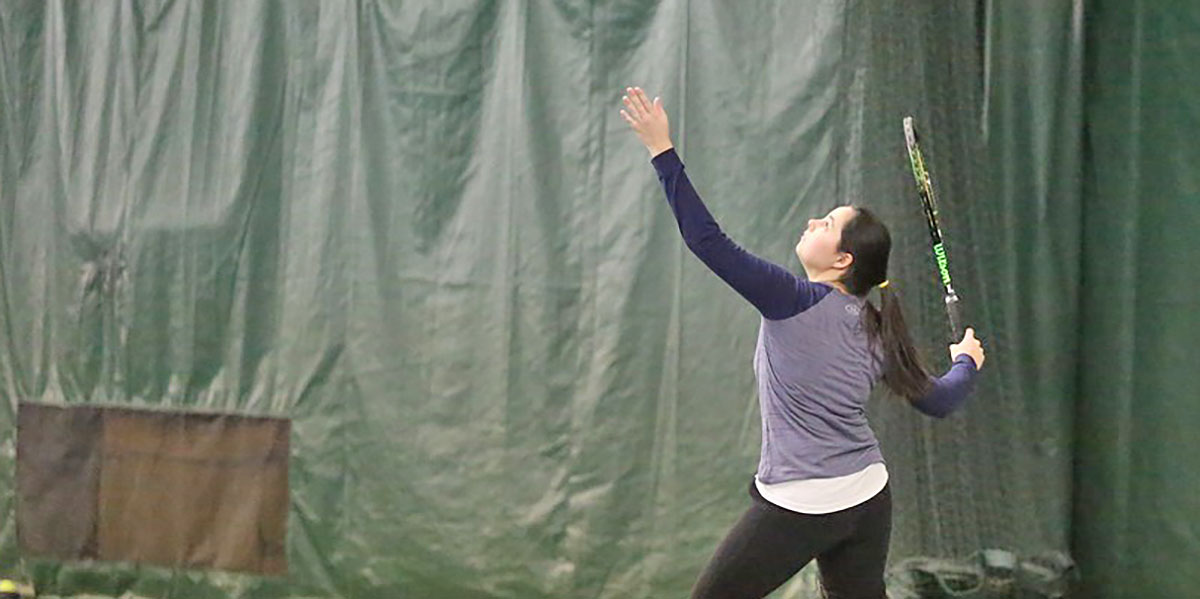 Photo provided by MBU Spartan Athletics
Krista Tyson, a senior player on the MBU women's tennis team, goes up for a serve during a recent workout indoors. After overcoming a major knee injury, she has come back this season to post an impressive 16-3 record.

__________________________________________________
Being injured is never easy, but tearing your ACL right before the start of your senior season can be especially hard.
Senior English major Krista Tyson had to face the greatest adversity of her athletic career after tearing her ACL in a tennis match two months before the end of her junior year.
During her singles match against Missouri Valley College on March 21, 2017, Tyson lunged for a backhand that put her on the sidelines for the rest of the semester.
"It was really cold that day, so everyone was already tighter than usual. I went out to play my singles match after a really long doubles match, and we were about three games in when I went to hit a backhand, I planted and turned and then I just heard this snap and next thing I knew I was on the ground," said Tyson.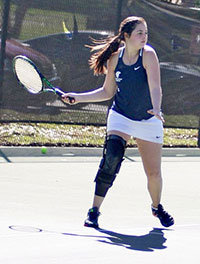 Originally told that it was potentially just a sprain, Tyson looked forward to a speedy recovery and a strong finish to the season with her teammates, but her semester was headed down a very different path.
"I thought it was just a sprain because I was trying to be optimistic and the trainer for their school told me that all my ligaments were fine and that it was just a sprain, so it kind of gave me false hope. It was hard," said Tyson.
Tyson was playing No. 2 in the lineup at the time of the injury, and was captain of the team, making the most of her junior year when her season was brought to an abrupt end.  
"At first I didn't quite know exactly what had happened, it happened so quickly that I just kind of sat there really confused. It started swelling really fast, and that is when I knew that I just couldn't finish the match," Tyson recalled. "The thought never even crossed my mind that it meant I couldn't finish the rest of the season either."
Tyson returned to MBU to see a doctor and receive an MRI, expecting news of a sprain, but instead was told that she had a partially torn ACL and would require surgery as soon as possible.
"I actually felt pretty calm when I found out. It was a weird sensation of it's going to be OK mixed with the feeling of knowing my life was about to change. I think ultimately it was God giving me the peace that surpasses understanding," said Tyson.
Tyson, a Jacksonville, Florida, native, returned home at the end of the semester to receive ACL repair surgery in June.
From April 30 to June 16, 2017, her life was dominated by physical therapy every other day of the week, and that was just to prepare for surgery.
"I think that was the most difficult part, because 'pre-hab' just felt like I was doing it all for nothing, even though ultimately that is what made me stronger," said Tyson. "Hindsight is 20-20 that all of the little things that I did to help myself that seemed so pointless at the time, were what made the big difference in the end."
Tyson's surgery was a success, but the road to recovery was far from over.
"My doctor just kept repeating that it would be at least nine months until I came back. No earlier. And that was really hard news to hear, but I like being told that something can't be done, it makes me want to do it all the more," Tyson said. "I think it pushed me to give it everything I had and train even harder."
Even though Tyson originally struggled with the transition of the injury, her perseverance and dedication to her team made her look at the positives the setback could provide.
"Yeah, I knew it was going to be hard, but I also knew that I had friends and family supporting me, a team that had my back through everything, coaches motivating me, and most of all faith that God was going to use this for something big. And that was all the support someone could ask for. I was ready to work."
Tyson was predicted by doctors to miss most of her senior year, but Tyson, never one for sitting on the sidelines, was determined to prove them wrong.
"I felt like every minute that I sat on the sidelines I was losing a minute of playing my senior year and those were minutes I knew I couldn't get back. So I decided to come back faster than predicted and stronger than before," Tyson said.
Cole Stevenson, Tyson's tennis coach at MBU, reflected on the injury and how watching her push through it had an impact on all those who knew her.
"Krista's determination, strength, attitude and positivity throughout this entire process has been inspiring to not only her teammates, but myself as well," said Stevenson.
With a competitive nature and passion for her sport, sitting on the sidelines was not something that came easy for Tyson.
"It was definitely hard to sit on the sidelines. It was the hardest thing I've had to do in my athletic career. I never thought in my life that an injury would keep me from doing the thing I love most, playing tennis. I definitely had an invincible mentality up until that point, so it really shook me," said Tyson.
Even though Tyson struggled at first with being unable to support her team by playing, she used her injury to learn all she could about supporting them on the sidelines, proving she deserved her spot as captain.
"I got the opportunity to be there for my team in ways that I would not have been able to without being on the sidelines, even things as simple as encouragement does so much more than you would think," Tyson said. "The sidelines provided an avenue for me to better understand my whole team and coaches in a way that has made my tennis career so much richer."
Tyson's trainer, Alex Wilson, attributes most of Tyson's success to her positive outlook on what many would consider a horrible injury.
"When Krista came to school in the fall she was ready to work from day one. She is passionate about her sport and with excitement she pushed every day to be the best that she could be. Krista is an exemplary young lady on and off of the court, it was a pleasure to be able to work with her during her recovery," said Wilson.
After spending the first semester of her senior year doing nothing but rehabilitating her knee, Tyson began full practices in January 2018, a mere six months after her surgery, much sooner than doctors expected.
"Come January I was practicing five days a week and doing so much more than I would ever do in a match. It had only been six months, but I knew deep down that I was ready, so it just came down to my coaches and trainers talking it out with my doctor," said Tyson.
Originally told that it was too soon to return to competition Tyson refused to give up, convincing doctors to trust her coaches and trainers and give them permission to clear her for competitive matches.
"Since he was in Florida it was hard for him to understand or assess how hard I had worked or capable I was, but we all knew I was ready and just had to convince him to trust our judgment," said Tyson.
Tyson played her first match on Feb. 10, defying odds and returning as strong as ever with an impressive 8-4 doubles win against Maryville University.
"It felt like everything I had worked for up until that point was finally worth something. After the months of rehab and pushing my body to new limits, I finally got to step foot on the court with my teammates again and all was right with the world," said Tyson.
Tyson was back on the court last week in a match Thursday, April 12, against Baker University, where she won both her singles and doubles matches.
The team went on to play two more matches, against Missouri Valley College and Freed Hardeman University, where Tyson went undefeated against both schools in singles and doubles, taking her overall season record to 16-3. This was the first time in MBU history women's tennis had defeated Missouri Valley College.
Even though Tyson has posted an impressive record this season, perhaps the most impressive part of her story is her complete faith in God throughout what Tyson considered one of the most challenging seasons in her life.
"This was one of the most difficult things I have had to overcome. I wasn't prepared for it, and I definitely did not understand why at first, but faith and prayer are two integral parts of my journey through tearing my ACL," said Tyson. "Without my faith in God, and the family and friends who prayed for me and reminded me of that faith, I would not have had the mental or physical strength to persevere."