"People ask me what I do in winter when there's no baseball. I'll tell you what I do. I stare out the window and wait for spring." –Rogers Hornsby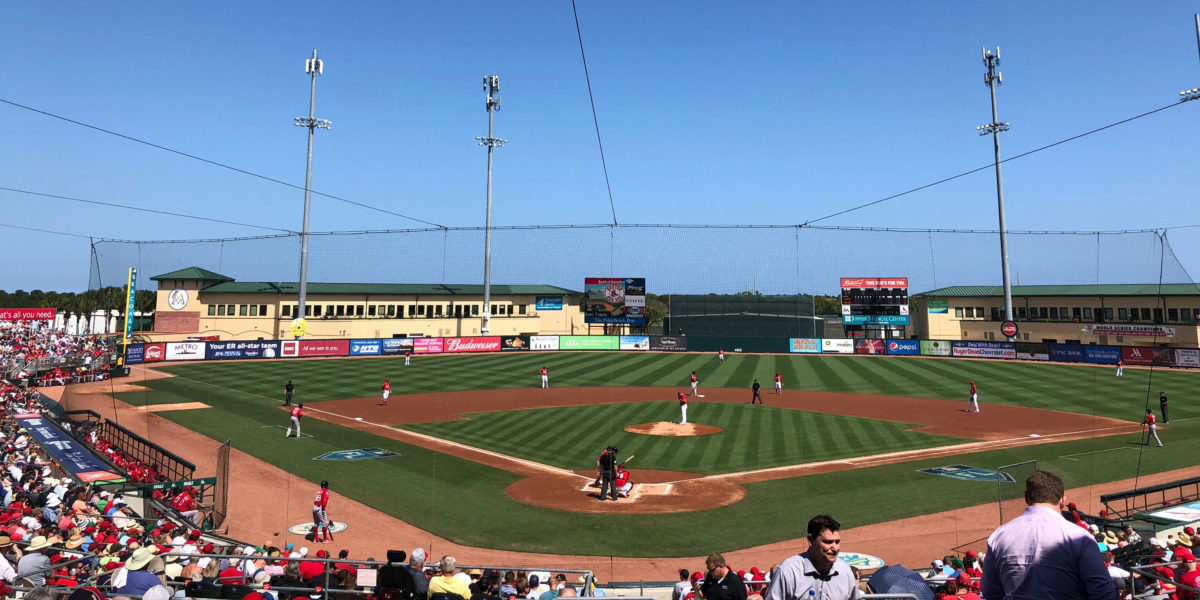 Photo by Abby Kassebaum
Fans fill Roger Dean Stadium in Jupiter, Florida, for the annual rite of passage as winter makes way for spring and professional baseball officially returns to our lives. 
__________________________________________________
Every fall, the all-American sport of baseball wraps up the season at the World Series as the nation watches in unison as one team brings home the final win and another hangs their head in defeat.
And as the confetti falls and the trophy is passed so ends another season of America's favorite pastime.
Then the countdown begins for teams to pack their bags for spring training in order to gear up for another season of curveballs and homeruns.
For the baseball-loving city of St. Louis, the months following can be long, but it's only a matter of time before February arrives and the beloved Cardinals are in Jupiter, Florida, ready to work hard and make their fans proud.
The southern city of Florida is more than 1,100 miles from St. Louis, yet if you visit during the months of February or March you are more than likely to find a Missourian nearby.
Redbird fans from far and wide travel to see their favorite players and check out the up-and-coming prospects.
For spring training regulars, such as longtime Cardinals fan Matt Wickham, it serves as a refuge to the harsh winter in the Midwest.
Wickham took his first spring training trip in 2005 and fell in love with the safe haven he found at Roger Dean Stadium, where the Cardinals and Marlins spend their time training.
"That one time to go to Florida, it was both baseball and warm weather and from that point on I just decided that would be my reward at the end of winter, for making through another winter," said Wickham.
Since that first trip, Wickham has traveled to Cardinals' spring training 12 consecutive years, spending a few days in the warm sun and watching his favorite team play.
He isn't the only regular who can be found in the stands and as light-hearted chatter fills practice fields you'll find that many have been making the same trip as Wickham for many years longer, some even finding jobs at the stadium during the Cardinals' stay.
As Wickham reminisces he can recall employees by name, who have chosen to spend their retirement working as ushers and gatekeepers for the Cardinals.
"It's not uncommon to see the same faces, and you know they love being there in their retirement," Wickham said.
Standard employee uniform includes a blue Hawaiian button down and commonly a bucket hat and sunglasses adding to the easy-going atmosphere of the fields.
On game days fans fill the stadium and the smell of popcorn lingers in the air as the cool breeze blows through.
But what really sets spring training apart is the opportunity to watch the Cardinals practice on the fields nearby the stadium.
For Wickham, these are the moments he cherishes.
"Sitting on the bleachers, with my wife, just drinking coffee, being a little chilled and waiting for practice to start. There's no question that's the best memory," said Wickham.
Fans slowly make their way to the practice fields each day as the Cardinals start their morning stretches and warm-up routines.
No vendors, televisions or crowded stadium seating, but rather a simple chain link fence and bleachers just as you'd see at your high school baseball field.
And the simplicity of the scene is what reminds you, that at the end of the day these players are really there because of their love for the game.
"You're seeing real superstars just hanging out and having fun," said Wickham.
It's not uncommon to find the players competing in bunting contests or making fun of their teammates' missed catch.
"I can remember practices where Yadi and Albert Pujols were just laying on the grass talking to each other as you did when you were a kid," said Wickham.
Players like Wainwright, Wacha and Carpenter will meander toward the fences and stop to sign baseballs, caps and autograph books for the crowds of 20 to 30 people that gather nearby.
Fans young and old can be found with their arms reached across the fence for a chance to chat with a Redbird.
Autographs are much easier to come by at spring training, with the more laid back approach to the schedule and smaller crowds.
In addition to practice time, players will often stop as they come and go from the stadium, but it requires some dedication and patience to secure those coveted keepsake signatures.
Lines of five to 10 people will begin as the Cardinals players roll in at the start of the day, and each fan waits with the hope of bringing home autographed memorabilia.
Gatekeepers stand by, pointing out whose car belongs to who and waving hello to the players as they come in one by one.
And if you're lucky, you'll see the car window begin to roll down as a player offers to sign for those in line.
Nothing compares to seeing the smile spread across a child's face as they turn their back to a player to run and show off their newly acquired treasure.
The joy is contagious and the comradery is what makes spring training so magical.
As the old proverb goes, "hope springs eternal."
And in Jupiter, Florida, hope fills the air as the players, coaches and fans dream about the confetti falling come fall.