With a tough ending to the St. Louis Blues' 2017-18 season, why are Blues fans loyally committed despite disappointment?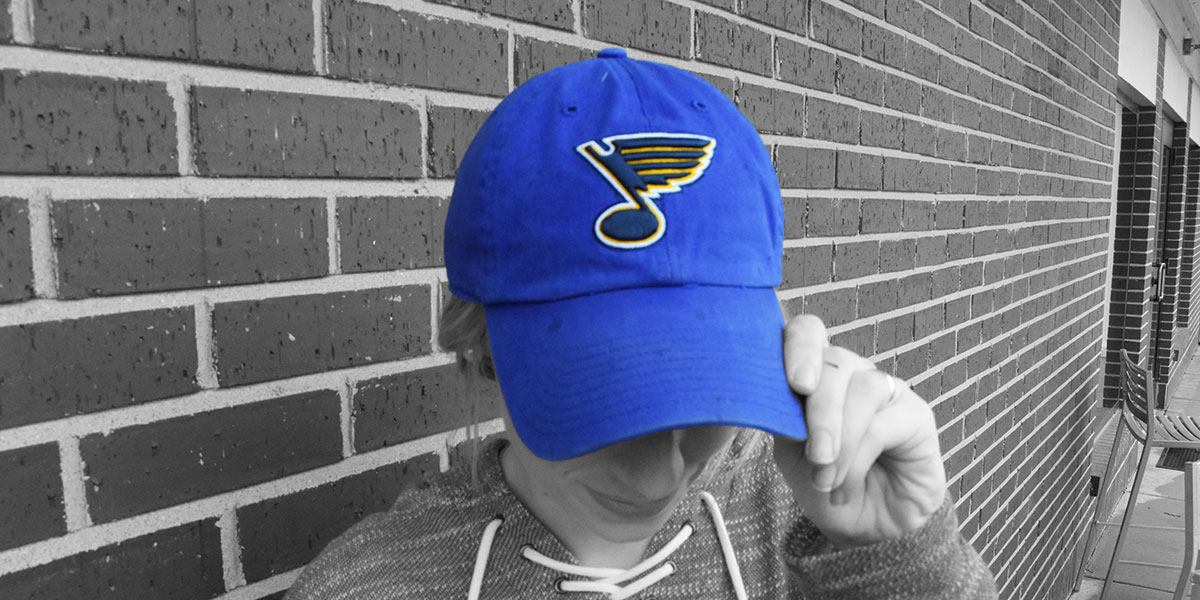 Photo by Shelby Wannemuehler
__________________________________________________
The St. Louis Blues hockey team is familiar with the constant ups and downs throughout a single season of a sport, especially the 2017-18 season, when they missed the playoffs by one point.
All the Blues needed to do in their final game of the regular season was get to overtime against the Colorado Avalanche, but they lost in regulation, 5-2, and their season ended unceremoniously.
From injuries to several players throughout the season, to goalkeeper Jake Allen's struggles in front of the net, the 2017-18 season of hockey proved to be a struggle for the Blues.  
The Blues went from being No. 1 in the league to struggling for a wild card spot late in the season, to somehow still having a 58 percent chance of making it to the 2018 Stanley Cup playoffs toward the end of the season.
In St. Louis, Blues fans are known for being loyal through every up and down that each season brings.
Hannah Bayer, senior human services major from St. Charles, Missouri, does not remember a time in her life without loving the St. Louis Blues franchise.
"I have been a Blues fan for almost my whole life. My parents are Blues fans and I have lived in St. Louis for my entire life so it was just something that came with being in the family," Bayer said in an email.
But, her love of the Blues goes beyond simply family tradition.
"I love being a Blues fan because I am a huge fan of sports in general, but I especially love hockey. No matter how bad or good they are doing I just enjoy being a fan and supporting the players and team I love," said Bayer.
More than just a love of the sport, Bayer described another element of the Blues franchise that adds to the enjoyment of the fans.
"I also enjoy being a fan because going to Blues games is one of my most favorite things to do. They are full of energy and excitement," said Bayer.
Andrew Kyle, senior sports management major, has been a St. Louis Blues fan for a decade or so.
"I have been a Blues fan for about 10 years right after I moved to St. Louis. All the people around me were so excited about the Blues, so I started watching them with friends and quickly fell in love with them," said Kyle.
Though the city of St. Louis has taken major hits in its reputation the past few years, the loyalty of the St. Louis Blues to the city incites a mirroring loyalty of the fans.
"One of the unique things I love about the Blues is that it is a strong team. When the Rams left St. Louis, it seemed like most people that were Rams fans started to support and love the Blues even more for their loyalty. There's a sense of unity between the Blues team and St. Louis," said Bayer. "I think St. Louis Blues fans are so loyal to the team because they are so loyal to St. Louis. Although they are professional athletes, they do sometimes hit rough patches during the season, but it's almost like they never give up. Fans want to root for a team that isn't going to give up or give in easily and I think that's why the Blues fans are so loyal to the team."
Known for perseverance and keeping their fans hopeful, the Blues are also known for making a comeback, whether in a single game in overtime, or in the league's standings overall.
"What is so special about the Blues is their ability to be resilient even when circumstances or events aren't going their way. They continually face injuries, outside people doubting their players and talent, disappointed fans, yet they continue to rise up and overcome these obstacles. This speaks a lot about the confidence and leadership of the team," said Kyle.
The city of St. Louis not only bleeds Blue because of the Blues' loyalty to the sport, but because of their giving back to the city.
"The fan base is continually loyal to the team, even during times when the franchise was struggling and not meeting expectations. It feels rewarding to be part of a loyal fan base. The Blues are more than just a team, they are part of the community. Plus it doesn't hurt that most years they have been competitive," said Kyle. "I enjoy being a Blues fan because this organization has done a great job of connecting with the community and investing back into the community."
The St. Louis Blues have a charitable trust of their own called Blues For Kids Foundation whose mission is to have a positive impact on programs and services that improve health and wellness of youth in the St. Louis area.
Because of Blues players, alumni, volunteers and fans, Blues For Kids has contributed more than $5 million to the St. Louis community.
The focus of Blues For Kids' funds support cancer care and awareness, health and wellness, education and youth hockey development.
Blues For Kids effects hundreds of children and their families in the city of St. Louis and surrounding communities. Not only this, but the players themselves care about giving back to those in the community.
The St. Louis Blues franchise has put countless time and money into the city, and because of that, earned the city's devotion.
And even though 2018 will not be a year they make the playoffs, nothing says it better than Kyle: "The Blues have loved this city, and now the city loves them."