On-campus, Christ-centered organizations allow students the opportunity to connect and grow in their faith alongside their peers. MBU's FCA huddle meets at 7 p.m. every Thursday in the North Hall lobby.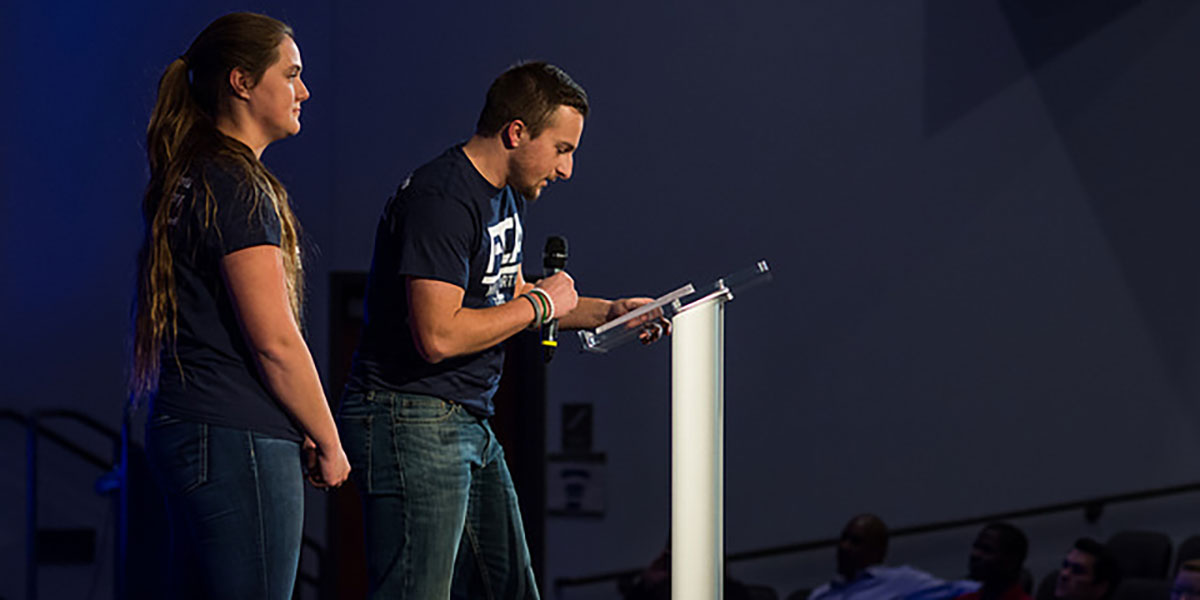 Photo from MBU Flickr
Junior Meredith Linn, history major, and senior Ethan Metzler, physical education major, encourage students to attend FCA for food, fun and fellowship. Linn is a member of the women's lacrosse team, and Metzler is a kicker for the football game. 
__________________________________________________
FCA stands for Fellowship of Christian Athletes, but the organization ultimately represents something much greater than the acronym implies.
Founded in 1954, FCA is an interdenominational Christian sports ministry with one mission in mind: "To see the world transformed by Jesus Christ through the influence of coaches and athletes."
Through camps, huddles and events, FCA combines faith and athletics to influence people worldwide.
Huddles are small group Bible studies/devotions for coaches and athletes, and many schools throughout the nation have huddles for their communities of student-athletes.
Missouri Baptist University has an on-campus huddle led by junior Meredith Linn and senior Ethan Metzler.
Linn and Metzler are huddle leaders, so it is their responsibility to choose huddle meeting topics, lead conversations, promote the organization and plan food and activities for each meeting.
The huddle meets at 7 p.m. every Thursday in the North Hall lobby, and newcomers are always welcome.
"We are a group that really cares and desires to help athletes grow in their faith," said Linn, a history major who is also a member of the women's lacrosse team. "FCA is one of the only times that athletes from different sports are able to connect over the hardships that come from being an athlete, and then bring it back to Christ. At the very least, we always have free food and that is always a good thing"
Metzler, a physical education major and kicker for the football team, said meetings typically begin with an icebreaker of some sort, followed by a dive into discussion on the topic of choice.
"Our group here is really relaxed. It's a good time to just hang out with fellow Christian athletes around campus. We encourage each other, pray for each other and laugh with each other," Metzler said. "We've really grown and improved with the way that we run the group over the past year."
The ministry of FCA has had an impact on the lives of thousands of athletes — Linn and Metzler are no exception.
Metzler, who has been involved with FCA since the spring of 2017, said it's been a blessing to be a part of the group and have the opportunity to interact with fellow Christian athletes.
Linn described herself as being a lukewarm Christian before becoming involved with FCA.
"It's through FCA that God has really revealed Himself to me," Linn said. "The easiest way for me to show my commitment to Christ is through athletics because of all of the tools FCA has shown me. Now, I have made friends, met coaches who really care for me, participated in camps that continue to challenge my faith, and it's given me a platform to always share my faith."
MBU's FCA huddle leaders have seen the ministry influence the lives of those around them as well, through both huddles at their schools and the camps offered each year.
"I've seen others come to Christ through the organization, but even more like myself who were lukewarm Christians who realized how God leads all of our life," Linn said. "It becomes clear on the field when someone has had their life transformed by Christ by their character and how they view themselves as a child of God rather than just an athlete."
Both Linn and Metzler want to encourage anyone — collegiate athletes or otherwise — to come out and join the huddle.
"All anyone has to do is come and hang out with us on Tuesdays," Metzler said, adding their email addresses are: 1443297@mobap.edu and 1553074@mobap.edu.
You can also find MBU's FCA on Instagram (mbu_fca) and Twitter (@MBUFCA).
Alumni Will Harrington is an area rep for St. Louis, and he has the opportunity and responsibility to equip, empower and encourage coaches and athletes in their walk with Christ.
"When it comes to MBU, I serve the coaches and the FCA Huddle Leaders, meeting two times a month, listening, helping and encouraging them with their needs throughout the year."
Harrington breaks down FCA in three simple words: food, fun and fellowship.
"FCA is a great way to meet other athletes on campus who love to talk about sports and Jesus," Harrington said. "It is an opportunity to grow in your faith and serve and worship Jesus, both in the midst of competition and otherwise. It's a chance to transform your campus through Jesus Christ."