With Nike's slogan being "Just Do It," the Missouri Baptist University athletic department has just done something big, moving to an all-Nike gear contract.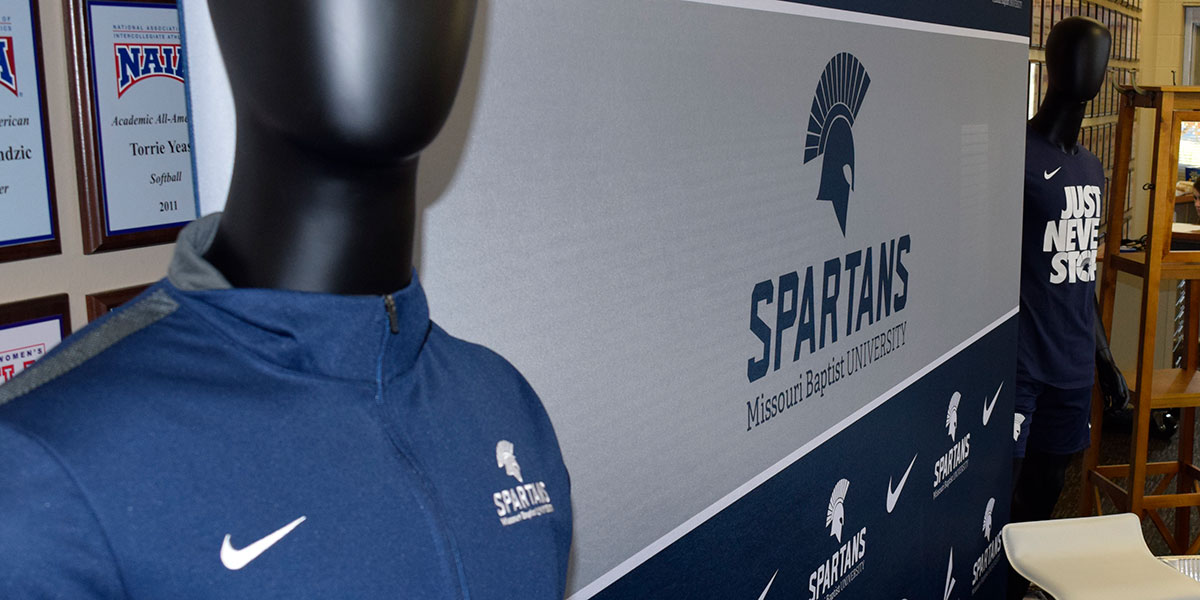 Photo by Jordan Hall
Pictured is an example of the gear Missouri Baptist University athletic teams are wearing after the university struck a deal this fall with the company and a Texas-based factory-direct sports equipment company called BSN.
__________________________________________________
The Nike swoosh logo can now be seen on all Spartan apparel as the Missouri Baptist University athletic department has struck a five-year deal with the brand and BSN Sports.
The partnership was made possible thanks to the collaboration of MBU Athletic Director Dr. Thomas Smith and BSN, a factory-direct sports equipment company based in Farmers Branch, Texas.
"We worked with BSN and got the Nike contract," Smith said. "It's where we exclusively work through BSN Sports to get our apparel."
With the Nike swoosh being slapped onto every athletic uniform at MBU, Smith said he looks for it to draw in more potential future Spartans.
"As far as the Nike product, it is something that is very beneficial to us as a recruiting tool and is saving us money in terms of our overall apparel purchasing for the athletic department," Smith said.
Smith said he also thinks partnering with Nike and BSN gives MBU a more authentic outlook.
"BSN Sports has been great," Smith said of the company that has been partnering with university athletic programs since 1972. "It just gives us a more professional image and really puts us in the same league as a lot of NCAA Division I programs."
Spartan football coach Jason Burianek said his players are all for the contract.
"The guys like Nike better, which sweetens the deal," Burianek said.
MBU baseball coach Eddie Uschold declined to comment on the new deal.
Before joining the Nike brand, MBU's individual athletic teams chose which apparel they wanted to wear, whether it be Adidas or Under Armour.
While Nike has faced controversy for naming former NFL quarterback Colin Kaepernick as the face of their 30th year anniversary advertising campaign, Smith said he wants MBU to have nothing to do with what's going on there.
"That frustrates us," Smith said. "We don't want to be politically involved in those kind of things. As a non-profit, we're not in the business to comment politically on those things."
The advertising campaign has been led by a quote from Kaepernick: "Believe in something. Even if it means sacrificing everything. Just Do It."
Kaepernick, former San Francisco 49ers quarterback, first kneeled during the National Anthem in protest for black lives and against police brutality back in a 2016 preseason game against the Green Bay Packers.
Two years later, in 2018, an unemployed Kaepernick has stood strong in his protest, sacrificing his position in the NFL. However, Nike picked him as the face for its current ad campaign.
Many Nike fans initially protested the ad campaign by burning their Nike gear and refusing to buy any of the company's products in the future.
Nike's stock value initially tumbled more than 3 percent after the ad was introduced, but sales rebounded and in September the company showed a 31 percent increase in sales since releasing the Kaepernick ad.
According to Smith, whichever time the ad campaign came out wouldn't have any effect on MBU's deal with Nike.
"That would have no bearing on it either," Smith said. "I know some schools have backed out on Nike because of that."
College of the Ozarks, a small private NAIA Christian school in Point Lookout, Missouri, was one of the first schools to end its deal with Nike. The school also re-evaluated its contracts regarding competition, adding all players and coaches must respect the American flag and National Anthem.  
MBU's partnership went into effect on July 1, 2018, two months before the ad campaign took place. Despite the controversy, Smith said he believes MBU is ahead of other institutions due to the new contract.
"I think it puts us in a whole different league compared to most NAIA schools," Smith said.
–Jordan Hall contributed to this story
___________________________________________________________________________
Facts About Nike
♦ Nike was founded by Bill Bowerman and Phil Knight in January 1964 as Blue Ribbon Sports; They officially became Nike Inc. on May 30, 1971.
♦ Based near Beaverton, Oregon, the company is now worth approximately $30 billion.
♦ The company takes its name from Nike, the Greek goddess of victory.
♦ Since the beginning, the company has targeted athletes as its main audience.
♦ Nike has partnered with some of the greatest athletes to be the face of their advertising campaigns, including Michael Jordan, Serena Williams and Tiger Woods.
♦ Nike's swoosh logo is one of the most recognizable logos in the world.
___________________________________________________________________________
What MBU Athletes Are Saying
"I think it was better for each team when they could pick their own provider that fit their team the best. Some of the things that Nike makes are better for some sports than others. Nike doesn't focus specifically on lacrosse, and there's other brands that do."
— John Wood, senior, lacrosse
◊   ◊   ◊   ◊   ◊   ◊   ◊   ◊   ◊   ◊   ◊   ◊
"I love having all Nike gear this year. I think as a whole, our school looks more uniform. Last year we had Under Armor, and honestly, I felt like we didn't look collegiate."
— Grace Woodward, junior, cheer
◊   ◊   ◊   ◊   ◊   ◊   ◊   ◊   ◊   ◊   ◊   ◊
"Personally I am not a huge fan of it (the ad campaign), but at the same time I am not a part of it. … I don't consider myself Nike at the end of the day. It is just clothes you put on. Nike doesn't make better players any more than Under Armour or Adidas. The better player or players will get the better deal."
— Austin Worrell, freshman, baseball
◊   ◊   ◊   ◊   ◊   ◊   ◊   ◊   ◊   ◊   ◊   ◊
"I think that it's great. I personally like Nike because they make quality shirts, dope and stylish running and wrestling shoes. I got a lot more gear this year with the school under the Nike contract, and their bags are pretty dope too."
— Dymond Guilford, sophomore, wrestling
◊   ◊   ◊   ◊   ◊   ◊   ◊   ◊   ◊   ◊   ◊   ◊
"I think it is great for MBU. Nike has great style, nice-fitting gear. Nike is a big deal."
— Cam Cosey, senior, football
◊   ◊   ◊   ◊   ◊   ◊   ◊   ◊   ◊   ◊   ◊   ◊
"The gear is nice. I feel like Nike is a brand you can feel good wearing."
— Ellie DuBroc, freshman, lacrosse
___________________________________________________________________________