Two-time captain of the Missouri Baptist University men's lacrosse team has set the example both on and off the field for his teammates as he leads them toward a third straight NAIA National Invitational Tournament appearance in his senior season. The National Invitational is set for May 7.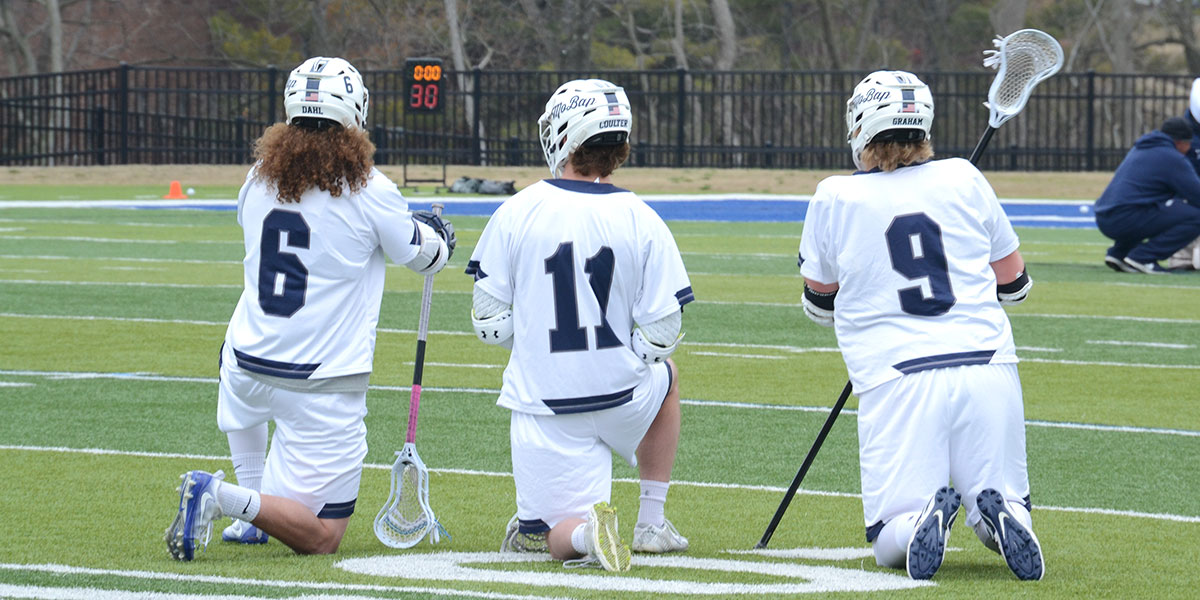 Photos by Ben Randolph
The Spartans take a knee during an injury timeout in their game against Reinhardt University. Left to right are: Senior midfielder Austin Dahl, junior attacker Andy Coulter and freshman defender Richie Graham.
_________________________________________________
At the beginning, four years of eligibility to play the sport you love at the college level seems like a long road ahead, but as seniors embark on their final season it can seem like yesterday when it all began.
Austin Dahl, a senior sport management major at MBU, is looking to take the Spartan men's lacrosse team to the playoffs and a potential title run as the regular season is quickly coming to an end.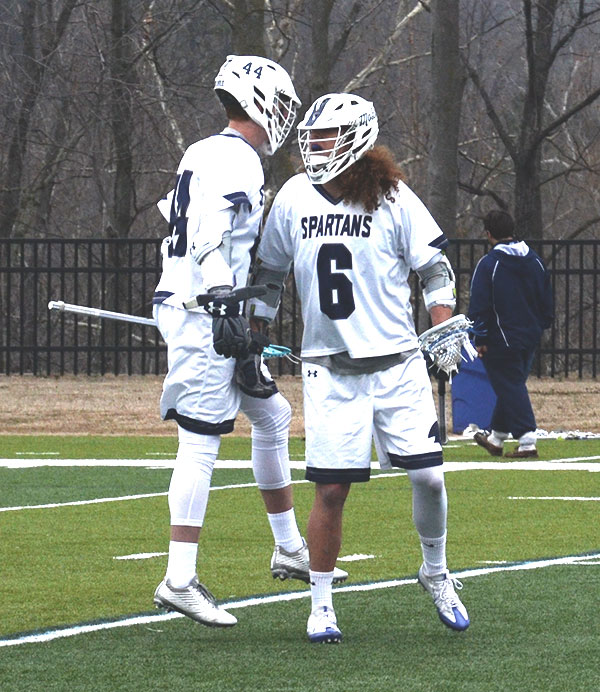 The two-time captain has earned a lot of accolades throughout his time as a Spartan, such as team MVP, NAIA first-team All-Conference midfielder, NAIA first team All-Conference face-off specialist, NAIA first-team All-American midfielder and NAIA Academic All-American, but his final push to a goal yet unachieved as a Spartan may come this year.
"My expectations are to help take my team to nationals and make a run for a title," said Dahl in an email.
For the Spartans to achieve that goal, the responsibility of commandeering the team's offense falls to Dahl, and his teammates have complete confidence in his ability to do so.
"He brings a lot of offensive capabilities and he's one of the best midfielders in the country," said teammate Garett McKelvie, a junior broadcast media major from Windsor, Ontario, Canada. "He's really a dynamic player and has a lot of talent. Not only that, he has a really good understanding of how our offense works. Having that on our side helps and he always knows what he's doing and makes sure everyone is on the same page."
Dahl's position is integral to the team's success on the field, but his impact off the field is equally as impressive.
"He's very personable. His openness has helped the team in a positive manner because everyone knows he is there," said McKelvie. "Whether you have a problem, need help with homework or just need a paper read, he is always willing to do those things. He has affected the team on a very personal level and I don't think that is something you see in a lot of programs."
The responsibilities that come with being captain are not limited to practices and games. They also include setting the example on how to act as a student, and Dahl has exemplified what it means to be a student-athlete.
"Austin plays a very big role in this program both on the field and off the field," head coach Andrew Joly said in an email. "Since Austin has enrolled here he's been a great student in the classroom as well, and as a coach it's so valuable to have one of your best players and leaders also be a model in the classroom, as well as being a great role model for our new players."
Aside from the marks in the scorebooks, being a part of the lacrosse team has made a special impact on Dahl over his time spent at MBU, and he has grown tremendously since his freshman year.
"Austin has grown a lot since he first set foot on campus, and he has put an incredible amount of time and effort to better himself as a lacrosse player and leader," said Joly, who is in his 11th year of coaching the Spartans. "But the best part is, all the effort put in was with a 'team first' mentality, to get better in order to help the team."
With four years spent as a Spartan, Dahl's efforts have affected those around him and his impact on the team will live on through those he has mentored as a captain.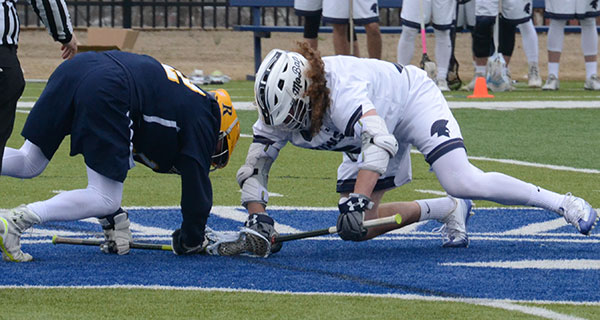 "I think Dahl is perpetuating what it was like when he got here as a freshman," said McKelvie. "He took the torch when he became an upperclassman and exemplifies what it was like when he was younger. When he graduates he will pass the torch on to someone else. He has made this openness the culture on our team. For him it's not a chore or something he has to do, it is something he wants to do."
Along with being captain of the lacrosse team, for the past two years Dahl has also been president of the Student Athlete Advisory Council, a council made up of one representative from each sport who meets under Athletic Director Tom Smith.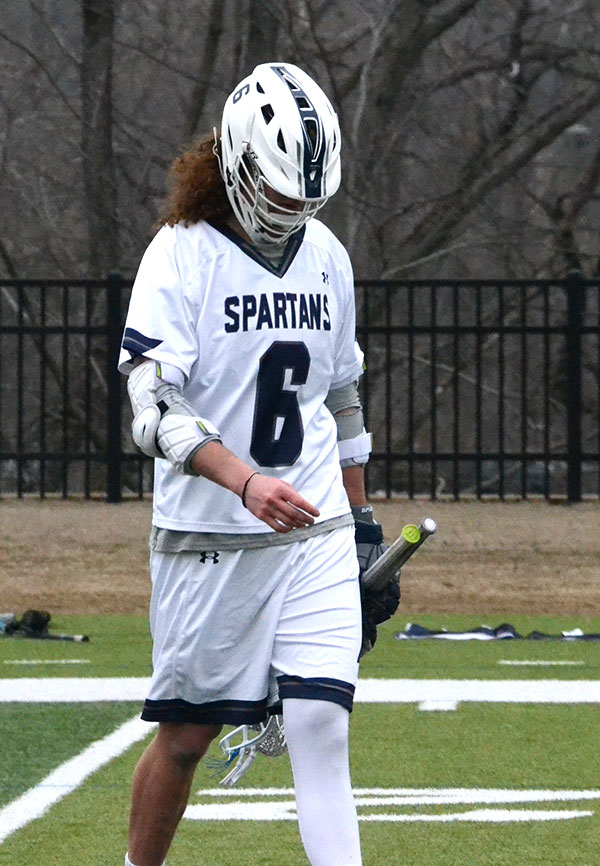 With hard work still to be done and a national title still within reach, the Spartans face off next against Columbia College at home on Saturday, April 7.
"Our main team goal was to qualify for the National Invitational, and as of today we are still on track," said Joly. "These next four games at home this month are must wins."
The Spartans currently hold a record of 4-4 with four games to go, and they are looking to live up to their team motto, "count on me," as they push forward toward a third consecutive Nationals appearance.
After graduating, Dahl is planning on taking a job as an NCAA Division II men's lacrosse coach at Maryville University just down the road from MBU, but for now he is focused on the remaining games in his career while happily reminiscing on the memories he has made at MBU.
"Being on this team has been one of the best experiences of my life," said Dahl. "Being a part of this group of guys is something I will cherish for the rest of my life along with the experiences we have all shared together over the past four years."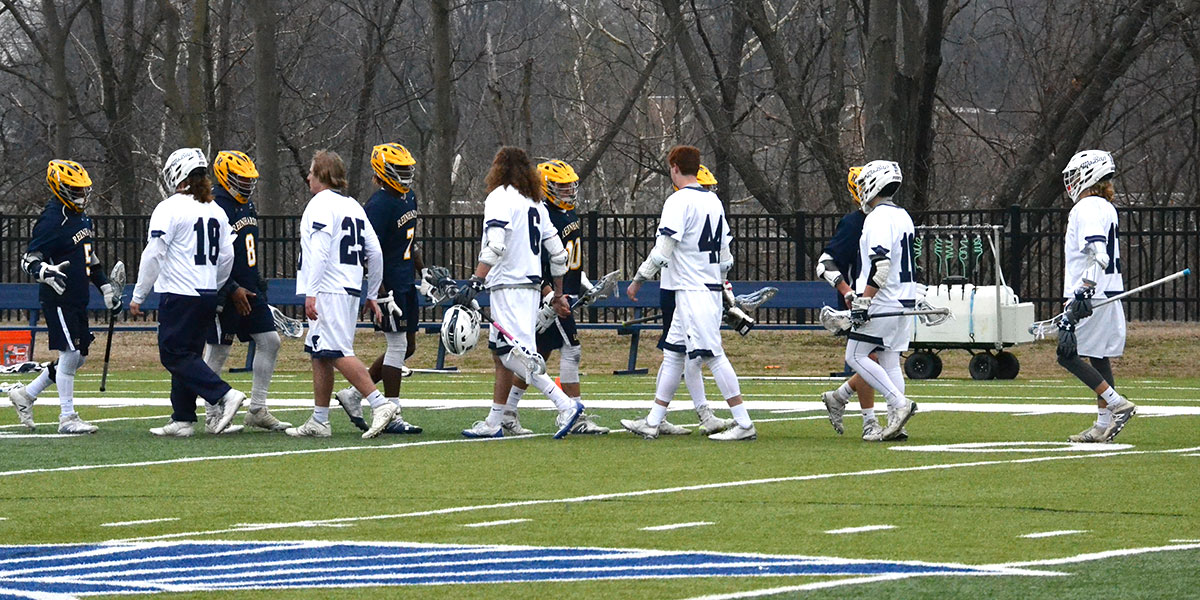 The Spartans shake hands with their opponent, No. 1-ranked Reinhardt University, after a hard-fought 10-6 loss. With a key game today at home, the Spartans are shooting for Nationals.