The Missouri Baptist University men's lacrosse family grew a little bigger this season with the addition of a Huntersville, North Carolina, native who intends to push the program toward its first championship ring.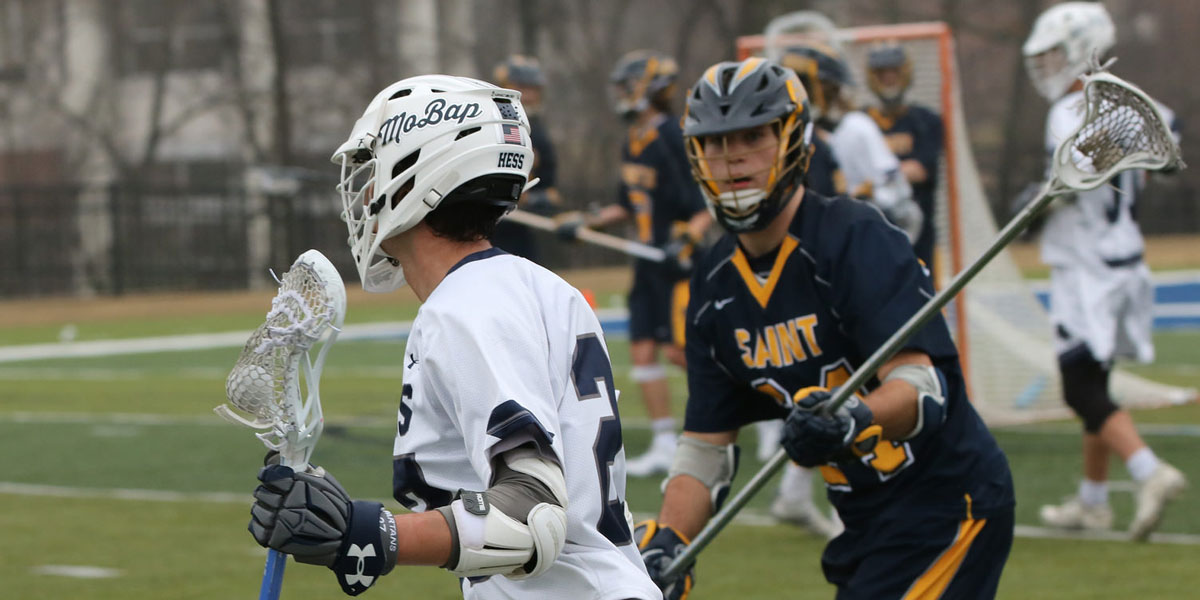 Photo by Pete Hinden
Missouri Baptist University sophomore attackman Sean Hess carries the ball under pressure during the team's season opener against Siena Heights.
__________________________________________________________________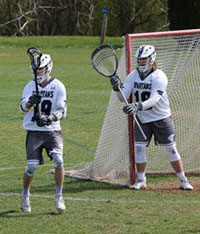 Coach Kameron Prince is the latest addition to a long and revered roster of coaches to be brought in by head coach Andy Joly, who has led the lacrosse program for the past 11 seasons.
"Coach Prince gives us recruiting access to parts of the country we've never had before, he's also the first dedicated goalie coach the team has ever had. This makes our defense that much stronger," said Joly.
Prince is a goalie specialist, having played four years at UNC-Charlotte, making him uniquely qualified to train MBU's already talented lineup of goaltenders.
As a goaltender at UNC Prince maintained an 80 percent save percentage as a four-year starter.
Before coming to Missouri Baptist Prince was head coach of the lacrosse program at Mooresville High School, just north of his alma mater, thus making his decision to come to MBU a difficult one.
"I've always coached at programs that were underdogs, which takes a completely different coaching mentality. Here at MBU we're already a national contender," Prince said. "This was such an appealing job offer because of the program's history of success, being able to step right into a winning program is a lot less stressful than building one up."
The men's lacrosse program has made it to the national invitational every year since its existence, and looks to continue this pattern in 2018.
Prince arrived in St. Louis for the first time in August 2017 to begin the next step in his coaching career, quickly earning the trust of both coaches and players.
"When I arrived in St. Louis I had never been to the state of Missouri. My first impression of the city was positive, I loved the downtown area and seeing the Arch on the skyline," Prince said. "Also, working under Coach Joly has been fantastic, he's a great coach to learn under and hopefully gives me the skills to take over at another program in the future. But for now I'm focussing on this season."
This year MBU will be hosting the first-ever Independent Conference tournament, which will be especially meaningful after the team's 13-11 quarter-final loss to Keiser University last season, a team that is sure to be invited to the tournament.
"I think I speak for everyone involved with the program when I say that we aren't satisfied with last year, or the year before that," said Joly.
Click here to see the full lacrosse team roster, which includes five seniors, eight juniors, five sophomores and 14 freshmen.
Prince added: "I'm really excited to see this team play, I think we will turn a few heads for sure."