Switching from field hockey to the cheer mat, Jennifer Marsh, MBU cheerleading assistant coach, discovered a new love that would bring her to her alma mater to lead the cheerleading squad she was once a member of. Along the way, Marsh discovered she's also able to relate Christ to the sport and serve as an example to her athletes.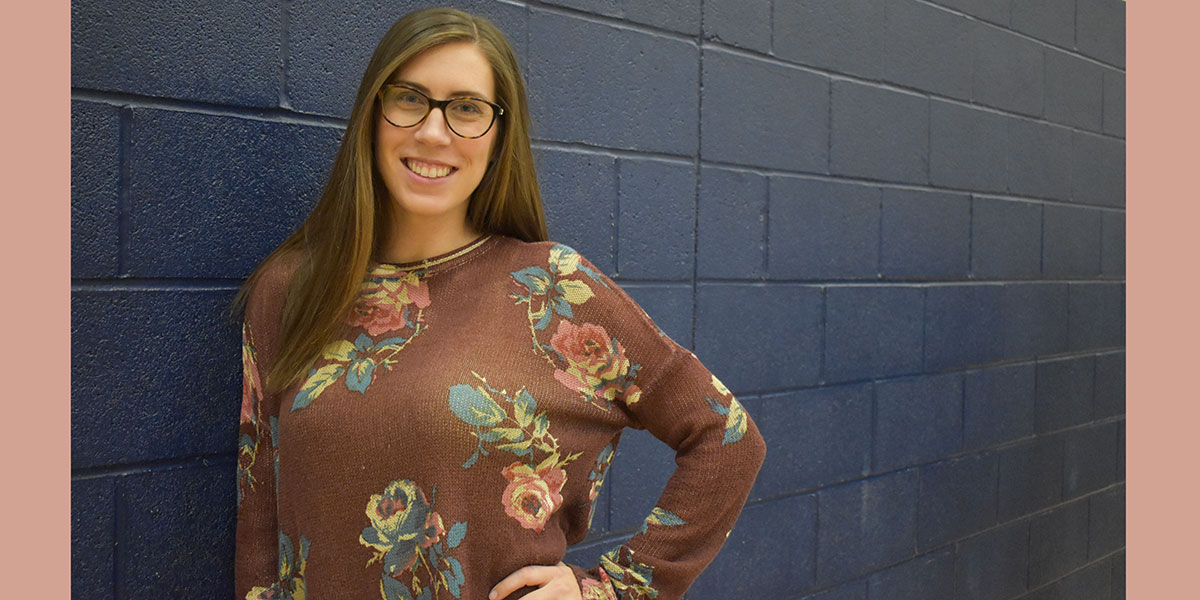 Jennifer Marsh, a Spartan cheerleader from 2009-13, was part of the first team to advance to the National Cheerleaders Association Nationals in MBU history. Marsh has served as assistant coach for nearly two years and is fulfilled by the growth she can foster on the mat and personally for the members of the squad.     Photo by Madelyn Shotton
__________________________________________________________
With 7 a.m. practices three to five days a week, weekly games and competitions about twice per month, Jennifer Marsh, from St. Louis, tends to find herself with her cheer team more than at home with her family.

Entering her second year as assistant cheerleading coach at Missouri Baptist University, Marsh, known by her players as Coach Jen, wasn't always dedicated to cheerleading. 

In addition to playing field hockey, Marsh was a competitive swimmer and diver through elementary, middle and the beginning of high school. 

Shortly into her ninth grade year, after being named captain of the field hockey team, she and her parents moved into a new home in Wildwood.

Marsh transferred to Westminster Christian Academy in 2005, and throughout the first year, she continued to swim and dive.

About halfway through, however, as Marsh and a group of friends read the announcements, something stuck out to her.

"A really, really popular girl was saying, 'Cheerleading tryouts are …' and she looked up and said, 'Jen, you should be a cheerleader because you're so loud,' and then continued to read her announcements," Marsh said.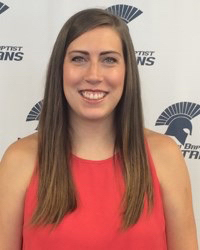 Marsh said she remembers thinking, "Cheer isn't a sport." 

Considering she's always liked challenging herself and proving people wrong, Marsh said she decided, in her first year at her new school, to try out for cheerleading. 

Without telling her step-dad, who was head of school at the time, Marsh tried out for WCA Cheer and made the varsity squad. It was now time to tell her parents she was turning in her swimsuit and tennis shoes for pom poms.

Marsh said she gained a lot of respect for the sport after tryouts.

She cheered throughout her remaining years at Westminster, but when she graduated and enrolled at Missouri State University in 2008, she chose not to try out for cheer because of her limited experience. As a backspot, it would've been hard for her to make a Division I cheer team because at that level, men are usually the backspots.

After her freshman year at MSU, Marsh said she wasn't doing well and thought she had given up cheerleading forever.

Marsh got a phone call in March 2009 from Jessica Johnson, head MBU cheer coach at the time, asking if she would be interested in accepting an athletic scholarship and cheering at MBU. 

She cheered as an MBU Spartan for four years, from 2009-13, where she was part of the first team to make it to the National Cheerleaders Association Nationals in Daytona Beach, Florida. 

Marsh began coaching the WCA cheer team during her senior year at MBU, and within a few months she got married, graduated with a bachelor's degree in education and began teaching middle school math at WCA.

After coaching at the high school level for seven years, Marsh knew she was ready for the collegiate level. She first took a year off to raise her daughter, Lucy, and then began looking.

When the position opened up at MBU as an assistant cheer coach, she declined the offer multiple times before realizing that coaching is her calling.

Marsh assisted with a combined competitive and game-day team of over 30 student-athletes. 

"Every single time Coach Jen and I interact with a recruit, she pours her heart out about what she loves about coaching, the sport, our athletes and our university," Tess Boyer Schenck, head coach and director of spirit relations at the time, said in an email. "I always love hearing her talk about how her main objective as a coach is not just to give direction, but to prepare the student-athlete and help them become better people. She cares about the athlete as a person, not just a body on the mat. The sports in our program are fleeting, but the character and integrity of our athletes last a lifetime."

As her second season as an MBU cheer coach wraps up at the end of March, the team is pretty busy this time of year, according to Marsh.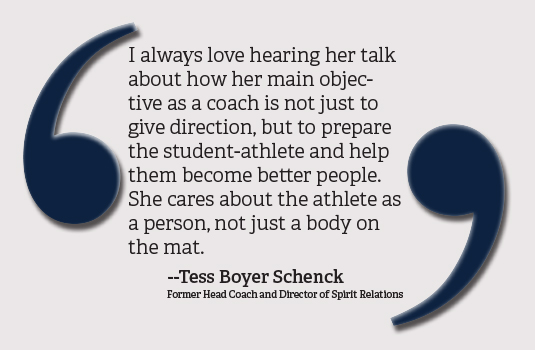 After attending the MBU men's basketball nationals in Kansas City in March 2019, both the cheerleaders and basketball team headed home to St. Louis after a heartbreaking loss in the first round of the NAIA championship.

Marsh was once a field hockey player, swimmer and diver who didn't consider cheer to be a sport. Now, she can relate Christ to the sport of cheer. 

God created the body to do so many beautiful and creative things, and cheer is just one way to show glory to his creation.

"I love the way you can easily relate the Body of Christ to the cheer program," Marsh said. "If the body is all an eye, if the body is all a hand, all a foot, you can't have a team full of flyers, a team full of backs or a team full of bases."

Coaching at her collegiate alma mater for almost two years, Marsh said it's an honor to coach where she can be at this platform and speak openly and honestly about her Christian beliefs. 

In addition to her coaching position, Marsh is the lead marketing specialist for Scott & Laura Kemp, with "Your Kemp Home Team," under Coldwell Banker Gundaker, and plans to finish her master's degree in April.

Marsh and her husband, Mike, are also full-time parents to their daughter Lucy.

Marsh said the most rewarding part about coaching is watching someone grow, whether it's on the mat, off the mat, at their job, or just as a person.

Watching them grow, knowing they allowed her to speak into their lives and gaining their trust, she said, is heartwarming, but also one of the most challenging aspects of coaching. 

Being a member of the MBU cheer team for three years, Destiny Shocklee, junior human services major from House Springs, Missouri, is a captain of the game-day team and said she has always kept MBU cheer close to her heart.

"What I love about Coach Jen is she is not afraid to take personal responsibility," Shocklee said in an email. "She fights for her team and looks for the best possible outcome for her athletes." 

On Monday mornings, Marsh gets a separate practice with the game-day cheer team and dedicates time for devotions and reading Scripture with her team. 

First-year member Amiya Cheek, a psychology major from Festus, Missouri, said she has enjoyed Coach Marsh both on and off the mat.

"My favorite part about being one of Coach Jen's athletes would include being around her fun-loving personality," Cheek said in an email. "No matter the situation she always brings positivity to what's happening."