American football is a sport that has really taken off in other countries like Serbia, Denmark, and even Germany. MBU has a student athlete who took the opportunity to play overseas, now he's back to share his experience.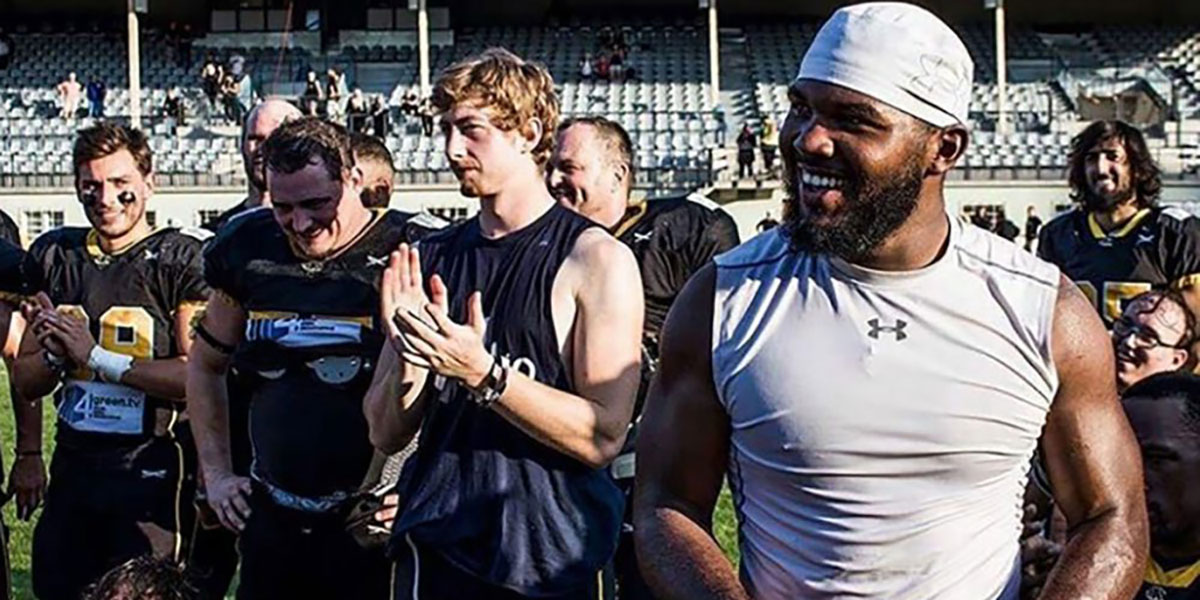 Photo provided via Keenan Savage Instagram
Keenan Savage (right) smiles and signs autographs with his teammates on the Berlin Adlers, an American football team in Germany, where Savage was able to live his dream a little longer after playing at Missouri Baptist University.
____________________________________________________________
With the college football season behind us, many seniors ask themselves: What's next?
Some may think if the NFL, CFL or AFL do not call, then it is over and time to think about finishing college and moving into a career. But that is not always the case.
American football is a sport that is now starting to grow throughout the world as countries like Denmark and Germany are options for continuing to play American football.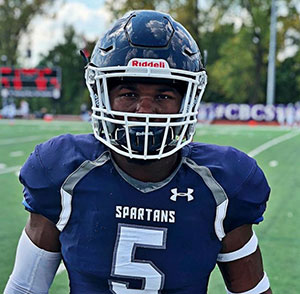 MBU senior Keenan Savage may know a little something about that route and what it took to get there as he recently signed with a team in Berlin, Germany, to continue playing the sport he loves.
Savage, who grew up in Kansas City, was an explosive player at MBU, playing in 20 games in his two years as a Spartan.
As a starting linebacker, Savage amassed 80 solo tackles, 58 assisted tackles, three sacks and one 73-yard punt return.
After his time playing football at MBU Savage was invited to the National Bowl in Daytona, Florida, Dec. 10, 2017, an annual all-star game for players from non-FBS universities, where scouts from around the nation and Canada watch prospects run through drills and play the game.  
Savage was then invited to the Beyond Sports Network National Scouting Combine in Indianapolis, inside The SportsZone Facility, Feb. 27-28, 2018, the same week as the NFL's combine.
With the help of Chris Wamba of Kambafit and Brian Fitzmaurice of Fitzmaurice Performance, who trained Savage all the way to the National Bowl game in Daytona and the combine in Indianapolis, Savage caught the eye of scouts.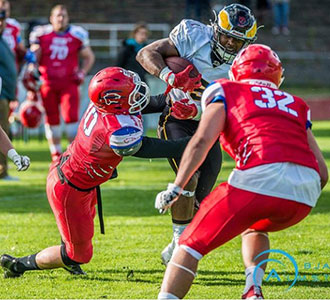 Through that intense training and subsequent exposure Savage was able to catch the eye of one of the most successful American football clubs in Germany, the Berlin Adlers.
The Adlers started playing in the first National Football League before joining the then-newly founded German Football League, or GFL, in 2002.
The Berlin Adler family, consisting of over 400 players, coaches and members, plus a large fan base, play an active role in the development of American football in Berlin and throughout Germany.
"Berlin, Germany, was God-given. It was a great experience that God made possible for me to travel the world and get paid to play the game I love," said Savage, who is back in America planning his next move, whether in football or another profession. "While playing professional football in Europe, I gained popularity with my football club and our fans rather quick. Displaying MVP performances throughout the season helped with the boost of popularity." College coaches play a major role in their athletes' success going to the next level, and that was no different for Savage.
Savage's strength and conditioning coach at MBU, Keith Williams, had connections with Fitzmaurice Performance gym and was able to provide a helping hand by reaching out to Brian Fitzmaurice and his training staff, Savage said.
"Many told me that playing pro football after MoBap was not realistic. I could see how many were in non-belief given the fact that MBU is a small NAIA school and no football player has ever reached that point before."   
Being that MBU just started its program four years ago, Savage's shot at professional football in Germany sheds light on the direction of the program.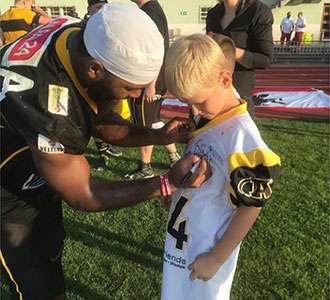 The team went 4-7 this year showing that progress is being made and they are making positive strides toward success within the program.
"I am thankful for this miracle that God has laid out for me. I am also humbled and blessed that he is allowing me to inspire others while playing the sport I love," Savage said.
Being back in the U.S., Savage is continuing his education at MBU, taking online classes and planning to graduate with the 2019-20 class.
After graduation he plans to continue playing the sport he loves, whether it is back in Germany or somewhere else.
The Berlin Adlers want to renegotiate for next year, Savage said, and teams in Switzerland and Finland have also reached out to the MBU standout.
Teams in the Canadian Football League are looking at Savage, too, like the Saskatchewan Roughriders.
"Though I am not sure what is next, I pray for strength, uncommon wisdom and clarity from the Lord above," Savage said.
With this MBU football season being over, 11 Spartan seniors have a decision to make, whether to move on into their respective careers, continue their education or keep playing the game of football.