Josh Fuentes, who played at Missouri Baptist University five years ago, is now the 11th-rated prospect in the Colorado Rockies organization, according to MLB.com, and he looks to continue his success as he got called up to the Big Leagues this week, delivering a base hit in his first-ever Major League at-bat.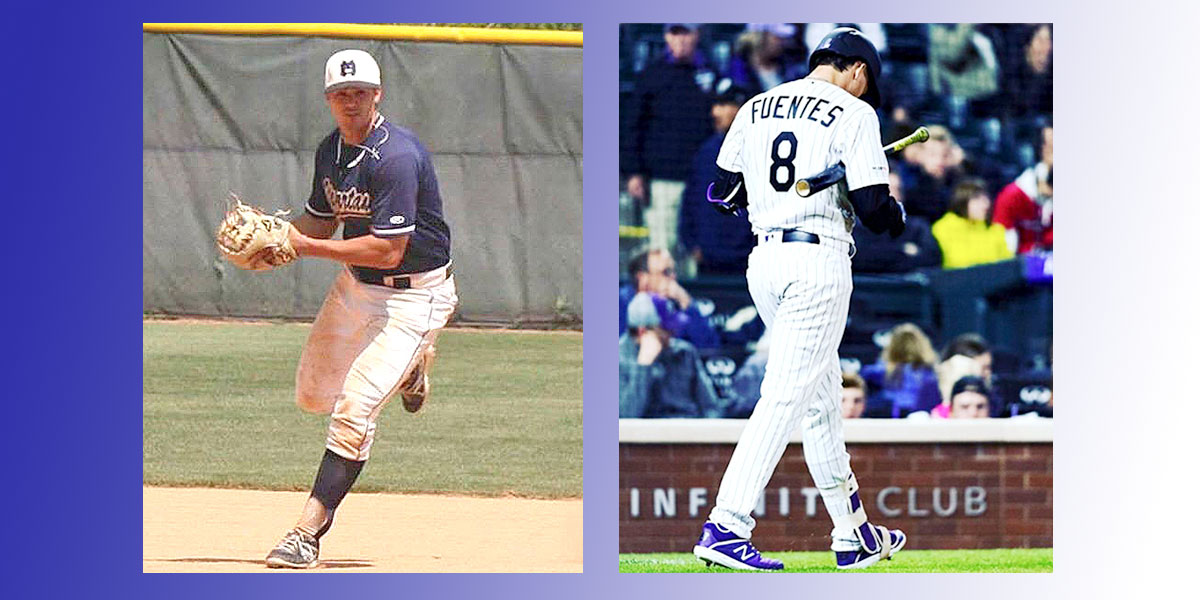 Photos courtesy of MBU Athletics and the Colorado Rockies
Josh Fuentes, then and now. In the photo on the left, Fuentes fields a ball and makes the throw to first base while shoring up the infield as a Missouri Baptist University Spartan five years ago. In the photo on the right, Fuentes dons his big league uniform as he was called up this week to the Colorado Rockies.
__________________________________________________
Former Missouri Baptist University baseball standout Josh Fuentes got the call of a lifetime when he made his Major League debut with the Colorado Rockies April 6, 2019, becoming the first MBU player to break into Major League Baseball.
When Fuentes, who played at MBU in 2014, got the call from Zach Wilson, Rockies farm system director, that his dream was about to come true, "I told (Wilson), 'Can you tell me a couple of times?' I didn't think he was being serious," Fuentes said in a story published in The Denver Post newspaper.
Fuentes was a last minute call-up, and since there were no flights from Albuquerque to Denver, he made the six-hour drive to Coors Field so he could be with the team for first pitch at 6:10 p.m.
"It was funny because I was in game traffic the last bit. I'm like, 'I'm on the Rockies, I gotta get here,'" Fuentes said in an interview with Fansided. "I was in the car, there was a lot of yelling with people not moving."
Though Fuentes didn't start the game, he did get some action late. Down 7-2 in the bottom half of the eighth inning, Fuentes got his first MLB at bat and his first hit, a single through the left side of the infield.
"I came up being prepared for my role," he told the Post after the game. "I got an at-bat and I got a knock, so that was awesome."
But let's back up a few years, back to 2014 and his days as a star infielder for the Missouri Baptist University Spartans, a year in which he batted .365 with 47 RBIs.
The numbers he posted at MBU were enough to sign a contract with the Colorado Rockies on June 11, 2014.
Fuentes played alongside many guys at MBU who he still keeps in contact with today.
Orlando Olivera, a fellow stand-out for the Spartans, boasting a career .421 batting average and earning First Team All-American honors twice, was drafted in the 38th round by the St. Louis Cardinals.
Both Fuentes and Olivera spent every day together.
"He was a skinny little dude when he got here, and then I put him to work and he got huge. But his work ethic is what got him to where he's at right now," Olivera said. "We just clicked right away. He was from Cuban parents, so we just did everything together from the gym to hitting to taking him to class 'cause he couldn't drive himself, like everything we did in our relationship was great. That dude is like my brother."
Fuentes always played at a high level but recently climbed into the top tier of prospects to watch in the 2019 MLB season.
Fuentes was invited to join the spring training roster, taking a major step in his journey to becoming a big leaguer.
Listed as a corner infielder in the Rockies organization means that Fuentes is fighting against Nolan Arenado, a proven superstar player at third base.
The two are very familiar with each other since they are first cousins and share a profound love for baseball.
"Nolan has done his thing for a few years now and he established himself as one of the best. But to play with him would be amazing if I played first or second, which I have been working on, and if he leaves then that would be great too for me," said Fuentes.
Sadly, Fuentes is recovering from a broken hamate bone he suffered during batting practice on Feb.18, according to The Denver Post.
Before getting the call to the big league roster, Fuentes started the season in Triple-A.
"My No. 1 thing is playing, and playing well. So if me thinking about that is going to derail how I play, there's no time for that. I'm worried about Triple-A, facing Triple-A pitchers, and if I do well hopefully I'll get that call-up," Fuentes said.
He got that call after just two games in Triple-A Albuquerque, where he went 3-7 with two doubles and a home run.  
Fuentes earned his spot on the 40-man roster with impressive numbers and numerous accolades, most notably the Pacific Coast League Most Valuable Player.
"There was a lot of obstacles, from being undrafted to playing my first two years being a backup guy and being told I don't have much potential. Having someone saying you can't do something really ignites a fire under people and it definitely did for me. It made me work harder and it made me appreciate where I came from," Fuentes said.
That fire beneath him made its way to his bat in 2018, batting .327 with 95 RBIs in his first year with the AAA Albuquerque Isotopes.
Those numbers were enough to award him the Triple-A All Star Game MVP in Columbus, Ohio, All Pacific Coast League Team honors and the 2018 Pacific Coast League MVP, making him the first player ever to be awarded all three accolades in the same season.
While this was a strong achievement, Fuentes has been making a name for himself for several years, batting over .300 in the last three seasons and staying healthy along the way, a difficult feat to accomplish while playing over 100 games each season.
These numbers led to his ranking and a favorable scouting report by MLB.com.
Missouri Baptist University baseball has been in the upper echelon of the NAIA for decades, and prior to the debut of Fuentes, they had not had a player reach the MLB.
"It would be a big thing, I think that it would be a great thing to have, have that first guy make it and then guys know that come here that that's a possibility. Cause you know, even bigger programs don't have that many guys in the big leagues," said Eddie Uschold, who has been MBU's head baseball coach since 1999. "People don't really understand what it takes and how difficult it is to get into professional baseball and then go on to the big leagues."
Fuentes' success could bring this year's MBU baseball roster some extra attention.
Since the debut of Fuentes, Uschold followed up and said, "Excited for Josh. He has great work ethic and that work ethic combined with his talent has made him the first MBU baseball player to make it to the big leagues."
With several players being scouted by big league clubs, some advice could be beneficial to those with professional aspirations.
"The best advice I can give to college players is to be yourself, if you know who you are as a person and player I think that's when you grow and mature and see where your potential lies," Fuentes said.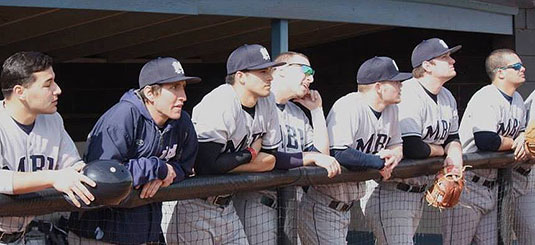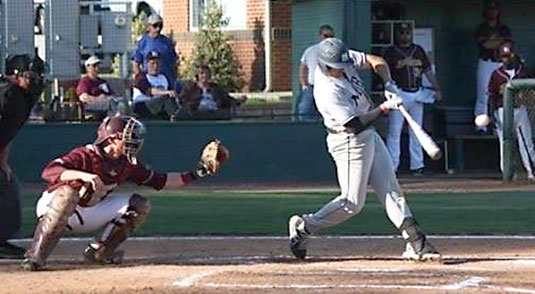 Josh Fuentes Scouting Report: MLB ETA: 2019
♦ Fuentes' strength is his ability to make repeated hard contact, which helped him make a run at league batting titles in each of the last two years and top the PCL in runs (93), hits (180), doubles (39), extra-base hits (65) and total bases (285).
♦ Most of his power currently comes in the form of doubles but he might develop into a 20-homer threat if he added some loft to his right-handed stroke.
♦ He doesn't strike out much, yet he puts the bat on the ball so easily that he rarely draws walks. Though it remains to be seen if and where he'll break into the Rockies' crowded infield, he doesn't have much left to accomplish in the Minors.
♦ Fuentes is on the right path to join the big league club soon, which is why the Rockies purchased his contract from the Albuquerque Isotopes effectively adding him to the 40-man roster.
♦ "I think the status is cool, finally some recognition, but at the same I don't worry about that stuff. I know what I have to do to become a better player, so if I focus on that the rest will take care of itself," said Fuentes.
___________________________________________________________________________
The 2014 MBU team had a stockpile of talent, and players agree the atmosphere was that of a family.
Jeff Smith, who was the second baseman next to Fuentes at shortstop, would go on to be drafted in the 30th round by the Arizona Diamondbacks after batting .303 with 11 home runs for MBU.
"Week nights we would hang out at Orlando's place and just watch baseball, play video games, and just hang out. It was rare if we weren't hanging out," Smith said. "We were a little diverse family. When Josh got picked up after our first year we all got excited for him and knew he'd do some great things."
Fuentes has earned the ranking, the awards and the praise for all the hard work he has put in over the years.
"Josh is probably as talented a shortstop as we've had, he's tall, strong, he can run, he can throw, and he's a big shortstop, especially for an NAIA school. Josh did a lot of things really really well and at this level was above what you'd see at shortstop," Uschold said.
The one thing that is repeated by his peers and coaches is Fuentes' work ethic.
"There's a reason why he's so close to making his dream come true and it's because of his work ethic. He worked his butt off here (at MBU) and it translated into the minors, and now it's gonna translate into the big leagues once he makes it there," said Olivera, who is currently an assistant coach for the Spartans baseball team.
Upon hearing about his friend's debut, Olivera followed up his previous comments.
"I'm super happy for him, man. … That's where he belongs."
Baseball as a sport is like a pyramid. At first everyone plays, then as you go higher, the pool of players gets smaller, and near the top of the pyramid the faces we see start to look familiar.
Smith and Fuentes once reunited near the top of the pyramid, this time as opponents.
"I actually got to play against him in spring training, and I got on first and he was playing first. I asked him, 'Why the hell do they have you at first?' kinda laughing. He looked at me and said, 'I don't know, whatever it takes,'" Smith recalled. "I think he kinda likes playing first because he loves to scoop the ball and show off his leather. He's determined to get to the bigs, and he'll do everything in his power to get there."
The versatility of Fuentes is one of the big reasons he was the one getting the call to join the Rockies since he was called up to replace Ryan McMahon at first base.
Relationships formed in baseball don't always last, but when the friendships go beyond the diamond, it makes for special bonds.
"Josh is a friend that it doesn't matter if you talk every day or if you haven't talked in five years, you wouldn't miss a beat. I consider him a really good friend and I wish him the best in his career," said Smith, who upon hearing the news of Fuentes' MLB debut, added, "There are no words that could describe how happy I am for Josh and his family. It's a great accomplishment and well deserved. I'll be waiting for my Fuentes jersey in the mail."
Smith added: "I can't wait to see him play against Cincy (Cincinnati), I will be there, wouldn't miss it for the world."
Fuentes returned the compliments: "The best experience for me is not one but all of them, just to be around my teammates and grind day in and day out. The stories, the memories I'll never forget. So the people. That's my best experience."
MBU baseball has its own culture that goes beyond the campus.
The day begins and ends when Coach Uschold says it does, players ignore the lack of sleep and aching bodies for the chance to be a part of the annual pursuit of a National Championship.
"MoBap was big for me. MoBap taught me how to get a routine and take ownership of my problems as a player and person and to deal with them like a man. I was far from home figuring things out on my own and really learned from it," said Fuentes.
Going from MBU to the major leagues is a long and grueling road, but the best part of baseball is being successful among all the failure this sport brings.
"When I got in the box and was like 'this is baseball' it made all the craziness worth it. It was special," Fuentes said about his first MLB at bat.
Fuentes' hard work is a trait that is rare to find in a ballplayer, and if his career keeps the same progression Fuentes will be wearing Purple and Black for a very long time.
It's players like Fuentes who can motivate a program to put forth a special effort and look beyond the early morning weights or late night studies, and focus on what could be the one rep in the gym, one swing in the cage or one pitch in the pen, that puts them in a spot to be where he is today.