MBU's undefeated men's volleyball team entered the NAIA National Championship as the No. 1 seed, and secured their first win over Xavier University, in Des Moines, Iowa, on Tuesday afternoon, advancing to the next round in the tournament.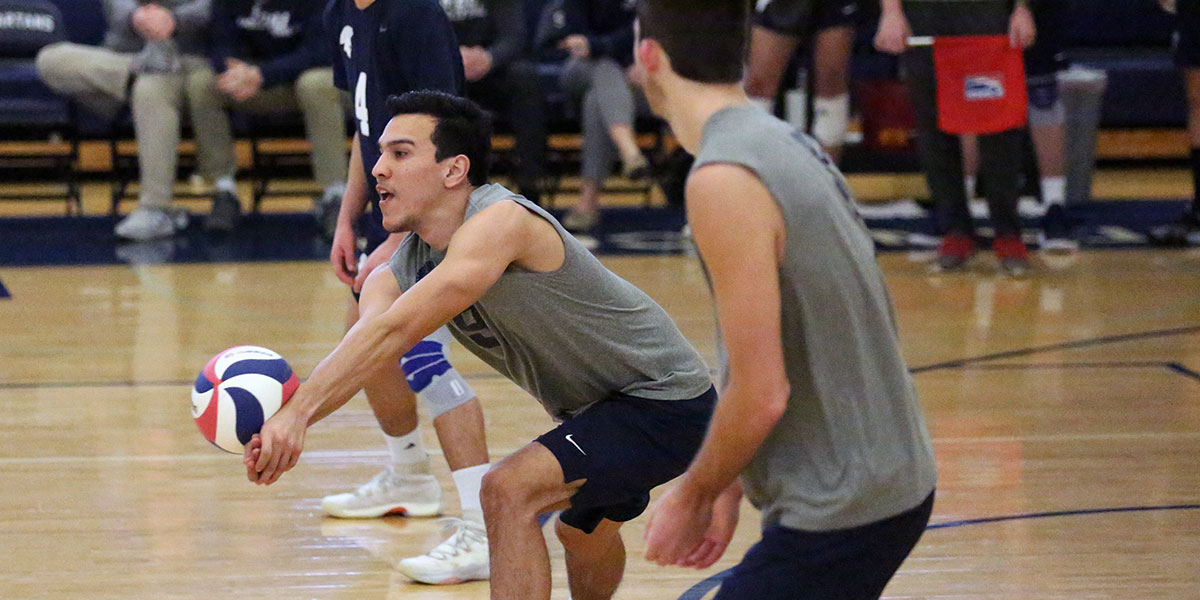 Photo by MBU Athletics
Steven Rodriguez, senior men's volleyball player from San Diego, California, saves the ball in the MBU Spartans' 3-0 win over Morningside College on Feb. 8. The Spartans enter the second round of the National tournament today, April 17, at 4 p.m., facing the Park University Pirates.
__________________________________________________
The MBU Spartans overcame the Saint Xavier University Cougars in four sets in the first round of the 2019 NAIA Men's Volleyball National Championship at Grand View University in Des Moines, Iowa, on the afternoon of Tuesday, April 16.
The No. 1 seeded Spartans are the only team to enter Nationals with an undefeated record of 28-0, while the No. 8 ranked Cougars ended the season 20-8.
The Cougars won the first set 25-22, but the Spartans swept the following three sets, earning their first win at the 2019 National Championship.
The Spartans enter the second round of the tournament today, April 17, at 4 p.m., facing the Park University Pirates.
If MBU advances past this round, they'll close out pool play on Thursday, April 18, at 7 p.m. when they take on the Grand View University Vikings, the tournament host. The Spartans last saw the Vikings at the 2018 National Invitational Semifinals, where the Vikings won four sets and won the National Invitational Championship.
The Spartans earned an automatic bid to the National tournament after claiming the conference title at the American Midwest/Great Plains/Kansas Collegiate Unaffiliated Conference Championship, and defeated the No. 2 seeded Park University Pirates in three sets on Saturday, April 6.  
In addition to an undefeated season, the MBU Spartan men's volleyball team had three athletes (Luka Cajic, Miljan Kastratovic and Steven Rodriguez) named to the 12-member 2019 NAIA All-American Team on April 15, by the American Volleyball Coaches Association, while senior Cameron Hibbler received an honorable mention.
Tom Young, head men's volleyball coach, was named the National Coach of the Year, and freshman Miljan Kastratovic was named Newcomer of the Year.  
The top two teams from each pool will advance to the Semifinals on Friday, April 19. The National Championship match will take place on Saturday, April 20 at 6 p.m.  
All matches will be streamed on the NAIA Network, and the semifinal matches and championship match will be broadcast on ESPN3. More information regarding the tournament can be found at NAIA.org.