Despite the coaching changes the men's JV volleyball team at Missouri Baptist University has experienced this school year, they have been able to play well together during their spring 2022 season while continuing to grow as a cohesive unit.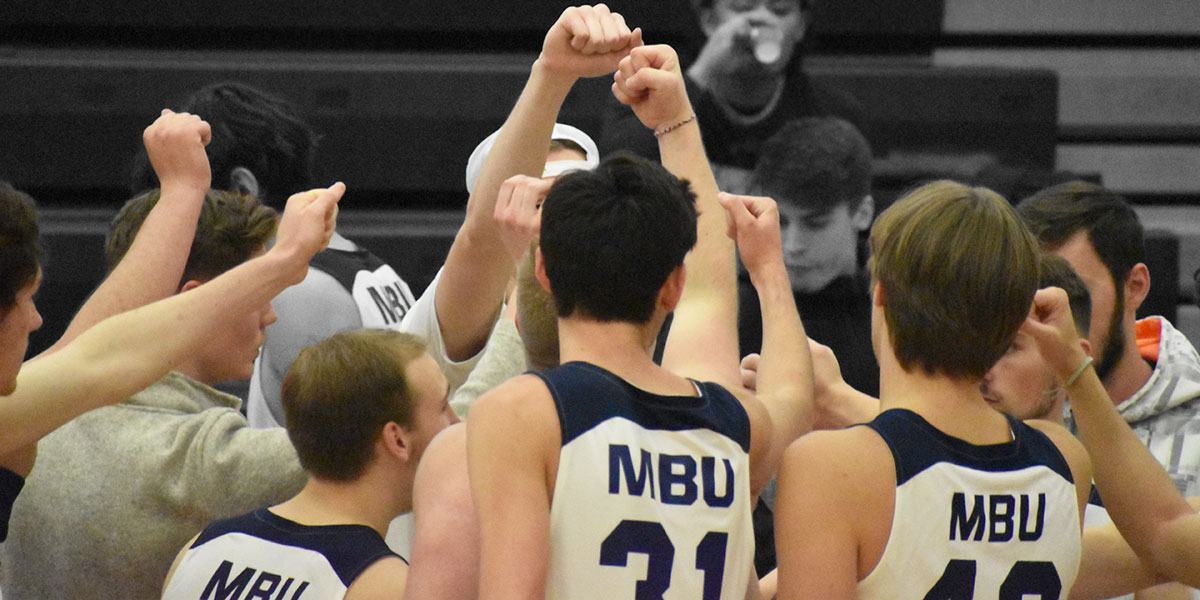 Before every game and after every timeout as they break out onto the court, men's JV volleyball players put their hands up in the air signifying unity and fellowship among the team. This was the last time during the team's last home against William Penn Academy that they rallied together during their competitive 2022 spring season.     Photo by Jessica Kunkel
__________________________________________________
For the men's JV volleyball team, coaching has played a major role in developing morale and competitive attitudes. The team has undergone three different sets of coaching changes as of fall 2020, with Missouri Baptist University alumni Colton Albers and Kolby Matsushima being the current coaches.
"With any change with any coach there is a change that occurs, and as that change occurs you have to adapt to everything. I think that we as a team have been challenged with that. I think it's been a good challenge. We are looking much better now than we were at the beginning of the school year," said Brent Seyer, a junior secondary education, middle school education and biology education major.
On any athletic team, coaches are a necessary asset in ensuring a team plays well while also developing  fellowship on and off the court. This especially holds true for MBU's men's JV volleyball team.
Fortunately former MBU volleyball players Albers and Matsushima stepped up as volunteers to help coach the spring 2022 season.
"Since Colton and Kolby have been coaching, players have been more excited to go to practice," said Seyer, a setter on the team from Oak Ridge, Missouri. "I feel like we come out of practice each day with something new. We focus on one thing of the game to improve on and strive to work hard during our practices."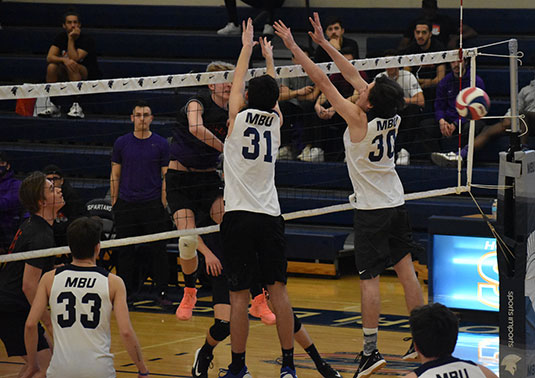 Albers and Matsushima have instilled confidence in the men's ability to play a positive and competitive game of volleyball, causing the team to have a productive season.
"When the coaching switched and we got Colton and Kolby, the team's motivation was better and we played a lot better," said sophomore Jacob Simmons, a right-side hitter and a biology pre-med major from Hemet, California. "They have made us a stronger team and have improved some skills we needed as a team. Practice has been more productive and we play harder when we have games. Their leadership skills are much better than previous coaches and how they actually care for us on and off the court."
With their past volleyball and student experiences at MBU, Albers and Matsushima have been an asset to the volleyball program, creating a noticeable difference in how the JV team has played this season compared to past seasons.
It wasn't hard to recruit these alumni as they already carried an on-campus presence at MBU and were willing to step up to help the university's volleyball program. 
"Colton and Kolby are both alums of our volleyball program and I knew they would be a great fit for our student athletes," said head men's volleyball coach Tom Young, who graduated from MBU with a bachelor's degree in sport management in 2007 and played on the volleyball team from 2003-06. "They bring a much-needed energy to our JV program. They both understand the fundamentals and they are always pushing to have their guys to improve on and off the court."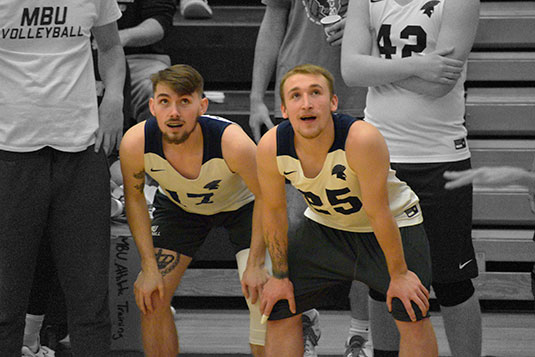 During the spring 2022 season, the coaching methods of these past MBU volleyball players have provided an improved perspective for how the men view and play the game of volleyball.
"Colton is a coach that is very passionate about his players' well-being on and off the court. He wants to see his guys succeed. Kolby is a coach that is laid back but he demands his players to give it their all on the court," said Young, who completed his master's degree from MBU in sport management in 2015 and currently resides in Afton, Missouri, with his wife and daughter. "I am extremely pleased by the way the team has responded to these two great coaches."
In their new positions of being the JV coaches, Albers and Matsushima were able to apply what they learned as players in previous seasons to encourage their former teammates to play their best during this year's season.
"I was able to play under Tom Young for the three years of my career and our goals for the program align very well," said Albers, a spring 2021 graduate who received a bachelor's degree in exercise science. "The JV team is designed to give student athletes the opportunity to develop not only athletically, but as young men as well."
Not only has the JV team benefited from Albers' and Matsushima's coaching, but these two former players have enjoyed being able to help teach and grow the team this season.
"I got to spend a year as a player for the JV team during undergrad, and that helped me get an idea for what the MBU volleyball culture was like," said Matsushima, a spring 2021 graduate who received a bachelor's degree in psychology. "When Colton and I took over this season, we both had experience with the team, Colton more than I, and we envisioned along with Tom Young where we would like to see the program go. The volleyball knowledge and level of coaching is high for Tom and Colton so it has been great to work with and learn from them."
Since the beginning of the 2022 season, Albers and Matsushima have utilized each other's knowledge and skills of the game to coach the JV men in doing their best both in practice and during games.
"I couldn't do what I do without Kolby. Kolby sees the game like no other, analyzing the best next steps. I make the same promise to the guys every day. If they are willing to show up on time and give 100 percent of their effort, I promise to give them the same effort in return in making them the best version of themselves both on and off the court," said Albers, an MBU college admissions counselor from Centralia, Illinois.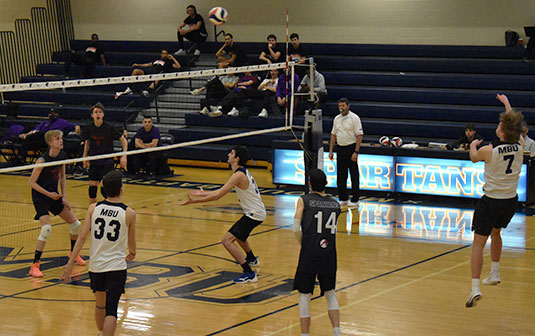 Bouncing strong leadership off of each other, Albers and Matsushima strive to create a winning team, but they understand winning isn't everything and demonstrate that creating a strong team dynamic is what facilitates a successful team. 
"Something Colton and I emphasized from day one is that we want to see each individual on the team grow, both as players and as young men," said Matsushima, an MBU school counseling graduate student and graduate assistant for MBU's Student Life and ResLife. "We emphasize through practice that we want every person to dial in to something and improve, whether it's a specific skill, a concept or their mentality/attitude. With this growth emphasis in mind, the players seem to be wanting to get better for themselves. Guys talk amongst each other during practices and games and help each other out, which has helped with our cohesiveness and helped them be more motivated as a whole team."
The men's JV volleyball team hasn't had many games this season, but they have played every game to the best of their ability and continue to grow with the new coaching instruction they have received. 
"We unfortunately haven't had too many games this year due to cancellations and what not, but from what I've been able to witness in the few games we have had and the many practices we've completed, is that this group has a really high ceiling," said Matsushima, who is from Kaneohe, Hawai'i. "We've got some really high energy guys, some really skilled guys, and some other blending pieces that makes this team pretty unique. They've definitely gotten better since our first day with them, and it's exciting to think how good they can become as long as they continue to work hard."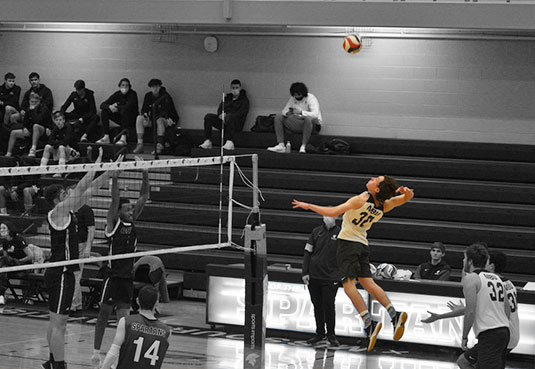 Though the JV team has not won any games this season, they have gotten close to coming out on top. They played the University of Health Sciences & Pharmacy on Jan. 21, 2022, at MBU with the final score being 2-3, Missouri Valley College on Feb. 15, 2022, at MBU, ending in a loss of 0-3, William Penn University on March 11, 2022, at MBU, resulting in a 2-2 tie, and at Missouri Valley College on March 15, 2022, losing 2-3.
Albers and Matsushima wanted the team to simply play a competitive game this season, reassuring them that it didn't matter to them whether or not the team lost, they wanted the men to play their best and to have fun.
"The boys have shown tremendous resilience throughout this season," said Albers. "I've truly enjoyed getting to know these guys and watching them mature. Cohesiveness as a team has improved greatly. The work ethic I've seen has been greatly appreciated and I think the skill level has improved as well. I can't wait to see what these guys go on to accomplish in the years to come. Every single one of them has potential and has proven that time and time again."
Upon wrapping up their 2022 season, the men's JV volleyball team played well by working together to execute the coaching that Albers and Matsushima provided. 
"I think right now as we are finishing up the year, is where I think everyone wishes we started this season. The changing of coaching directly changed our attitudes toward the game," said Seyer.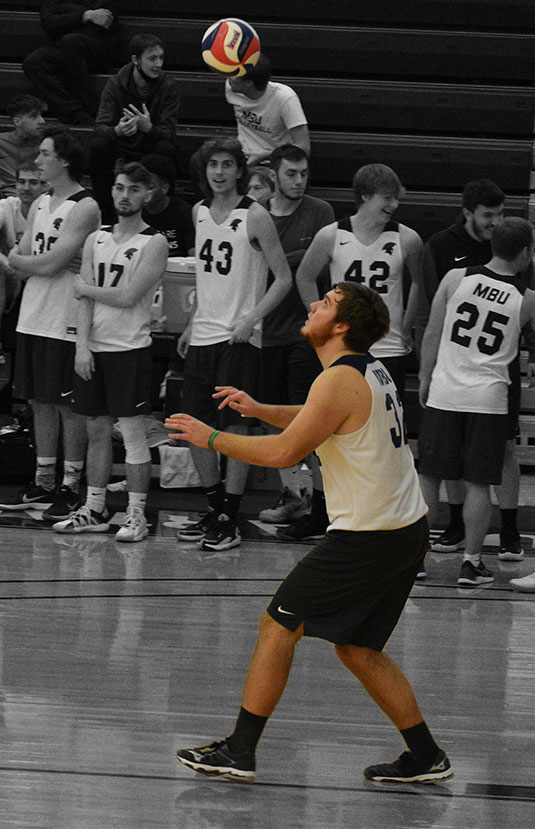 Understanding that team fellowship is just as important as competitive game play, the men's JV volleyball team has exponentially developed into a cohesive team this year due to the coaching of Albers and Matsushima.
"There has been some tremendous growth on this team this year, and that makes it all worth it. It's a great feeling when something we've coached clicks for a player, when they can take what's being said and apply it or see why it is the way that it is," said Matsushima.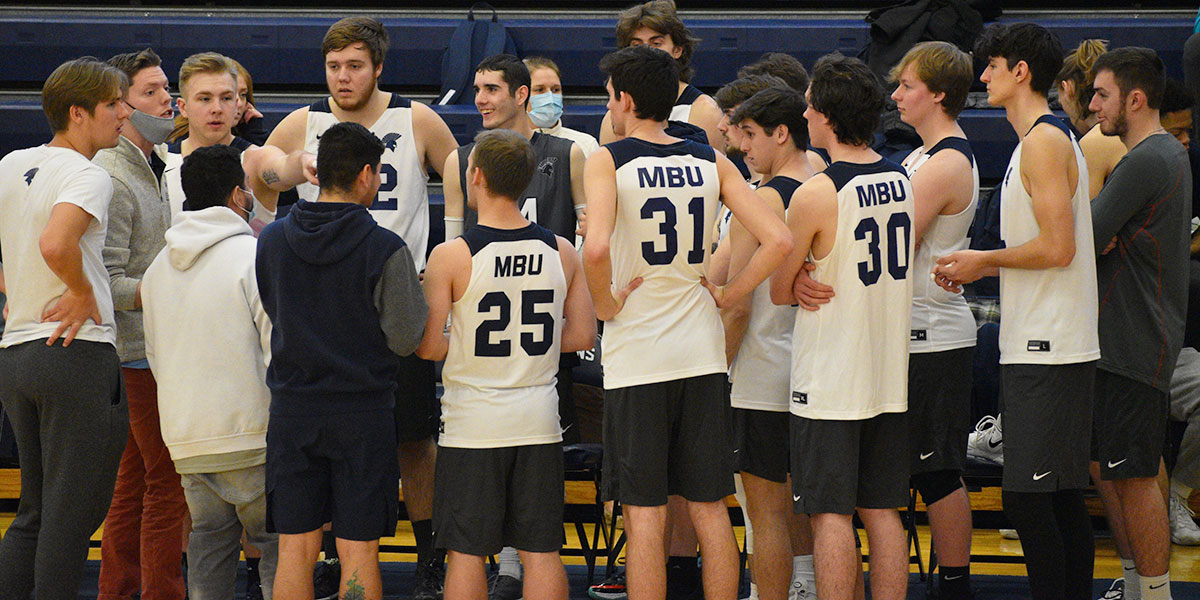 During a timeout the men's JV volleyball team members gather around their coaches Colton Albers and Kolby Matsushima as they receive instruction during their game against the University of Health Sciences & Pharmacy on Jan. 21, 2022, at MBU.     Photo by Jessica Kunkel