Lindsay Mills is a Christian wrestler who is passionate about spreading the love of Christ within her sport and on her team at Missouri Baptist University, pinning disappointment to the mat and choosing to replace it with the victory of encouragement for her teammates.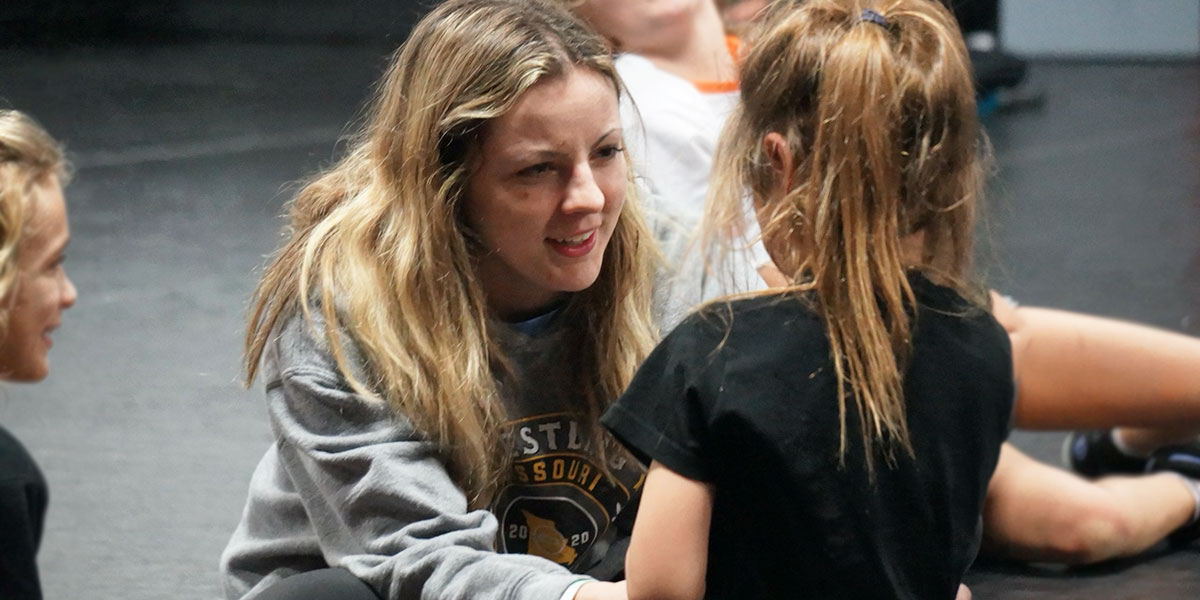 The kind and gracious attitude of Lindsay Mills helps her coach young wrestlers at Purler Wrestling Academy in Moscow Mills.      Photo courtesy of Lindsay Mills
__________________________________________________
"So whether you eat or drink or whatever you do, do it all for the glory of God," reads 1 Corinthians 10:31, a verse that reminds Missouri Baptist University wrestler Maddie Oellermann of her friend and teammate, Lindsay Mills, who exemplifies this verse each day when she hits the mat to compete.
Mills, 19, a sophomore biomedical major and aspiring veterinarian who loves dogs, is dedicated to studying and researching animal anatomy while working toward her goals.
But most importantly, Mills focuses on her spiritual growth.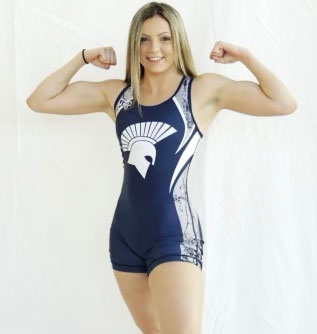 "She has a heart to know God. She wants to study the Bible, she wants to learn more about him and that's something I admire about her," said Oellermann, 21, who wrestled for three years and has a strong faith, making her a mentor and friend to Mills.
Mills went to church as a child but her family stopped attending when she was 10 and she began to feel distant from her faith.
"My senior year of high school I was in a pretty dark place," said Mills, who is from Festus, Missouri. "I started going to church with a couple of girls on my cheer team and I was saved. I was listening to 'Another in the Fire,' they were playing that in the background, and the lyrics really hit."
She was saved after experiencing God's extreme forgiveness and the realization that she was not living the life she was called to live.
During her junior year at Festus High School, Mills connected with wrestling, a sport she had never seen until sophomore year when she attended a wrestling match and was immediately intrigued, pushing her to try it because she hated the idea of leaving high school wishing she had.
Mills expressed it is difficult to be a Christian in wrestling because your whole sport revolves around fighting others, but as a Christian we are called to turn the other cheek and respond in love.
"One of the main things is just love. Sportsmanship is super important and honestly hard to have in wrestling because girls are literally trying to beat you up, so it's definitely approaching situations with love and grace and all about how you conduct yourself because it's really easy to lose your cool whenever things are getting hard at practice," Mills said. "What Jesus commanded us to do most is love, and I think that is one of the best ways that you can really be God's wrestler – to be a wrestler that approaches the sport and other people with love even on the hard days."
Kirwyn Adderley, coach of Mills and the rest of the MBU wrestling team, recognizes her loving attitude toward her teammates.
"She is always willing to assist and listen to her teammates. She will go out of her way to help anyone on the team," said Adderley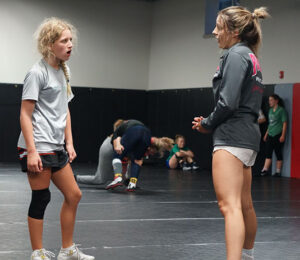 Her coach has also noticed the passion Mills has and said she is easy to coach because of her attitude.
"Lindsay is very passionate about wrestling and has the willingness to keep learning," said Adderley. "She is very coachable, and this has helped her learn and grow in the sport."
Oellermann, a junior elementary education major at MBU who although no longer wrestles with MBU, remains a close friend to Mills, noted Mills has persevered through many challenges but has yet to give up.
"It has pushed her to be stronger in her faith, learning to say the gospel with your words and know how to share it with people," said Oellermann. "I think she's become an encourager."
Mills agreed that encouragement toward her teammates is one of her spiritual gifts and a mission opportunity.
"You can tell there is something different about the way I wrestle," said Mills, "and honestly those practices that are really hard, one of the ways I minister to my teammates is just approaching them with love, and practices that are hard where we're getting drilled into the ground, just maintaining a positive attitude and knowing in myself where that attitude comes from."
Teammate Emma Schrieber, a freshman business administration student, appreciates the constant joy and positivity Mills brings to the team.
"Lindsay always makes me laugh," Schrieber said via text message. "She understands how hard we all work and sometimes we make mistakes. Instead of being disappointed in us she chooses to help us smile and learn from the mistakes."
She also encourages young wrestlers at Purler, a wrestling camp where she coaches girls between age 7 and high school.
One girl, 9, was reading a comic book and Mills told her the only book she reads is the Bible.
The girl started asking questions and if she had a Bible with her. Mills happened to have one and is thankful God provided her with the opportunity to share her faith with this young wrestler.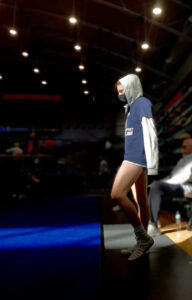 She took the time to tell the girl about the Bible and what it meant to her as well as what it looks like to be God's wrestler.
Something that defines Mills as God's wrestler is her purpose.
"She knows her purpose," said Oellermann. "She knows she's there to be a light to her team. She has said things have gotten hard but she knows she's there to glorify God."
Mills has a heart to serve and a constant desire to know God although she sometimes struggles to find the time to grow intimately with the Lord, juggling wrestling with a 20-hour course schedule.
"I don't get to sit down every day and study the word for 30 minutes but it can look like praying as you walk to class, spending time with God as you walk to practice every day, even during practice, just talking to God."
Her love for music has helped with this because often she has worship music on while getting ready or doing homework. Not just hearing the lyrics but reflecting on them.
"Hearing the lyrics truly and reflecting on those is probably one of the most practical ways that I spend time with God every day," said Mills.
However, Mills is still persistent in her walk with God, and Oellermann expressed that she can testify to Mill's drive when it comes to her faith.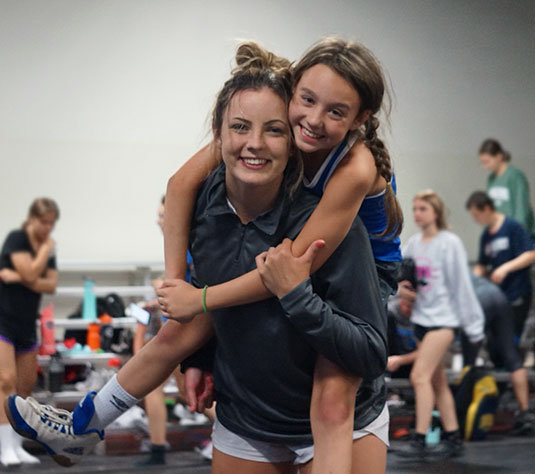 "She had me waking up at 6 a.m. a few times to study the Bible," said Oellermann, "and I think in some ways she looks up to me and that pushes me. She asks me hard spiritual questions and that pushes me to become better for her and be able to answer the questions."
Mills would most likely not be at MBU without wrestling and the strength it gives her. Her wrestling has encouraged her to share the gospel and learn to say the gospel with her words and actions.
The community and fellowship that comes from faith have been a significant support to Mills as well as an eternal hope.
"Even in your toughest times, even in all the crap that's going on, I can still have hope and I still have community that's going to be there for me every step of the way."