The Missouri Baptist University men's basketball team has been dominating competitors all season long as they travel to Louisiana to begin the NAIA Basketball National Championship. According to head coach Preston Ingram, a victory against Louisiana State University Shreveport is possible but will require massive amounts of focus, discipline and determination.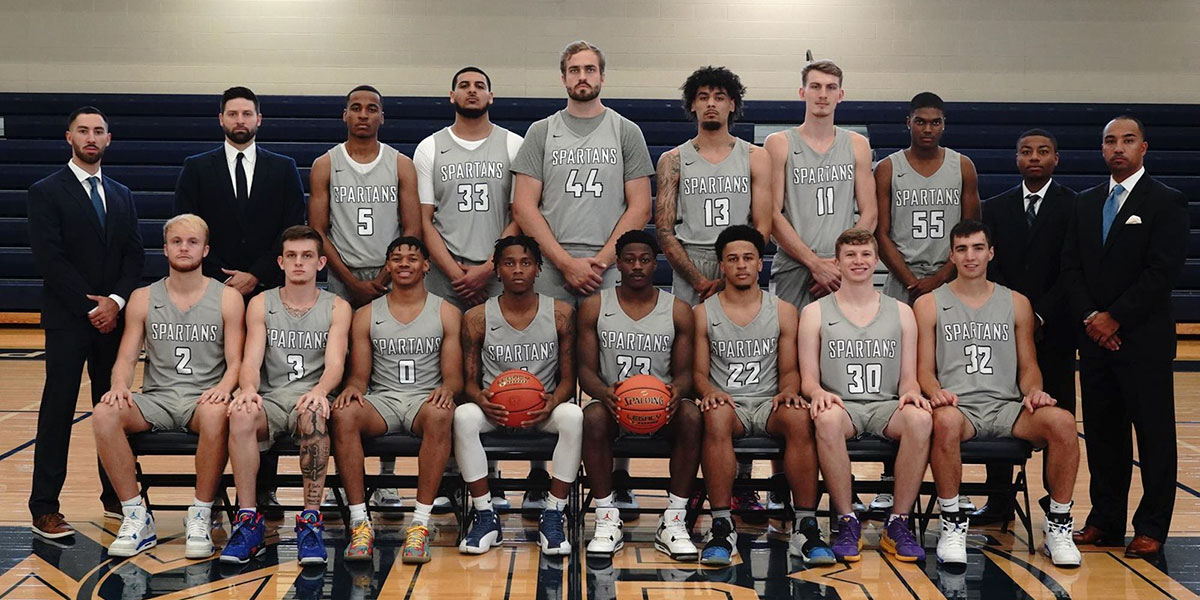 Left to right (back row): Taylor Jarvis, Chris Forrest, Gerald Moore, Mujtaba Alkhaldi, Ryan Pollard, Daishaun Woods, River Reed, Mo Bettis, Hasaan DeCarolis and Coach Preston Ingram; left to right (front row): Brendon Hardy, Ray Adams, Tyrell Andrews, Jadis White, RJ Pair, Billy Francis Jr., Luke Hicks and John Yaeger. The team plays LSUS Friday, March 11, at 7:30 p.m. local time, in their opening round game, which will be live-streamed on LUSA's Generals Sports Network.      Photo courtesy of MBU Athletics
__________________________________________________
Boasting an impressive 26-5 record, the MBU Spartan basketball team has proven themselves a force to be reckoned with as they make their way to the Rapides Parish Coliseum for the opening round of the NAIA National Basketball Championship against Louisiana State University Shreveport.
Preston Ingram, who became the 14th head coach of the men's team in May 2019, said in an email that the team didn't qualify for nationals from standing by and coasting off the energy of the fans. They have come this far by hard work and perseverance.
"This upcoming game will be challenging for us," said Ingram. "LSUS is a very well-coached and athletic team that can score in a variety of ways. We will need to be disciplined and make them work on defense for us to score."
With the Pilots' equally impressive record of 23-7, according to lsusathletics.com, and with team leaders like Leondre Washington, who averages 16.6 points per game, and Royce Hunter with 14.9 points per game, the Spartans are determined to demonstrate they are up for the challenge.
"LSUS is a great team and poses a lot of different challenges for us. But we have one of the best coaching staffs in the country and they have us playing our best basketball at the right time," said John Yaeger, a graduate student guard from St. Louis. "The only thing we can do is over-prepare and execute our game plan to the best of our abilities and everything should work itself out."  
It's not just Ingram who is stoked about the Spartans' first chance for the national title since 2019, the players have also sent messages expressing their excitement about having a spot in the tournament. 
RJ Pair, a graduate student guard from The Colony, Texas, who averages 2.1 assists per game, said he felt it was an appropriate ending to his college basketball career.
"With it being my last year of collegiate basketball and to compete at the national level is a blessing," said Pair. "In my previous years, I didn't get the chance to really compete for championships and I can't be more grateful to do it in my last year. LSUS is a great team with great athletes and I am looking forward to competing and proving why we deserve to be in the tournament."
The Spartans deserve to be in the national tournament after winning the American Midwest Conference outright, then winning the AMC tournament for the first time in 17 years, beating rival Columbia College Tuesday, March 1, in the Carl & Deloris Petty SRC, hanging on to a 66-65 victory after a game-winning shot by Yeager.
Ingram, who was named Coach of the Year in the AMC, is also aware of the history of MBU basketball in national tournaments and the significance this win would bring.
"For the history of MBU basketball, the game has a very high significance to it as if we do win that game, that would be the first-ever win in the national tournament in school history," said Ingram. It is also the first time since 2005 that MBU has won the AMC conference title and the conference tournament in the same season.
"That would be something special to our players and program for years to come. That is something that we have talked about since the first day that we got together was doing something that has never been done before in the history of the school."
Jadis White, a junior guard from St. Louis, said he couldn't have gotten to this tournament without the work he put in as well as the trust and support of his friends and teammates.
"Making it to the National Championship means everything to me. It shows upcoming athletes that may be considering MoBap that hard work pays off at every level," said White. "My teammates and I have learned to trust and lean on each other on and off the court. Most importantly this journey has shown me that with hard work and trust anything is possible. More importantly, I'm just happy to be a part of something special because my teammates  and coaches deserve this opportunity."
As a senior guard, Brendon Hardy from Farmington, Missouri, said, "Anything can happen in March and I'm confident that we have what it takes to do something special."
Hardy, who averaged 12.8 points per game, and Yaeger, averaging 11.8 per game, earned First Team All-AMC honors, while Pair was named to the Second Team and White made the Third Team as well as the All-Defensive Team, along with River Reed.
Friday's matchup between the Spartans and the Pilots will be live-streamed at 7:15 p.m. CST on LSUA's Generals Sports Network.