There's so much more to coaching a football team than fitness, games and practices. Elbert Kern is a God-fearing man who not only coaches his team on the field, but coaches them through the challenges of life.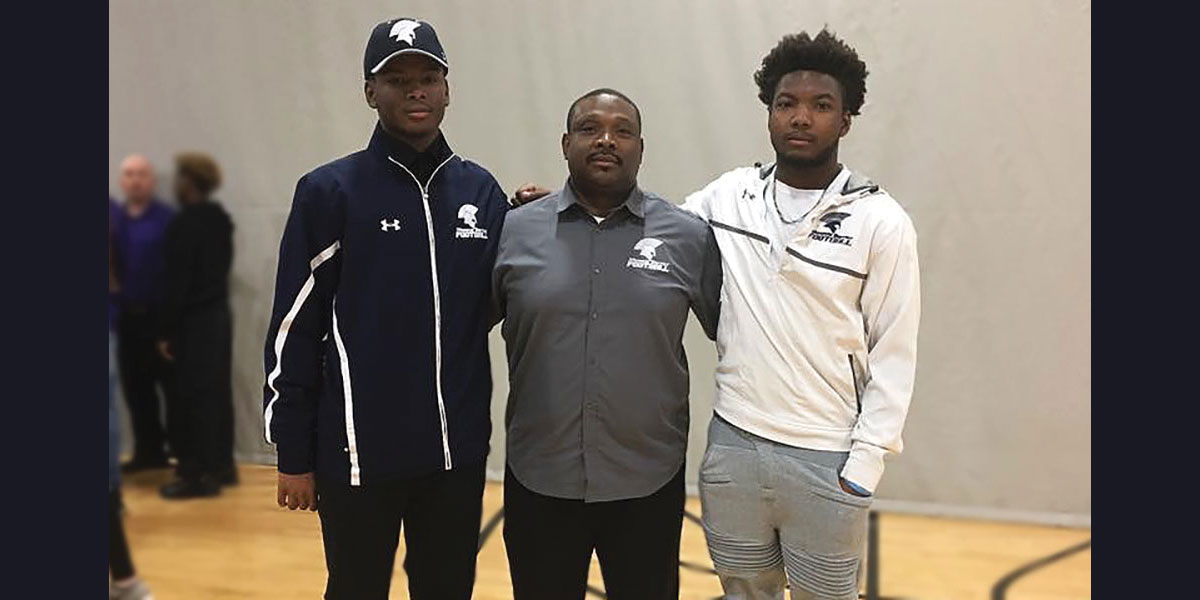 Photo courtesy of Elbert Kern
Elbert Kern (center), in his sixth year as assistant MBU football coach, stands with his sons, Zach Kern (left), sophomore sports management major, and Malik Kern (right), junior sports management major, who both play football at MBU.
___________________________________________________
Walking into Elbert Kern's office, there are two visible sheets of paper posted above his desk, one with a "prayer for hard times" written at the top, and the other, "Bible emergency numbers," which has a list of Bible verses for players to read in difficult times.
"I believe faith only works if you work it," Kern said in an email. "I expect God's best for my life every day through faith." 
Kern moved to St. Louis from a head coaching position at Springfield Southeast High School in Springfield, Illinois, in 2014, to pursue his dream of becoming a college football coach.
Kern accepted the role of assistant football coach for Missouri Baptist University in 2014 after meeting MBU's then-future head football coach, Jason Burianek, through a mutual friend, Pat Baker, assistant football coach for the Kirkwood High School Pioneers.
He knew it was the right time to make the move, not only because this would open the door to the scene of collegiate football, but because it would also provide a more secure future for his family – Kern is married with two sons and a daughter – and, as a bonus, he'd receive tuition concession for his children's college careers.
Both of Kern's sons, Malik and Zach, play football at MBU.
Kern wears multiple hats as an assistant coach, which include fulfilling the roles of running backs coach, special teams coordinator and academic success coordinator, in addition to recruiting players for the MBU Spartans throughout the year.
As a Chicago native, Kern attended Steinmetz College Prep school on the northwest side of Chicago, where he played football four years. In 1994, after graduating from North Park College in Chicago, he served as head football coach.
Kern was at Steinmetz College Prep School from 1994-2007, where he served as the athletic director, dean of students, head football coach and brought the team to winning the Chicago Divisional Title in 2006 for the second time.
In 2007, Kern left the Chicago Steinmetz to build Chicago Academy High School's football program from the ground up, leading their second-year varsity program to a conference co-championship in 2007 and again in 2008.
When the crime rates peaked in Chicago, Kern decided in 2014 to move his family out of the city to Springfield, Illinois.
"It wasn't just violent anymore, it was getting vicious," Kern said. "So we relocated to a smaller and somewhat safer environment."
As his final high school coaching position before transitioning to the collegiate world of football, Kern began coaching the Springfield Southeast High School football team from 2009-14, where he led the team in breaking a 2002 record.
The joy of the game of football has been part of Kern his entire life, beginning as a young boy playing little league ball in Chicago, then playing high school football at Steinmetz College Prep School from 1984-88, then college ball at North Park College from 1988-92, where he played four years as the tailback and fullback for the team and earned Team MVP in his senior year.
The youngest of eight children, with six sisters and one brother, Kern said his father sent five out of his eight children through college on a trucker's salary.
Kern graduated from North Park College, now known as North Park University, in 1993, with a degree in physical education and a master's degree in teacher leadership in 2003.
He said he's always loved the game of football, and he grew up watching Walter Payton, who played for the Chicago Bears from 1975-87 and entered the Pro Football Hall of Fame in 1993.
In little league ball, he wanted to play strictly defensive tackle, but that changed in his freshman year of high school when he began to transition into both defensive and offensive line, leading to his final position of running back in his sophomore year of high school.
Once his playing career was over, coaching still gave him the chance to stay involved in something he loved so much, as well as share his expertise with young people.
"In a big picture, it always had been my dream to coach at the collegiate level," said Kern, who was actively looking to be a collegiate head coach in 2012 when he heard about MBU starting a program.
Since most colleges required college level coaching experience, Kern found it it difficult to find a college coaching position, but everything changed when he met Burianek.
"How can you gain college experience if nobody wants to give you the opportunity to gain that experience?" Kern said.
Burianek was willing to give Kern the opportunity from the start to grow, gain some experience and learn how to build a college team.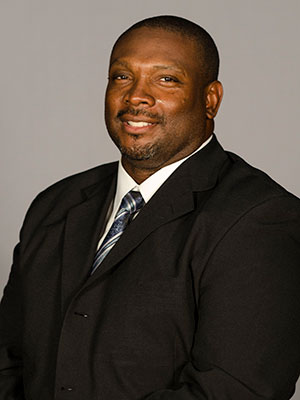 "He's a guy who wears many hats and is a hard worker and loyal person," Burianek said. "He is a man of character that loves the Lord and in turn is a mentor that puts our athletes first. He is a trusted friend and colleague that makes our university better."
Kern works with kickoff, kickoff return, punts and punt returns, and assigns each coach their responsibilities for each team by determining their individual skill and experience.
Throughout the week, the coaching staff goes through recorded practice film from the week to critique how they can improve as a team.
During season, MBU football coaches work Monday through Friday from 8 a.m. to 5:30 or 6 p.m. Saturdays are game days and Sundays, after church, the coaching staff meets around 2 p.m. to go over game film from the day before.
"You are writing your resume during the week and come game time, that's the test. You are studying for that test," Kern said.
He likes the small college environment that MBU has to offer where "everyone knows you by name as opposed to by a number," Kern said. "That's what I really like about working here at MBU, and the coaching staff is like your brothers. We are here to help each other out and to help each other get better."
As a Christian university, MBU football has weekly Bible studies and devotionals the Spartans work through together.
"Some players have never attended church or have been exposed to God's word," Kern said. "I have to be careful with over-coaching them to become believers and allow them to slowly develop their faith by giving and posting verses that they can read and or refer to in times of need. … Comfort food."
Kern expressed that working at a Christian institution allows him to share the love for God without being frowned upon.
"Christianity became real to me in 1993 when I was baptized into the African Methodist Episcopal Church, that's when I began learning the true love God has for me," Kern said. "As time went on, my devotion to God grew, my knowledge of His word grew and I have learned to be bold and live by faith."
Kern's constant goal is to motivate each player with transparency, positivity and with the mindset of "say what you mean and mean what you say."
He strives to be open and honest with his players because "it's the only way for growth, not to belittle them, but just to tell them the truth," Kern said.
Striving to produce positivity within his players creates not only great athletes, but also great people.
"Coach Kern has helped me a lot," said Rahkeem Hawkins, a sophomore exercise science major at MBU, who plays defensive end for the Spartans. "I've known him since I was 12 years old and he is one of the main reasons I am where I am today with football, school and getting me to a better place."
Kern said the most rewarding aspect of being a coach is hearing the athletes say, "Coach, thank you."
Kern's players said he not only coaches them the game of football, but he also teaches life skills.
"Coach Kern has taught me the value of focusing along with bringing your all," said Samuel Lemon, a sophomore exercise science major at MBU, who plays on the defensive line for the Spartans. "Despite how hard a task may be, anything can be overcome."
According to Kern, his door is always open.
"I am that person they lean to."