After a season that started in the balance for the MBU women's soccer team, with no wins and disagreements even among players, the team pulled together, bonded and ripped off a 10-game winning streak, concluding with a trip to the AMC Championship game.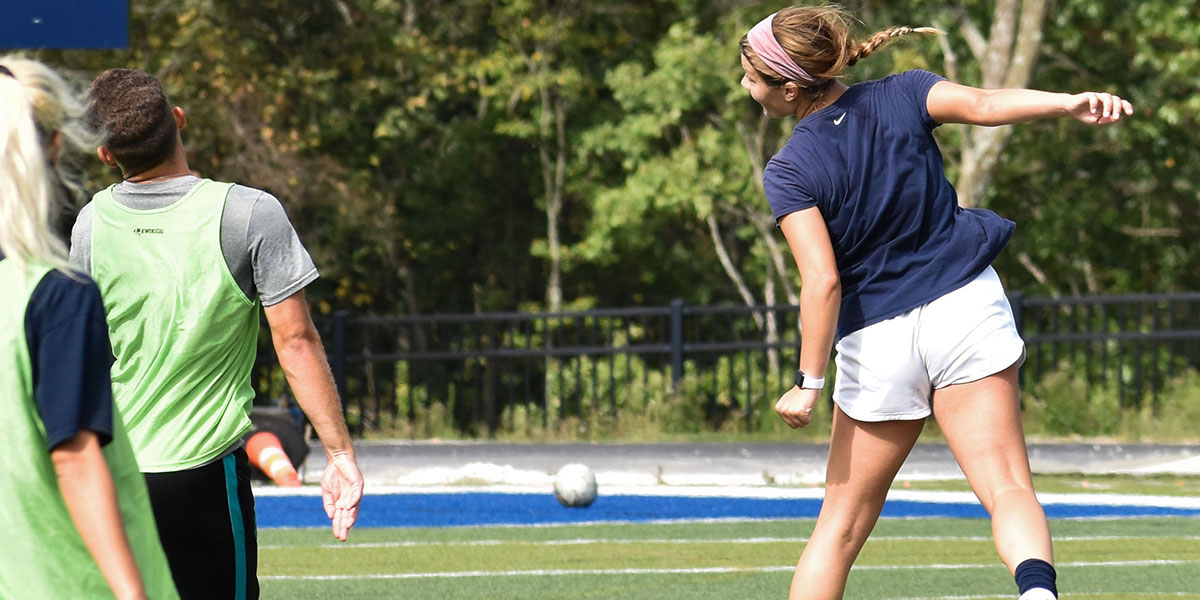 Photo by Stacy Rohan
Hailey Hickerson, sophomore from O'Fallon, Missouri, attempts to head-ball an incoming high pass in a mini scrimmage during practice. The Spartans finished the 2019 season with an 11-9-1 record, and six Spartans were named to the All-Conference team.
___________________________________________________
Selfish. Divided. Cliquey. 
These were some of the words that were anonymously written by members of the 2019 Missouri Baptist University women's soccer team when asked to describe this year's group of girls in three words.
After losing seven games in a row to open the season, the entire women's soccer program was at a complete loss, about ready to just write the year off as a "rebuilding year," especially since there were only 11 girls who returned from last year's successful, NAIA Nationals-bound team. 
That's when graduate assistants Alexis Baez and Lauren Krebs, two former MBU soccer players, decided to look more closely at what was happening off the field, while everyone else was looking at what was wrong on the field.
"There was constant criticism of teammates from the bench players, no confidence in each other and it honestly felt like no one wanted anyone to succeed. Everyone was playing for themselves and there was no family feel," Baez said.
After losing to Harris Stowe in overtime on Sept. 17, which left a bitter taste in the mouths of many players, the first female-soccer psychology meeting took place, and it was one where a lot of issues were addressed in a safe and non-judgmental environment. 
That hour-long session led to a small change in perspective among many, and that shift became evident against William Woods, a game that took place just a few days later on Sept. 21, which resulted in a 3-0 win, the first win of the season. 
"I think before, when we were losing, we were sort of turning against each other, but after we won that game, we realized that we have the power in our hands to do well together and win," junior forward Madison Dodd said. 
Shortly after the victory, MBU turned around and tied St. Louis College of Pharmacy on Sept. 25, then lost 4-0 to Columbia on Oct. 2, which was disappointing, but the season was still on an upward swing despite the lack of more wins. 
"The dynamic of the team was so different. … The bench was on their feet the whole game cheering everyone on and everyone was fired up. It was a small change, but I knew we were heading in the right direction," Baez said.
That inference proved to be correct, because after the Columbia loss, MBU women's soccer went on a 10-game win streak, the longest win streak in program history. 
Among these wins was a 2-0 defeat of Lindenwood-Belleville on their senior night on Oct. 23, along with three other spoiled senior days for opponents, like an exhilarating 2-1 overtime win at Park on Nov. 2, and one successful senior day for MBU that consisted of a 5-0 win against Freed-Hardeman in the freezing cold rain at Spartan Field on Oct. 26. 
"In general, the win streak was the best thing to happen to the team because it helped us maintain that winning mentality throughout the rest of the season," said senior goalie Jemica Artillaga.
Artillaga was one of the many players who saw lots of individual success this year, recording seven shutouts as well as being named the AMC Defensive Player of the Week twice during the season, which made it four times in her two-year MBU career.
In front of Artillaga was an experienced, tight knit backline, consisting of returning seniors Allie Heinz, Jackie Hagan and Brianna Merchant, and junior college transfer junior Hannah Leahy.
"Watching the four of us mesh was like watching a caterpillar grow into a butterfly. It was a lengthy, challenging process, but the result was sheer beauty. … It was very special to be a part of that growth," said Heinz. 
Finally, this team was full of offensive threats, including steady center midfielder and designated penalty-kick taker senior Nicole Talley, or the dangerous freshman duo of Maddie Mrazik and Madi Dunahue, who came from the same club soccer team and had a chemistry that was hard for almost any team to stop.
The team unfortunately fell to Columbia in the AMC Tournament Championship after beating LU-Belleville 1-0 in the first round, and then William Woods 3-0 in a snowy, second-round game, but on the bright side, it was the first time MBU had gotten so far in the postseason since 2014. 
"During the start of the season, we found it difficult as a team to gel together because we were a team in words but not in actions. It took us getting knocked down before we realized how much we needed each other," said Head Coach Deno Merrick. "Seeing the players mature throughout the season was well worth the difficult start we endured." 
This year's women's soccer team was historic, and even though many of the girls would agree this season didn't end the way they wanted, there are many positives to take away and build on for next year.
"I'm looking forward to seeing the impact that this year has had on the team going forward. I'm hopeful that, as a group, we learned from this," said Merrick.