The MBU women's volleyball team looks to top off a terrific season with a National Championship.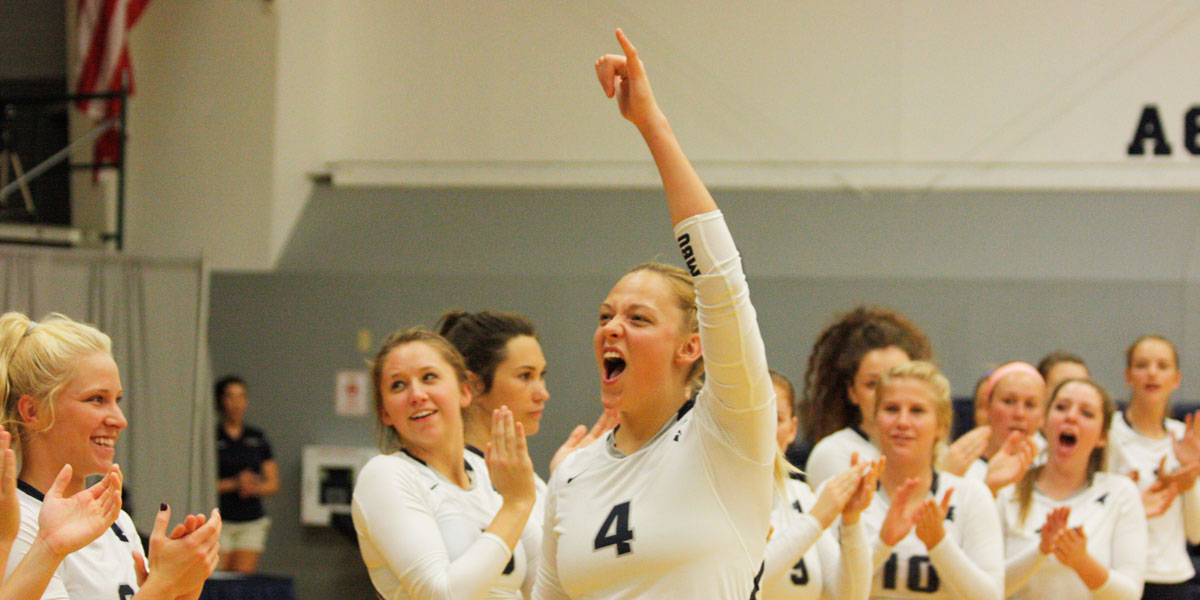 Photo by Katie Green
__________________________________________________
By TREY RICHARD
With trips to the NAIA National Championship for four years (2005, 2006, 2011, 2012), here at MBU, volleyball is one of the most exciting and successful programs the school has to offer.
This year, once again, the Lady Spartans are no strangers to a winning atmosphere, holding a No. 2 national ranking and finishing the regular season with a brilliant 33-3 record.
The red hot Spartans also finished undefeated in their conference with a flawless 12-0 record.
Due to their major success this year, the Lady Spartans have proved they are not the team to mess with this year by being nationally ranked at No. 2.
During his time at MBU over the past 10 years, Coach Chris Nichols has helped lead the women's program to a 304-103 record. After spending six seasons as head assistant coach and two as the associate head coach, Nichols finally became the head coach in 2013.
Nichols helped lead the team to the school's first Final Four in the 2005 National Championship Tournament, an Elite Eight in 2006 and 2014, and to the NAIA National Championship Finals in 2011 and 2012.
Nichols said one key to the team's success this year has been its strong collective work ethic.
"Well, all of our girls work hard and put in the 100 percent effort required to win games every day in practice," Nichols said recently. "We hold them to a high standard because we all know what they're capable of, and when every player on our team can buy into what we coach them to do, especially the little things? It's pretty tough to beat us."
Nichols also enjoys watching his players' love of the game and love for each other.
"Just the fun these girls have on and off the court is the best thing to watch for me as a coach. There's never a dull moment with this group of girls, they all care for one another as if they were all raised under the same roof," Nichols said. "Their bond is that strong and it's just so awesome to watch them succeed together as a group."
During any time throughout the week, a student can walk into the SRC and see just what Coach Nichols is talking about.
The Lady Spartans are always in the gym looking to get better and they have fun while doing it at the same time.
Senior student-athlete and team captain Haley Pouliezos, who was recently awarded the conference defender of the week, enjoys the camaraderie.
"When you can be a part of a team who loves to joke around, have fun and treat you like family all while dominating on the court as a whole, it doesn't get much better than that," Pouliezos said. "I love my girls."
Additionally, she also touched on the adversity the team has had to deal with throughout this long season.
"Unfortunately one of my teammate's parents had a tough battle with cancer and that left her devastated for awhile. To be honest it kinda took a toll on the whole squad because it was hard for us to visually see how it was affecting her," Pouliezos said. "But as her teammates, we felt obligated to be there for her as her support during this rough time in her life."
It is amazing to see such a strong bond between teammates and watch it reflect their play on the court.
As the postseason nears, the Lady Spartans have their minds set on one thing and one thing only, a National Championship to bring back home to MBU.
"In the postseason, you have to take it one game at a time. As a team you need leadership, attention to detail, effort, consistency, and a little bit of luck to be successful throughout these playoffs," Nichols said. "We definitely have the talent. I think if there was any other year that our program would finally win its first National Championship, it would definitely be this team."