MBU finds a feud with a team across the river, Lindenwood-Belleville University.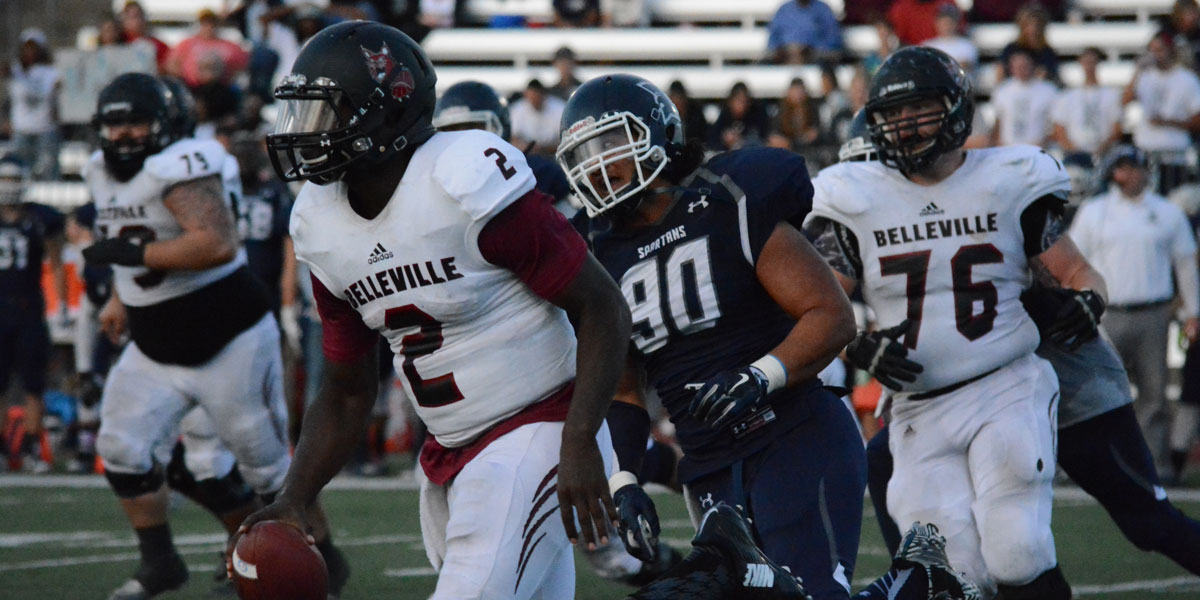 Photo by Ryan Rerich
Sophomore Henry Espenesa pursues the Lynx quarterback.
__________________________________________________
By CAM COSEY
The Missouri Baptist University football team is still in its infancy, having only one full season in the books.
However, in that short span of time the team has seemed to start a rivalry with the Lindenwood-Belleville University Lynx, whose program in comparison to MBU is a toddler, this being their fourth season in existence.
Both programs struggled this season as MBU finished its sophomore campaign at 0-10 and the Lynx finished 4-6, beating the Spartans Oct. 10, 42-21.
The MBU Spartans had the new rivalry game circled on their calendars since the season's inception. Jason Burianek, in his second year as Spartans' head coach, said he believes the game to be special.
"Of course we play hard for every game, but man there is just something about rivalry games," he said.
LUB and MBU have some familiarity with each other because many of the students have attended the same high schools, and live in the Greater St. Louis Area, the only thing that separates them is the Mississippi River.
In preparation for the rivalry game last month, the team started the week by having the scout team warm up on the opposite side of the field, as well as doing their own chant and having Coach Gilbert White be the "head coach" for the scout LUB Team.
"Sometimes it is good to switch things up in practice to get everyone fired up," said White.
Freddie Jackson, a captain of the MBU football team, said he was looking forward to the game, believing it to be a "must-win game."
"It's a lot of fun, I mean we know a lot of those guys over there and it adds a little fuel to the fire to line up against some high school friends," Jackson said.
Both teams are a part of the Greater St. Louis Area, and many of the players have played on the same high school football teams or may have been at rival high schools in the past, which makes for a more interesting contest.
With both programs being in their beginning stages, the table was set for a full-blown, exciting rivalry. Even though the Lynx doubled the score against the Spartans, it was one of the Spartans' closest scores of the season.
As the MBU team regroups for next year the Spartans will look for the date they meet the Lynx again in what could be a solid rivalry for years to come.