Eight players from Norway, England, Brazil, Serbia and Colombia explain the differences they find between life in the American Midwest compared to life in their home countries. While they miss their homes, they are finding a sense of community on the MBU campus.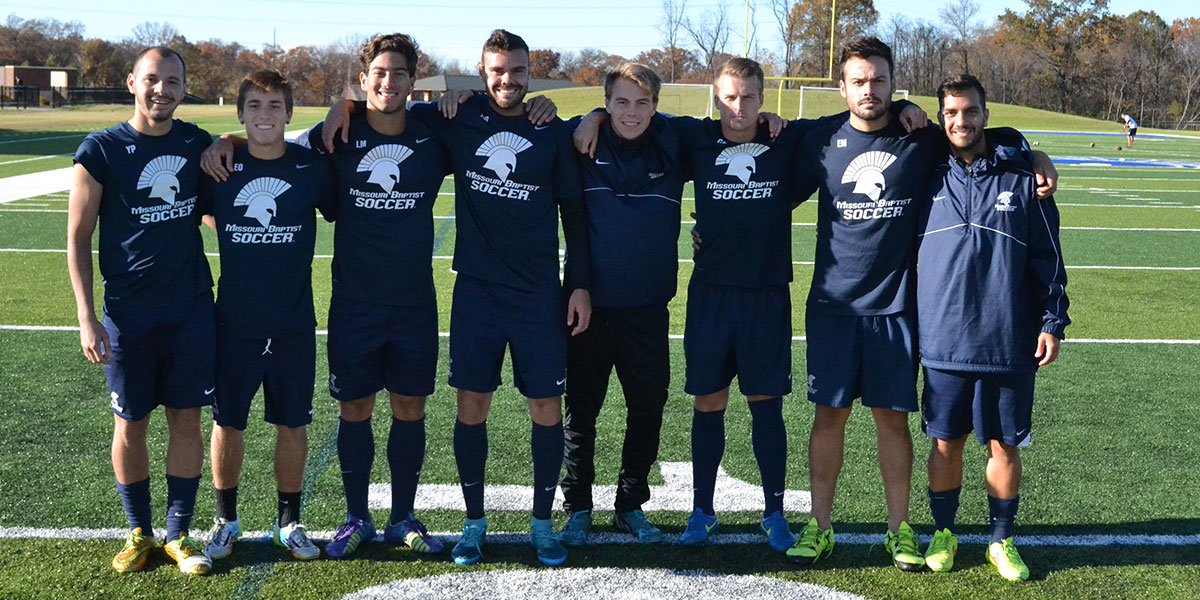 Photo by Chad Otec
Pictured (left to right) are Yuri Pecanha, Erick Ocampo, Luka Milcic, Rafael Rangel, Mats Mehus, Connar Armstrong, Eduardo Mendes and Thales Teixeira.
__________________________________________________
By CHAD OTEC
Imagine moving halfway around the world, imagine chasing a better chance at success, imagine being able to count the number of people you know on one hand.
That is exactly the situation for many of the Missouri Baptist University men's soccer players.
There are eight foreign players on the varsity roster: Mats Mehus from Norway, Erick Ocampo from Colombia, Connar Armstrong from England, Luka Milcic from Serbia, as well as four Brazilian players, Yuri Pecanha, Thales Teixeira, Rafael Rangel and Eduardo Mendes.
Coming to America definitely has its ups and downs, but the players feel as if the possibilities of success here outweigh the sacrifices made.
The transition from life in Brazil to America has been difficult for Pecanha, from Rio de Janeiro, due to the language barrier he faces.
"Being around people that have a different culture, and speaking a different language, especially because we are not fluent. It takes time to adapt," he said.
Pecanha has not been alone in his transition to the United States, as he is accompanied by fellow Rio de Janeiro natives Mendes, Rangel and Teixeira. The four Brazilians appear as a family on and off the field and it has made living here much easier for them.
Collectively, all of the international players miss their families from their native countries as well as the food and nature.
Armstrong misses the grass in England, Mehus misses the sea and mountains of Norway, while Rangel misses the beaches of Brazil.
With all of these obstacles off the field, the challenges these athletes face on the field are often forgotten. The game is very different in the United States compared to other countries, and players often have a tough time adapting.
Armstrong, a native of Liverpool, England, explained, "The style of play here is slower, there's a lot of negative balls, the play is not end to end," meaning the play there is more attack minded and toward goal, while negative balls mean playing the ball backward to reset your offense.
Mehus also touched on how the game is different in America as opposed to his homeland.
"Soccer is more technical in Norway, where here in America it seems mostly about physical abilities," Mehus said.
Milcic and Rangel agreed with Mehus when it came to how they felt the game in America was more focused on speed and strength as opposed to players being skillful and intelligent.
While most American soccer programs include a focus on weightlifting, Milcic said players do not lift weights in Serbia, focusing primarily on ball skills and footwork.
All of these positives and negatives aside, the players were in agreement when it came to their reason for coming to America. They all felt as if traveling to the United States for an education was their best chance at succeeding in life, and they all enjoy different things about the U.S.
Armstrong expressed that he thoroughly enjoys going to school at MBU, while Milcic likes the extensive list of opportunities that are open to him here.
"I like opportunities, and the fact that you can really do or become whatever you want," Milcic said. "Back home I needed to choose to play soccer or to go to college, can't do both, and what I like about America is that you can do both."
Rangel and Pecanha like the justice system in the United States, noting there is much less violence here and that the laws here work and give everyone a better chance at success.
Whether it be soccer, futbol, or football, it is truly the language of the world, and brings people from all over the world together in order to achieve a common goal. All that is needed is a ball and a flat space.