Missouri Baptist University beckons students of various backgrounds to engage in a well-rounded liberal arts education enhanced by a tight-knit community. Spartan Spotlight features incredible talent and stories that MBU offers.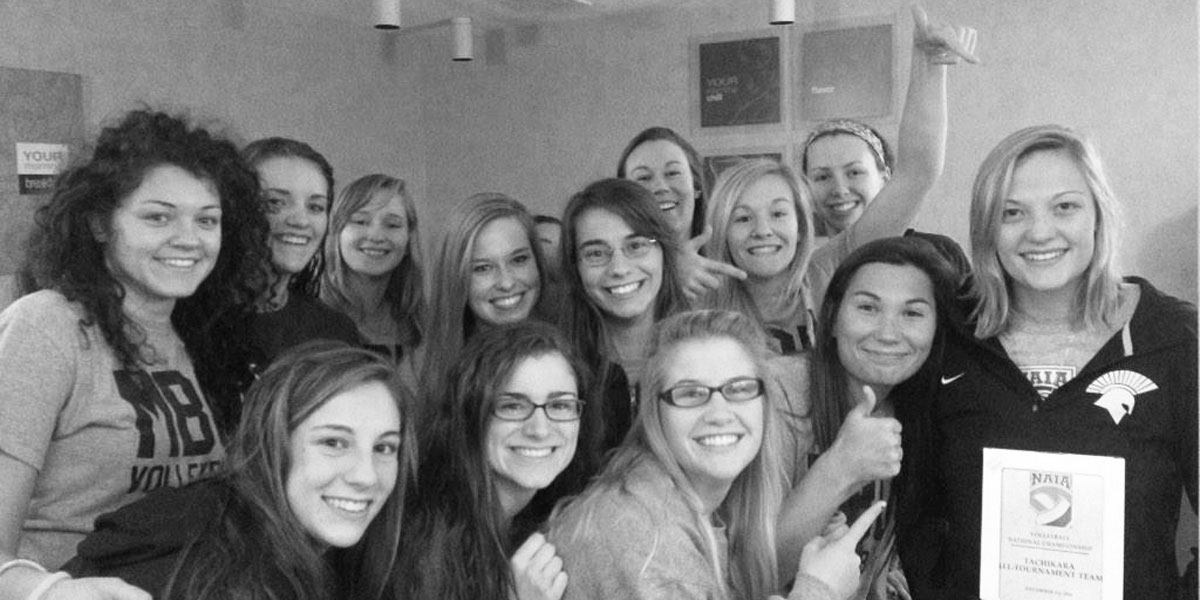 Photo by: MBU Athletics
Hannah Carey, pictured at the far right with her teammates, holds up an All-Tournament Team certificate. Carey said she has learned a great deal since coming to America, both on and off the court.
__________________________________________________
From Worthing, England, volleyball brought junior Hannah Carey to Missouri Baptist University, and when she arrived on campus she learned some valuable advice.
"The people that encouraged me to come told me to always check the library since it is vital to have a good learning facility, and they are kind of right," Carey said.
Volleyball is a big part of Carey's life, and she enjoys playing.
"I love volleyball: coaching, playing, watching, any aspect of it. In summer, I coach juniors volleyball," Carey said.
Majoring in sport management with a minor in physical education, Carey has a couple options for where she sees herself in a few years.
"I can see myself playing professional volleyball in Europe, maybe in Holland or Poland. Another idea is to graduate and run youth sports programs in either England or America," Carey said. "I love America, but I have to become a citizen to work here, so it really depends on the process."
One predominant factor has had a major impact on Carey's life at MBU.
"Faith is probably the biggest one. I was not religious really before I came (I went to the odd church service and always knew God was real). Coming to MBU has made me re-evaluate my life and think, 'What I am doing here?'" Carey said in a recent email. "I am still on a long path to really committing to God, but I know he is right beside me to guide me along the journey.
Carey has many great memories at MBU.
"One in particular was beating Columbia College in fall 2014. The team really came together and had belief in each other to win the game. I couldn't be more proud of my team," Carey said.
One of Carey's favorite quotes she found recently, by one of the best defensive players in the NFL.
"Success isn't owned it's leased, and rent is due every day," said J.J.Watts of the Houston Texans.
Carey has been and will continue to be successful.
MBU Timeline is proud to highlight Carey for this week's Spartan Spotlight, and will continue to feature an inspiring Spartan each week.
__________________________________________________
If you would like to be featured in an upcoming Spartan Spotlight, contact Brittany Gammon at 1126768@mobap.edu.