With its uplifting message and quirky humor, "The Best Christmas Pageant Ever" tells the tale of a married couple and six delinquent children who must unite for the performance of the Sunday school Christmas play.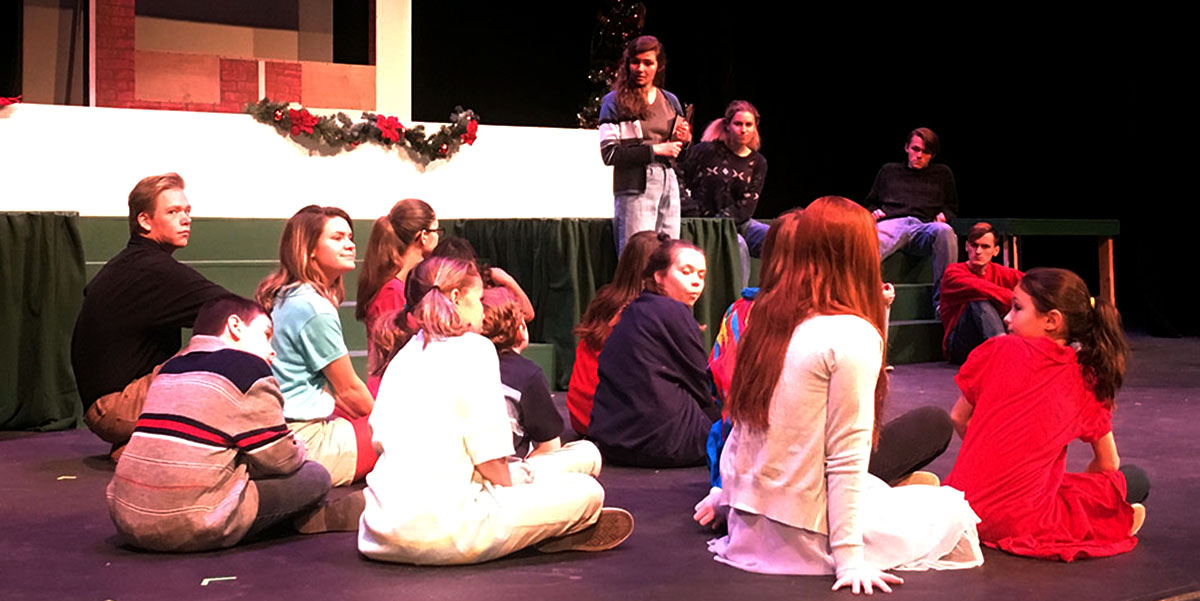 Photo by Madelyn Shotton
Student-director Rebekah Side leads the cast and crew of "The Best Christmas Ever" in rehearsal. The holiday performance opens Thursday at 7:30 p.m. with shows Friday and Saturday running 7:30-8:45 p.m., and Sunday is a matinée at 2 in the afternoon.
_________________________________________________
Lights are on the buildings, Christmas music is flowing from the Perk speakers, and the first winter snow has fallen. In light of the holiday season, MBU theatre presents, "The Best Christmas Pageant Ever."
Opening night is tonight, Thursday, Nov. 15, with a 7:30 p.m. curtain time, followed by shows each night through Sunday, Nov. 18. Shows run 7:30-8:45 p.m. Friday and Saturday, and 2-3:15 p.m. Sunday. Tickets are $10 if purchased in advance at mbuboxoffice.com, otherwise they cost $15 at the door.
"The Best Christmas Pageant Ever" was originally published in Barbara Robinson's novel in 1971, becoming a theatrical performance in 1982.
This holiday comedy portrays a married couple, Bob and Grace Bradley, struggling to put on a church Christmas pageant whose cast consists of the troublesome Herdman kids.
Playing the role of Bob Bradley, referred to as Father as the story is told from his daughter's point-of-view, is senior Hayden Bennett. This is his first experience acting on-stage.
Bennett, a double-major in marketing and management with a minor in business administration, said that after considering his personal goal of becoming more involved at MBU and the encouragement from his friends involved in the theatre program, he took the risk and auditioned.
Bennett refers to his character as a typical family man; Father is the head of family, but he's not in charge of it. He leaves that to his wife, Grace, played by senior Eliana Steele, a theatre major with minors in accounting and business administration.
"I relate to Father through his humor, honestly," Bennett said. "Most of my interpretation of the character actually comes from interactions I've seen in my own family from my own dad. I've pulled different habits and traits from his everyday interactions with my my mom and my brothers to make Father the character I see my dad play everyday, without an audience."
Each year, MBU theatre faculty and staff come together to discuss which shows best fit the students and will result in the most growth for them and the program. Kasey Cox, theatre director, said they chose "The Best Christmas Pageant Ever" because it's a beloved story and is also a great opportunity for a student production team to take the reins.
"I am the producer of this particular show. We have a student director and production team, so my job is to oversee them and the show overall," Cox said. "We've been rehearsing this show for about a month and a half."
Because "The Best Christmas Pageant Ever" includes young characters, preschool and elementary school students will be joining MBU theatre for the shows. Additionally, Kirkwood Children's Choirs are caroling in the Great Hall before each performance; hot chocolate will be served after.
According to Bennett, the most exciting part of the experience has been working with an almost entirely student-based production team. He's seen and worked with his friends as they take on the challenges of being responsible for varying aspects of the show, aspects that are usually led by professionally trained directors and designers.
Senior Rebekah Side, a theatre and mathematics major with a minor in dance, is directing the show, and she has done a "phenomenal job," Bennett said. "She had a vision for this show and confidence in me to memorize the lines and bringing the character of Father to life when I wasn't even sure I was the best fit for the part."
Side began her acting career when she was just one month old, playing the role of baby Jesus in her church's Christmas pageant. She said she's eager for the audience to see the story of Jesus' birth and God's love that the Herdman children get to hear for the first time.
"I think it puts a classic story in a new light and gives a fresh perspective to an old-age story," Side said. "I also hope the audience can relate to the amazing connections the cast makes onstage."
Daniel Dilworth, a double major in broadcast media and communication studies, designed the set; Nathanael Pezzo, a musical theatre major, is assistant director; Lindsey Peters, a theatre major with a dance minor, designed costumes, and Rachel Yarbrough, double-majoring in theatre and psychology, is serving as sound designer for the show.
Cox said she loves the gentle reminders in this play.
"It's easy to be lulled into complacency or to simply not give the Christmas story another thought," Cox said. "And, other times, we really do try to focus on the reason for the season, but we have heard it so many times it has lost its wonder for us. I love this show because we get to relive the wonder through the eyes of a family of children who have never heard the story before. We're reminded of how unbelievable the Christmas story truly is, but also how beautiful it is once we accept it as truth."