The average coffee shop meets the average student's needs, but Toasted Coffee House exceeds them. With its pleasant atmosphere and fairly inexpensive beverages, this one-of-a-kind coffee house is a necessary visit.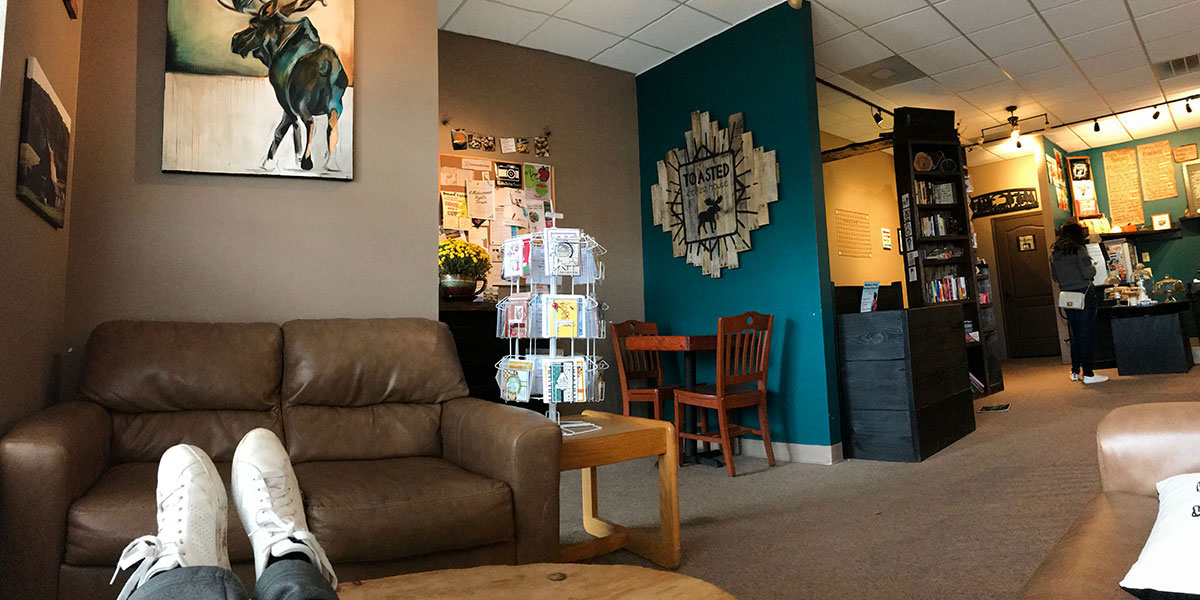 Photo by Stacy Rohan
Providing a cozy atmosphere and aesthetic decor, Toasted Coffee House in High Ridge, Missouri, is a necessary visit for students, families or anyone in need of a relaxing, productive afternoon. This one-of-a-kind coffee shop offers a variety of food and beverages, as well as an interactive corner of games, books and puzzles for people of all ages.
__________________________________________________
Name:
Toasted Coffee House
Location: 3015 High Ridge Blvd., High Ridge, Missouri 63049
Price: $$
Rating: ****
___________________________________________________________________________
Settled on a perfectly worn-out couch, my feet are propped up on the smooth, wooden coffee table, my peppermint mocha resting on the windowsill beside me. I'm checking items off my Sunday to-do list in a public eatery, but my comfort level matches that of my home.
Toasted Coffee House offers aesthetic decor, a variety of beverages and the best grilled cheese I've ever consumed.
Cozy is an understatement.
Seasonal coffees, classic teas, breakfast pastries and delicious paninis. These reasonably priced menu items are just a glimpse of the Toasted Coffee House experience.
This local coffee shop is an excellent place for students to study, friends to converse or families to unwind; one corner features an interactive children's area with chalkboards and puzzles, as well as a shelf of board games and books.
Along with the calm, comfortable atmosphere, the smiling staff made for a positive first impression.
The barista offered a warm welcoming, and my coffee and sandwich were brought out to me in just a few short minutes.
Toasted Coffee House is a small-scaled shop, but in the best way. The furniture arrangement provides a close, homey feel, but the room is anything but claustrophobic.
An adventurous and outdoorsy theme shows throughout as photos of forests, architectural sculptures and paintings of moose hang on each wall, and a bulletin board with upcoming local events and flyers gives the place a sense of community.
The establishment's one and only downfall is its lack of electrical outlets near each table. However, one long power strip rests between the large table and the couches, so accommodating for this may just require a relocation.
Opening at 6:30 a.m. Monday-Friday and 8 a.m. on weekends, the shop closes at 4 p.m. Sunday-Wednesday and 8 p.m. Thursday-Saturday.
Toasted Coffee House has only one location, in High Ridge, which adds to its originality. Whether this entails a 10-minute cruise or a 35-minute detour, a tranquil experience awaits, and it's worth it.